#PreMarket Prep Recap: Tiffany & Co. A Lone Bright Spot Among Retailers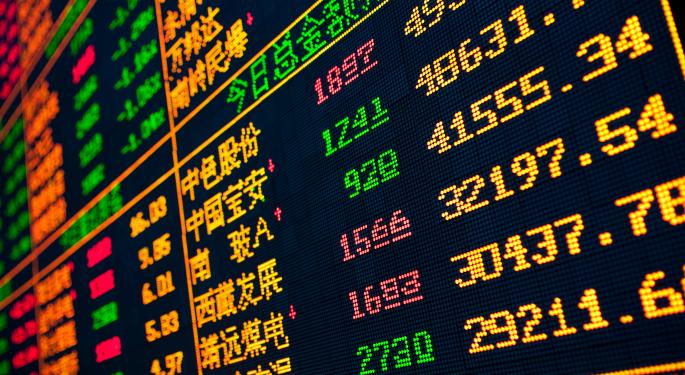 On Wednesday's Benzinga #PreMarket Prep, Joel Elconin and Dennis Dick reviewed earnings and addressed concerns around retailer companies in the face of sellers hammering the sector through the 2014 Q1 earnings release season.
Gold still couldn't get far from the $1,290 level even during Tuesday's equity index rebound in the late afternoon. Gold futures are stuck with that level and traders may need to watch for a catalyst to push the price away and up from $1,290.
Crude Oil July contract is moving away from the psychological $100 level, trading $103 handles Wednesday morning.
Earnings Reviews And Action
Lowe's (NYSE: LOW) levels to watch off the pre-market action. Tuesday's earnings were $0.61 versus the $0.60 estimated and revenues of $13.40 billion against $13.91 billion. The consolidation around $45.50, given the recent three closing prices within a $0.03 range, is the level Lowe's must hold to move back upward in price.
Related: Who Is Buying Gold At $1,290 And Why?
PetSmart (NASDAQ: PETM) is down $6 with Q1 EPS of $1.04 against $1.07, guidance for Q2 $0.92 cents and the street wanted $1.00. The low of $55 may be in already in the pre-market, which offers a buying opportunity for Wednesday.
American Eagle (NYSE: AEO) is another retailer biting the dust in what has been a brutal season of earnings. Q1 reports came in at $0.02 versus $0.00, guiding $0.00 on expectations of $0.04, with comparable store sales down 10 percent.
Dicks Sporting Goods (NYSE: DKS) has been hammered with $10 knocked off its stick price Tuesday. Dick's was downgraded across the board by the top research firms and has since become a company the markets see as lacking a catalyst. Goldman ($49 PT), Credit Suisse (Neutral rating), Piper Jaffray ($48 PT), and JP Morgan ($50 PT) have all downgraded the stock and appear cautious on the company.
Salesforce.com (NYSE: CRM) slightly raised guidance. Q1 EPS was $0.11 versus $0.10 est and revenues hit $1.23 billion, beating estimates of around $1.21 billion. Spike came at $54.50 and Elconin sees an appealing sell level at $54.16.
Tiffany & Co. (NYSE: TIF) had a strong beat and the $94 handle is a level worth lightening up on, even though there have been instances of these retailers pushing through levels that appear to be resistance in the pre-market. In the first quarter, Tiffany's rocked expectations by earning $0.97 versus $0.78 estimates on revenues of $1.01 billion against $955.12 million estimates. Tiffany's is the standout in the group regarding earnings and performance.
Momentum Based And Other Trades
Hormel Foods (NYSE: HRL) is trading within a supportive range. Dick sees the chances of a cascade effect being minimal, noting that usually when there is a $3+ impact to the price in the pre-market, the market usually gives back that value. This is opposed to running to the downside like most retailers have been doing.
Coca Cola (NYSE: KO) is focused on $41 as a major resistance level, as executives are selling shares (161,000 shares total on Tuesday) at $41. $40.42 and $40.45 are areas for support. Dick comments that he is not a buyer when insiders are sellers.
Tesla's (NASDAQ: TSLA) big level ($200) was just missed on Tuesday, which is a major physchological level. A push back above $200 may offer a run to $210 on momentum.
FireEye (NASDAQ: FEYE) has been trying to recover from its nightmare, breaking above the $31 level. An up-day on strong volume creates a bullish view based on technicals. Tuesday's pop comes one-day before Wednesday's expiration of share lock up.
Expect heavy selling as Twitter (NYSE: TWTR) experienced recently when its lock-up expired. Chatter also circled the street Tuesday regarding Cisco's (NASDAQ: CSCO) interest in the FireEye.
AIG (NYSE: AIG) was boosted Wednesday morning off of a Goldman Sachs PT raise to $63. The pre-market high was $53.50 and should the firm take on a major bull-side ride, the next level of resistance is $54. Entry could be around $53, within a dime of Tuesday's close, but Elconin and Dick will not chase this one.
Check out the video below for a recap of this morning's #PreMarket Prep trading ideas:
Posted-In: Benzinga PreMarket Prep Dennis Dick Joel ElconinRetail Sales Pre-Market Outlook Trading Ideas Best of Benzinga
View Comments and Join the Discussion!