#PreMarket Primer: Monday, May 19: DirecTV Rises On Offer From AT&T; AstraZeneca Rejects Pfizer Bid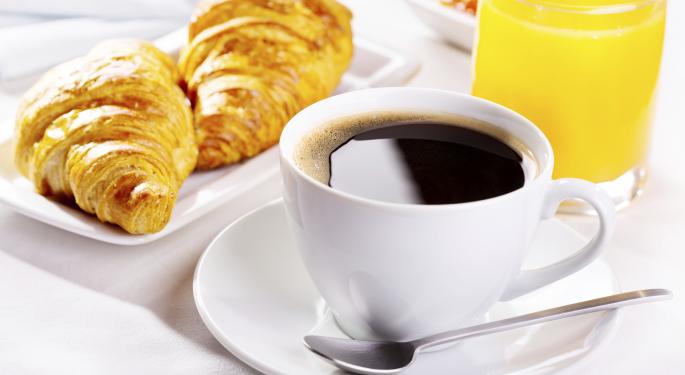 AT&T Inc. announced a deal to acquire DirecTV for $49 billion over the weekend, as the firm attempts to adapt to a quickly changing media landscape. Both businesses' boards approved the agreement on Sunday, creating a company with 26 million pay-TV subscribers.
The deal comes shortly after Comcast Corp announced that it would buy Time Warner Cable for $45 billion, creating a mammoth telecommunications firm with about 30 million subscribers.
In other news around the markets:
On Sunday, Pfizer announced that it had increased its takeover bid for AstraZeneca to $116.6 billion, saying this would be its final offer. However, in the early hours of Monday AstraZeneca rejected the deal, sending its shares down roughly 13 percent as the possibility of an acquisition looked less likely.
Deutsche Bank is expected to issue 360 million new shares, which will total about $11 billion, in order to boost its capital buffers and gain market share. The Qatari royal family has agreed to buy 60 million shares and the remaining 300 will be offered to existing investors.
Tripoli suffered its worst violence since the 2011 war against Muammar Gaddafi over the weekend as armed militia stormed the nation's parliament and demanded its suspension. While details about who was involved are unclear, the gunmen claimed to be loyal to a rebel army general. So far, there have been reports of 43 dead and more than 100 wounded as rival militias clash throughout Tripoli.
Asian markets were lower with the exception of the KOSPI, which rose 0.08 percent. The NIKKEI was down 0.64 percent, the Shanghai composite lost 1.05 percent, the Shenzhen composite was down 0.70 percent and the Hang Seng index was down 0.04 percent.
European Markets
European markets were down across the board, the UK's FTSE was down 0.67 percent and the eurozone's STOXX 600 lost 0.83 percent. The German DAX lost 0.76 percent, France's CAC 40 was down 0.72 percent and Italy's MIB had the largest loss, down 2.65 percent.
Energy futures were on the rise with geopolitical tension around the world keeping crude supported. Brent futures were up 0.28 percent and WTI futures gained 0.63 percent. Gold and silver were up 0.51 percent and 1.20 percent respectively, but industrial metals were mixed. Copper gained 0.86 percent and zinc was up 0.29 percent, but tin lost 0.86 percent and aluminum was down 0.08 percent.
The euro was steady against the dollar at $1.3711, but the common currency gained 0.20 percent against the pound. The dollar fell 0.21 percent against the yen and 0.09 percent against the franc, but gained 0.18 percent against the Australian dollar.
Earnings
Notable earnings released on Friday included:
Tsakos Energy Navigation (NYSE: TNP) reported first quarter EPS of $0.19 on revenue of $91.30 million, compared to last year's EPS of $0.02 on revenue of $69.40 million.
Canadian Solar (NASDAQ: CSIQ) is expected to report first quarter EPS of $0.07 on revenue of $466.30 million, compared to last year's loss of $0.10 on revenue of $263.61 million.
Stocks moving in the Premarket included:
Notable earnings releases expected on Friday include:
Campbell Soup Company (NYSE: CPB) is expected to report third quarter EPS of $0.59 on revenue of $2.00 billion, compared to last year's EPS of $0.62 on revenue of $2.09 billion.
Urban Outfitters (NASDAQ: URBN) is expected to report first quarter EPS of $0.27 on revenue of $680.60 million, compared to last year's EPS of $0.32 on revenue of $648.18 million.
Valspar Corporation (NYSE: VAL) is expected to report second quarter EPS of $1.04 on revenue of $1.11 billion, compared to last year's EPS of $0.91 on revenue of $1.03 billion.
Economics
Monday's economic calendar will be relatively quiet with notable releases including the Spanish trade balance, Hong Kong's unemployment rate, the German house price index, and Singaporean GDP.
For a recap of Friday's market action, click here.
Tune into Benzinga's #PreMarket Prep show with Dennis Dick and Joel Elconin here.
Posted-In: Earnings News Eurozone Futures Commodities Previews Forex M&A Best of Benzinga
View Comments and Join the Discussion!