What To Do With Apple Stock Ahead Of Split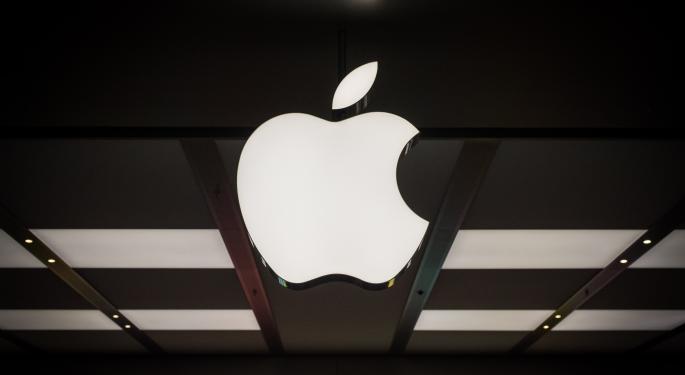 With Apple's (NASDAQ: AAPL) split-adjusted shares to begin trading on June 9 (shareholder record date of June 2), what should current shareholders do with the issue?
Billionaire investor Carl Icahn's advice on the issue has been strong so far. Although he recently added to his stake, the timing of it should be noted.
Icahn, who is simply adding to a huge winning position, completed his latest purchase in March, which came ahead of the 7-1 stock split announcement and increased buyback authorization.
In other words, he made the purchase at much lower prices when Apple shares traded in a fairly narrow range ($522.81 to $549.00) during the month of March.
While Icahn was buying, two well-respected investors exited or trimmed their stake in Apple during the same time period.
On Thursday, Benzinga reported that George Soros cut from his 291,000 share stake to 81,000 and Dan Loeb sold out of a 100,000 share position. Perhaps Soros is taking advantage of the most recent pop to dispose of the remainder of his position.
Related: Learning From Facebook's IPO To Invest In Twitter
From a technical perspective, it appears that the post-earnings run has stalled. Since peaking on May 6 at $604.41, Apple has fallen back under $590.00 and has made multiple highs in the $590.00s, but has failed to reach $600.00 again.
Also, the issue was only able to post one close above $600.00 during its recent run and it was not even on the day it peaked at $604.41. In fact, on that day, it shed $10.00 as it ended the session at $594.41.
Longer-term investors that participated in the move from the April 2013 low of $385.10 are taking some chips off the table ahead of the split by bringing down their offers from the psychologically important $600.00 level.
Besides the stock-split, what will drive the issue well above the $600.00 level?
Along with posting better-than-expected earnings and an increased buyback program, it increased its quarterly dividend by eight percent. It certainly will be difficult for the company to replicate this superfecta of good news for quite some time.
Finally, it will be challenging to duplicate its massive earnings beat next quarter without rolling out a new a product.
As far as Wall Street is concerned, there are few price targets in the middle to upper $600.00 territory and several of them did not raise targets after the earnings blowout.
Credit Suisse and Citigroup maintained current ratings, Neutral and Hold, respectively, but only bumped the price targets $10.00 to $560.00 and $570.00.
Another potential catalyst to exiting the issue is that if Apple follows the pattern of Mastercard (NYSE: MA) post-split, which could signify some significant downside in the issue.
After announcing at 10-for-1 split, $3.5 billion buyback plan and a boost in its quarterly dividend on December 10, Mastercard shares spiked higher and continued to rally into the record date (January 9).
Unfortunately, those that chased the issue into the split nearly bought the top.
After reaching $84.42 on the record date, it rallied to another all-time high on the January 10 ($84.75) and has been in a steady decline ever since.
With Mastercard trading at the $73.00 level, investors can now purchase issue $3.00 cheaper than prior to when the split was announced, $6.00 cheaper than its December close and over $11.00 cheaper than the record close ($84.36) which was its all-time highest closing price.
In summary, the little guys bought the top.
With all the good news out for Apple, a road block at $600.00 developing and the possibility of the Mastercard-split scenario coming to fruition, investors may want to reconsider their position in Apple ahead of its upcoming record date.
Posted-In: Carl Icahn Dan Loeb George SorosNews Technicals Buybacks Stock Split Trading Ideas Best of Benzinga
View Comments and Join the Discussion!