#PreMarket Primer: Tuesday, May 13: Moscow Gives No Response To Donetsk's Request To Join Russia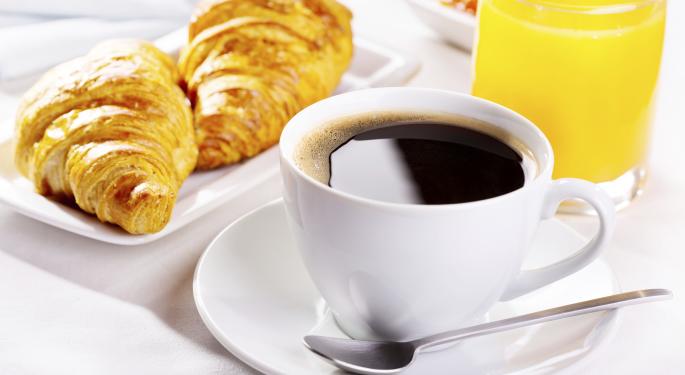 Following a referendum on secession over the weekend, pro-Russian separatists in Ukraine formally asked to become a part of Russia on Monday.
Ukraine's Donetsk region, where much of the conflict has been centered, made a plea to the Kremlin which was reminiscent of the situation in Crimea earlier this year.  
However, Moscow surprised by paying the request little attention and instead urging Kiev to hold talks with the rebels.
Many see the weekend's referendum as an effort to disrupt Ukraine's Presidential elections, set to take place on May 25. White House Spokesman Jay Carney put the blame on Russia saying that Moscow was responsible for "failing to use its influence to prevent those efforts."
In other news around the markets:
AT&T and DirecTV are working on a deal that includes both cash and shares that would allow AT&T to acquire the satellite-television provider for around $50 billion. On Monday, DirecTV's shares soared, up five percent to $91.73 in after-hours trading as the two companies worked out the details of the transaction.
Pfizer Inc. has sent the details of its $106 billion bid to take over AstraZeneca to two UK parliamentary committees. The documents outline Pfizer's commitments if the agreement is made, which Pfizer promised to maintain for at least five years in an open letter to UK Prime Minister David Cameron. The chief executives from both companies are set to meet with UK government committees on Tuesday and Wednesday this week.
On Monday, China's foreign ministry dismissed Vietnam's efforts to stake its claim in the South China Sea, saying that Vietnam would fail to garner support from other nations. The waters are at the center of a territorial dispute which heated up last week when China positioned an oil rig in a part of the sea that has been claimed by Vietnam. The incident resulted in a confrontation between the two in which each side accused the other of ramming its ships.
Facebook may be considering opening a sales office in China in order to support advertisers who are trying to reach overseas customers. Facebook's Vice President of Corporate Development Vaughan Smith said the company is looking to expand within China, but he has not made any comments about how soon the move would be made.
Asian markets were higher with the exception of the Shanghai composite and the Shenzhen composite, which were down 0.10 percent and 0.11 percent respectively. The Japanese NIKKEI rose 1.95 percent, the South Korean KOSPI was up 0.92 percent and the Hang Seng index was up 0.41 percent.
European Markets
Europe's markets were up across the board; the UK's FTSE rose 0.34 percent, the eurozone's STOXX 600 gained 0.30 percent, the German DAX rose 0.76 percent, and France's CAC 40 was up 0.30 percent.
Energy futures were moderately lower; Brent futures lost 0.15 percent and WTI futures were down 0.08 percent. Gold and silver lost 0.30 percent and 0.40 percent respectively while industrial metals were mostly higher. Aluminum gained 1.45 percent, zinc gained 2.16 percent, but tin was down 0.76 percent.
The euro gained momentum on Tuesday and traded at $1.3764. The common currency gained 0.22 percent against the yen and 0.16 percent against the pound. The dollar was also on the rise, up 0.19 percent against the yen and 0.12 percent against the pound.
Earnings
Notable earnings released on Monday included:
McKesson (NYSE: MCK) reported fourth quarter EPS of $2.55 on revenue of $38.14 billion, compared to last year's EPS of $1.45 on revenue of $30.62 billion.
NII Holdings (NASDAQ: NIHD) reported a first quarter loss of $2.19 on revenue of $1.02 billion, compared to last year's EPS of $1.21 on revenue of $1.41 billion.
Babcock & Wilcox (NYSE: BWC) reported first quarter EPS of $0.42 on revenue of $662.00 million, compared to last year's EPS of $0.46 on revenue of $805.42 million.
Stocks moving in the Premarket included:
Notable earnings releases expected on Tuesday include:
CST Brands (NYSE: CST) is expected to report first quarter EPS of $0.19 on revenue of $3.07 billion.
URS Corporation (NYSE: URS) is expected to report first quarter EPS of $0.68 on revenue of $2.68 billion, compared to last year's EPS of $0.96 on revenue of $2.80 billion.
Fossil (NASDAQ: FOSL) is expected to report first quarter EPS of $1.17 on revenue of $771.55 million, compared to last year's EPS of $1.21 on revenue of $680.90 million.
Economics
The US will be the star of Tuesday's economic calendar with retail sales and business inventory data both due out. Other notable economic releases around the world include Germany's ZEW survey, New Zealand's retail sales data, and Chinese industrial production.
For a recap of Monday's market action, click here.
Tune into Benzinga's #PreMarket Prep show with Dennis Dick and Joel Elconin here.
Posted-In: Earnings News Eurozone Futures Commodities Previews Forex Global Best of Benzinga
View Comments and Join the Discussion!