#PreMarket Primer: Tuesday, April 29: US Steps Up Sanctions Against Russia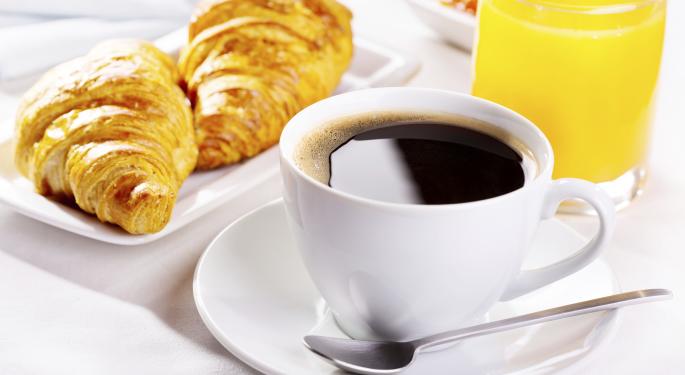 In an effort to force Moscow to backtrack on its actions in Ukraine, the US and Europe have imposed more economic sanctions against Russia.
The sanctions, designed to target government individuals and businesses linked to President Vladimir Putin, were not as strict as some were expecting which led to a jump in Moscow's stock market on Monday.
So far, the sanctions have not been directed at broad sectors of the Russian economy like banking or energy because US and European officials want to avoid economic repercussions and are hoping to keep lines of diplomatic communication with Putin open.
In other news around the markets:
The US and Canadian plaintiffs who brought a class action suit against the failed Mt. Gox bitcoin exchange have agreed to settle with the company. The settlement will include a shared 16.5 percent stake in the company once it has been sold to Sunlot as well as the 200,000 bitcoins that the company allegedly found after filing for bankruptcy protection.
On Tuesday, Nokia announced that Rajeev Suri, a telecom engineer who has been with the company since 2009, would be taking over as its chief executive. The company also announced that it was planning to distribute a $1.4 billion special dividend and begin a share repurchase program as a result of selling its handset unit to Microsoft.
Bank of America said it discovered a mistake in the figures submitted to the Fed during the central bank's stress test. The error leaves the bank with $4 billion less capital than originally reported. When the mistake, which has allegedly been factored in erroneously since 2009, was brought to the Fed's attention, Bank of America's approval for a dividend increase was revoked.
Company executives who confirmed that Pfizer, Inc. was attempting to take over AstraZeneca have said that the $100 billion takeover deal would save Pfizer around $1 billion in taxes each year. If the deal is followed through, Pfizer could move its headquarters overseas which would allow it some tax breaks.
Asian markets were mixed; the Japanese NIKKEI lost 0.98 percent and the KOSPiI was down 0.23 percent but the Shanghai composite was up 0.98 percent and the Heng Seng index was up 0.33 percent.
European Markets
European markets were up across the board with Italy's MIB posting the largest gains, up 1.22 percent. The UK's FTSE rose 0.51 percent, the eurozone's STOXX 600 was up 0.52 percent, the German DA X gained 0.66 percent and the Spanish IBEX rose 0.60 percent.
Energy futures were higher; Brent futures gained 0.20 percent and WTI futures were up 0.38 percent. Gold and silver were both down 0.25 percent and industrial metals were lower with the exception of zinc, which gained 0.49 percent. Copper lost 0.37 percent, aluminum was down 1.27 percent and tin fell 0.11 percent.
The euro was steady against the dollar at $1.3866 and the common currency gained 0.13 percent against the yen. The dollar was also stronger against the yen, up 0.05 percent, and gained 0.19 percent against the Australian dollar.
Earnings
Notable earnings released on Monday included:
Stocks moving in the Premarket included:
Transocean Ltd (NYSE: RIG) was up 1.08 percent in premarket trade after rising 5.43 percent over the past five days.
Bank of America Corp (NYSE: BAC) gained 0.94 percent in premarket trade after dropping 6.27 percent on Monday.
Hewlett Packard Co (NYSE: HPQ) was up 0.84 percent in premarket trade after gaining 1.93 percent on Monday.
McDonald's Corp (NYSE: MCD) gained 0.72 percent in premarket trade after losing 0.42 percent on Monday.
Carnival Corp (NYSE: CCL) was down 0.41 percent in premarket trade after rising 1.47 percent on Monday.
Notable earnings releases expected on Tuesday include:
Economics
Notable economic releases will include British consumer confidence, US consumer confidence, eurozone industrial sentiment, eurozone consumer climate, German CPI, Italian business confidence, Italian retail sales, Spanish unemployment rate, French consumer confidence, and British GDP.
For a recap of Monday's market action, click here.
Tune into Benzinga's #PreMarket Prep show with Dennis Dick and Joel Elconin here.
Posted-In: Earnings News Eurozone Futures Commodities Previews Forex Global Best of Benzinga
View Comments and Join the Discussion!