No Love For Goldman Sachs After Great Earnings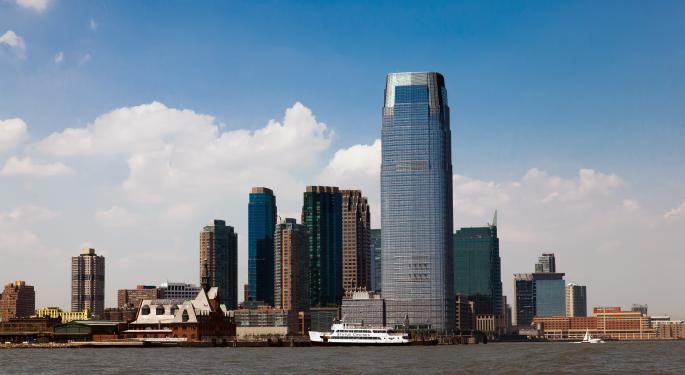 The price action in an issue after earnings are released can often be an indicator about the direction of an issue for the next few months.
In the case of Goldman Sachs (NYSE: GS), one has to wonder what would happened to it if had missed earnings big on the downside.
After reporting upbeat Q1 results, blowing away Wall Street earnings estimates by $0.42 and beating revenues by over $1 billion, Goldman Sachs added over four points in Monday's pre-market trading. It was able to sustain these gains right into the opening bell, as shorts scrambled for cover and those tardy bulls began to pile into the issue.
At the opening bell, however, when the true liquidity comes into the market, it was an entirely different story as Goldman Sachs matched it pre-market highs ($161.44) shortly after the open it quickly reversed course.
Related: More Downside For Netflix?
After an issue opens a few percentage points higher, it is not uncommon for the issue to retreat slightly before resuming its rally. But for Goldman Sachs, it just kept declining. In fact, Goldman Sachs relinquished nearly all of its gains and closed higher by only $0.22 at $157.44, near the lows for the session.
There are few different reasons for the unexpected decline in the issue.
First of all, there are many investors that have experienced some serious pain in the issue in 2014. Despite a flat start to year for the indexes, Goldman Sachs has been walloped. Since peaking on January 6 ($181.13) it retreated nearly $30.00 before bottoming on April 11 ($151.65) or 16 percent.
So it is no surprise that some investors would utilize the $10.00 pop in four days to lighten up on their long position, especially if they don't expect Goldman Sachs to produce such gaudy numbers at its next earnings report.
Also, during its rapid decline, shorter and intermediate term swings traders may have piled into issues anticipating a technical bounce at some point. With such a catalyst as earnings on the horizon, there was no time like the present to implement this strategy.
These traders or investors are not anticipating or couldn't care less if Goldman Sachs returns to its January highs. Instead they are looking for any appreciable increase in price that coincides with their pre-determined risk/reward ratios. Along these lines, any options traders gambling on the weekly $160.00 calls options -- that were dirt cheap all of last week -- could offset their longs by selling the shares above that level in the open market.
In Monday's trading, Goldman Sachs has been able to steady itself and despite breaching Thursday's low ($157.35) is battling to reach unchanged for the day ($157.44). Interestingly, its close ahead of earnings was in this same area ($157.22).
Therefore, unless Goldman Sachs can retake this key technical level over the next few trading sessions, investors may want to prepare themselves for more downside in the issue. If blowing away Wall Street estimates for earnings cannot attract more buying interest, what will?
Posted-In: Goldman SachsEarnings News Technicals Movers & Shakers Intraday Update Trading Ideas General Best of Benzinga
View Comments and Join the Discussion!