#PreMarket Primer: Tuesday, April 15: Hopes For Diplomacy In Ukraine Help Settle Markets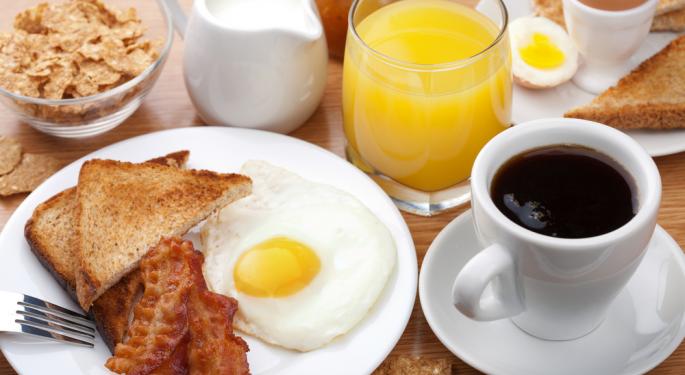 On their first phone call since March 28 when Russia annexed Crimea, US President Barack Obama warned his Russian counterpart Vladimir Putin against further military intervention in Ukraine. Obama told Putin that any further moves by Russia would be counterproductive to finding a diplomatic solution at a meeting set for Thursday.
Over the weekend, tension in Ukraine escalated as pro-Russian separatists occupied government buildings and ignored warnings from Kiev. Many worried that the events would draw Russian troops into Ukraine and result in a military clash between the two nations. However, markets calmed a bit after a meeting between the US, the EU, Russia and Ukraine was set up for Thursday. Most are hoping that some sort of diplomatic solution can be reached in order to scale back the region's tension.
In other news around the markets:
Google announced on Monday that it had acquired Titan Aerospace, a company that makes solar powered drones, in its quest to find new users and extend its reach. Google says the company's drones, which may eventually be jet-sized and able to fly for years without stopping, will allow for better image collection and offer internet access to remote areas.
After reporting better than expected first quarter earnings on Monday, Citigroup's Chief Executive Michael Corbat promised to resolve the bank's regulatory problems with an "industrial-strength" solution. The company has been under the microscope since the Federal Reserve refused to approve the bank's capital plan in March.
After a spate of disappointing data due to an unusually severe winter, the US economy looks to be back on the right path. March retail sales data showed that consumers were ramping up their spending at the fastest rate since September 2012. Retail sales were up 1.1 percent in March from February's figure.
Eurozone banks are preparing for upcoming European Central Bank stress tests, set to begin in the next few months, by setting aside large sums of money in order to boost their capital ratios. The ECB is hoping to complete its assessment by October, and has repeatedly underscored that some banks will fail as the exercise is designed to be quite rigorous in order to strengthen the region's banking system once and for all.
Asian markets were mostly lower with the exception of the NIKKEI, which rose 0.62 percent, and Australia's ASX 200 which was up 0.55 percent. The Shanghai composite was down 1.29 percent, the Hang Seng index lost 1.37 percent and the KOSPI fell 0.24 percent.
European Markets
European markets were down across the board; the UK's FTSE lost 0.32 percent and the eurozone's STOXX 600 was down 0.45 percent. The German DAX was down 0.79 percent, France's CAC 40 lost 0.35 percent and Italy's MIB was down 1.27 percent.
Energy futures were lower; Brent futures lost 0.28 percent and WTI futures were down 0.35 percent. Precious metals were mixed with gold up 0.08 percent and silver down 0.58 percent and industrial metals were also up and down. Copper lost 0.39 percent, but zinc and tin gained 1.28 percent and 0.21 percent respectively.
Currency markets were relatively quiet; the euro was steady at $1.3815 and gained 0.16 percent against the pound. The pound fell 0.17 percent against the dollar and the dollar gained 0.04 percent against the yen and 0.25 percent against the Canadian dollar.
Earnings
Notable earnings released on Monday included:
Stocks moving in the Premarket included:
Notable earnings releases expected on Tuesday include:
Economics
Tuesday's economic calendar will be packed full of economic releases, with the star being Chinese data including GDP, industrial production and retail sales. Other notable releases include US CPI, New Zealand CPI, British CPI, British PPI, Swiss PPI, and German ZEW economic sentiment.
For a recap of Monday's market action, click here.
Tune into Benzinga's pre-market info show with Dennis Dick and Joel Elconin here.
Posted-In: Earnings News Eurozone Futures Commodities Previews Forex Events Best of Benzinga
View Comments and Join the Discussion!