#PreMarket Primer: Friday, April 4: Markets Pause Ahead Of Jobs Report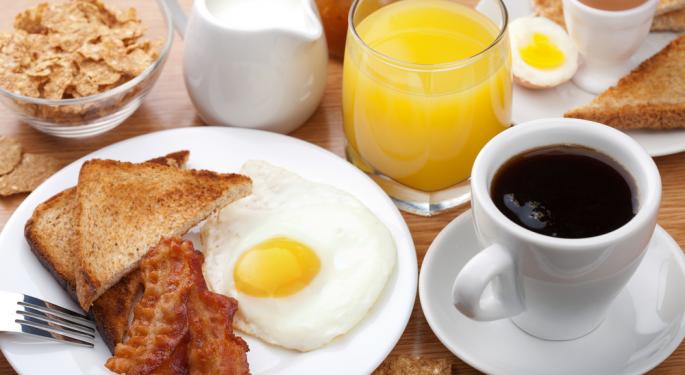 US non-farm payrolls data due out later on Friday is expected to show that employers added 200,000 new jobs in March following February's 175,000 increase.
If the data meets expectations, it will add to a growing list of indicators which show that the US economy is on track for growth.
The US jobless rate is also expected to have improved, falling to 6.6 percent; a five year low. The positive outlook on the labor market has many investors considering revising forward their bets on when the Fed will increase its key interest rate.
At the bank's last meeting, Fed Chair Janet Yellen said the bank would maintain its accommodative monetary policy in order to help tighten up the labor market. However with movement in the right direction, some are beginning to speculate that a rate hike could come sooner than expected.
In other news around the markets:
The US Navy's high tech black box locator has been deployed for the first time as the search for the missing Malaysia Airlines plane becomes more urgent. With only days left to find the cockpit recording device before its battery runs out and no sign of the wreckage, investigators have begun to search underwater  in a last ditch effort to locate the jet.
German industrial orders rose in February for the fourth month in a row, leading analysts to believe that the nation's domestic demand is set to increase in the first quarter. The nation's industrial orders rose by 0.6 percent in February, far above analyst expectations of a 0.1 percent increase.
On Thursday evening, IMS Health Holdings announced that it priced its IPO at $20 per share to raise $1.3 billion. IMS' IPO is the second largest US IPO in 2014 and sold a total of 65 million shares.
The European Central Bank elected to maintain its current monetary policy but hinted at the possibility of further easing at its April meeting. At a press conference following the meeting, ECB President Mario Draghi explained away the region's worrisome inflation figures, saying the bank needed to see April's data in order to make a decision about policy changes.
Asian markets were mixed; the Japanese NIKKEI lost 0.05 percent, the Hang Seng index fell 0.23 percent and the KOSPI was down 0.28 percent. However the Shanghai composite rose 0.68 percent, the Shenzhen composite was up 0.85 percent and Australia's ASX200 gained 0.24 percent.
European Markets
European markets were mostly higher; the UK's FTSE gained 0.34 percent and the eurozone's STOXX600 was up 0.13 percent. The German DAX rose 0.16 percent and France's CAC 40 was up 0.03 percent.
Energy futures gained modestly; Brent futures were up 0.13 percent and WTI futures were up 0.18 percent. Gold and silver gained 0.22 percent and 0.13 percent respectively and industrial metals were also higher. Copper gained 0.55 percent, aluminum rose 0.25 percent and tin was up 1.05 percent.
Currency markets were quiet on Friday, the euro lost 0.10 percent against the dollar and 0.02 percent against the pound. The dollar fell 0.08 percent against the yen but gained 0.17 percent against the franc.
Earnings
Notable earnings released on Thursday included:
Synnex Corporation  (NYSE: SNX) reported first quarter EPS of $1.25 on revenue of $3.03 billion, compared to last year's EPS of $0.88 on revenue of $2.46 billion.
Micron Technology, Inc. (NASDAQ: MU) reported second quarter EPS of $0.85 on revenue of $4.11 billion, compared to last year's loss of $0.28 on revenue of $2.08 billion.
RPM International Inc. (NYSE: RPM) reported third quarter EPS of $0.12 on revenue of $863.40 million, compared to last year's EPS of $0.07 on revenue of $843.74 million.
Stocks moving in the Premarket included:
Anadarko Petroleum Corp (NYSE: APC) was up 1.49 percent in premarket trade after gaining 14.51 percent on Thursday.
Carnival Corp (NYSE: CCL) rose 0.96 percent in premarket trade after rising 3.05 percent over the past five days.
Ford Motor Corp (NYSE: F) gained 0.67 percent in premarket trade after rising 7.48 percent over the past week.
Kellogg Co (NYSE: K) was down 0.59 percent in premarket trade after gaining 5.97 percent on Thursday.
Notable earnings releases expected on Friday include:
CarMax Inc (NYSE: KMX) is expected to report fourth quarter EPS of $0.53 on revenue of $3.18 billion, compared to last year's EPS of $0.46 on revenue of $2.83 billion.
Economics
US non-farm payrolls and unemployment data will be the star of Friday's economic calendar as investors try to gauge the strength of the US economy. Other notable economic releases will include Canadian unemployment, eurozone retail PMI and the British house price index.
For a recap of Thursday's market action, click here.
Tune into Benzinga's #PreMarket show with Dennis Dick and Joel Elconin here.
View Comments and Join the Discussion!
Posted-In: Earnings News Eurozone Futures Commodities Previews Forex Events Best of Benzinga