#PreMarket Primer: Thursday, April 3: ECB Outcome Awaited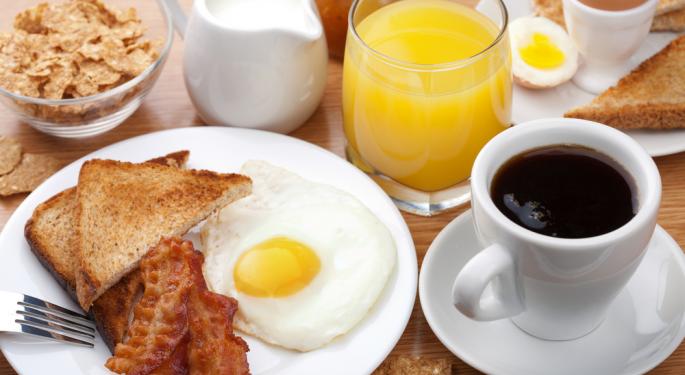 Markets will be focused on the European Central Bank's policy meeting, set to take place later on Thursday.
Most analysts are expecting the bank to keep interest rates at their current record low level of 0.25 percent. However, in light of recent disappointing inflation data most expect the bank to ease at some point in the future.
There has been talk of the bank using a negative deposit rate or an asset purchase program to inject more liquidity into the financial system in order to combat the threat of deflation; but it remains to be seen whether or not the bank will act.
In other news around the markets:
Russian Foreign Minister Sergei Lavrov demanded answers from NATO on Thursday after Western military forces promised to increase troops in Eastern Europe. Lavrov told reporters that he is expecting an explanation which will respect the rules that the North Atlantic military alliance previously agreed on.
On Wednesday, the US Supreme Court decided to do away with part of the current federal campaign finance law which limits how much individuals can donate during a federal election cycle. The decision could impact this year's midterm elections, in which Republicans are looking to increase their presence in the Senate as well as maintain control of the House of Representatives.
China's run of disappointing economic indicators was interrupted on Thursday by data showing growth in the nation's service sector. China's services PMI rose to 51.9 in March from 51.0 in February. Despite the positive data, most still believe that the world's second largest economy has lost its momentum and will need support from the nation's government in order to get back on track.
In the second day of General Motors' probe into the company's handling of defective cars, CEO Mary Barra attempted to convince the Senate subcommittee that GM was headed in a more ethical, transparent direction without admitting fault. Barra and her GM colleagues have been accused of withholding documents and not being forthright with congress throughout the hearing and despite Barra's apologies and promises, the company is being painted in an increasingly bad light.
Asian markets were mixed; the Japanese NIKKEI gained 0.84 percent, Australia's ASX200 and New Zealand's NZ50 were both up 0.12 percent and the Hang Seng index rose 0.18 percent. However, the Shanghai composite lost 0.74 percent, the Shenzhen composite was down 0.12 percent and Hong Kong's Hang Seng index fell 0.18 percent.
European Markets
European markets were also mixed; the UK's FTSE was up 0.16 percent, the eurozone's STOXX600 gained 0.04 percent, Italy's MIB was up 0.79 percent and the Spanish IBEX rose 0.94 percent. However, the German DAX lost 0.07 percent and France's CAC 40 was down 0.01 percent.
Energy futures were lower; Brent futures lost 0.10 percent and WTI futures were down 0.38 percent. Gold rose 0.59 percent, silver gained 1.00 percent, and industrial metals were also higher. Aluminum gained 1.89 percent and zinc rose 0.05 percent.
The euro was steady at $1.3766 ahead of the ECB meeting, but the pound lost 0.12 percent against the greenback. The dollar gained 0.12 percent against the yen and 0.34 percent against the Australian dollar.
Earnings
Notable earnings released on Wednesday included:
Monsanto Company  (NYSE: MON) reported second quarter EPS of $3.15 on revenue of $5.83 billion, compared to last year's EPS of $2.73 on revenue of $5.47 billion.
Acuity Brands Inc. (NYSE: AYI) reported second quarter EPS of $0.75 on revenue of $546.20 million, compared to last year's EPS of $0.62 on revenue of $486.70 million.
Unifirst Corporation (NYSE: UNF) reported second quarter EPS of $1.27 on revenue of $344.00 million, compared to last year's EPS of $1.33 on revenue of $334.31 million.
Stocks moving in the Premarket included:
Notable earnings releases expected on Thursday include:
Synnex Corporation (NYSE: SNX) is expected to report first quarter EPS of $0.94 on revenue of $2.75 billion, compared to last year's EPS of $0.88 on revenue of $2.46 billion.
Micron Technology, Inc. (NASDAQ: MU) is expected to report second quarter EPS of $0.74 on revenue of $3.97 billion, compared to last year's loss of $0.28 on revenue of $2.08 billion.
RPM International Inc. (NYSE: RPM) is expected to report third quarter EPS of $0.09 on revenue of $877.67 million, compared to last year's EPS of $0.07 on revenue of $843.74 million.
Economics
The focus will be on Europe on Thursday as the European Central Bank holds its April policy meeting. Other notable economic releases will include services PMI from Spain, Italy, France, Germany, the UK and the eurozone, the Canadian trade balance, US initial and continuing jobless claims, and the US trade balance.
For a recap of Wednesday's market action, click here.
Tune into Benzinga's #PreMarket Prep show with Dennis Dick and Joel Elconin here.
Posted-In: Earnings News Eurozone Futures Commodities Previews Forex Events Best of Benzinga
View Comments and Join the Discussion!