Benzinga Weekly Preview: Crisis In Crimea Still Weighing On Markets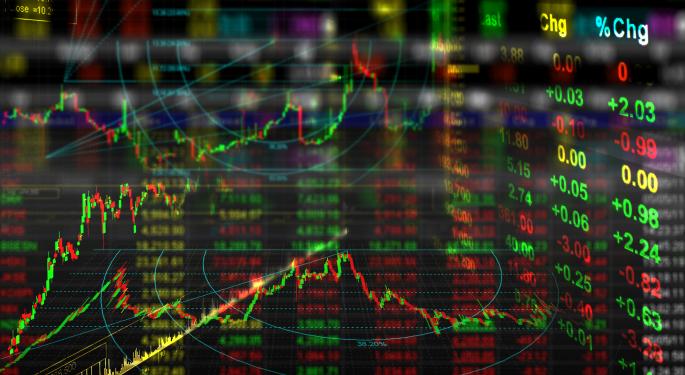 Next week, the standoff between the West and Russia over the annexation of Crimea will likely continue to weigh on investors' minds. With both the US and Europe starting to ramp up pressure on Russia through economic sanctions, many wonder if the new restrictions will start to affect their economies.
Key Earnings Reports
Next week investors will be waiting for several key earnings reports including Walgreen (NYSE: WAG), Accenture plc. (NYSE: ACN), GameStop (NYSE: GME), and BlackBerry (NASDAQ: BBRY)
Walgreen
Walgreens is expected to report second quarter EPS of $0.93 on revenue of $19.57 billion, compared to last year's EPS of $0.96 on revenue of $18.65 billion.
On March 5, JP Morgan gave Walgreen an Overweight rating, noting that the company's same store sales came in above expectations.
"This morning, WAG reported February SSS which were above our expectations on an overall basis (pharmacy came in above our estimate and Retail Metrics consensus while front end matched our estimate and was above consensus). Total sales of $6.05B were slightly above our $6.03B estimate. The comparable script trend (adjusted for calendar shifts, cough/cold/flu and flu shot impacts) rebounded in February versus a somewhat weaker January. Front end SSS exceeded consensus despite traffic remaining in negative territory for the third straight month after two consecutive months of positive comps. In our view, the results were solid despite the impact of weather (which is expected to contribute to higher SG&A in the quarter), and we would expect a favorable stock reaction today."
On March 19, Morgan Stanley also gave Walgreens an Overweight rating and said management commentary will be key for the stock's performance.
"When WAG reports earnings next week on 3/25, we expect results to come in below expectations as captured by our quarterly ests. (MS $0.86, cons $0.92), negatively impacted by weather and promotional activity/traffic, key focus will not be on the print but on mgmt comments regarding timing of closing step 2 of AB transaction, pace of synergies, and the idea of redomiciling/ tax inversion."
Deutsche Bank gave Walgreens a Buy rating with an $80.00 price target on March 5th, citing the company's impressive February sales report.
"Walgreens reported its February sales results, the last month of its Fiscal Q2, with total sales of $6.05 billion for February and $19.61 billion for Q2. F2Q sales of $19.61 billion is ahead of the consensus estimate of $19.53 billion, which is approximately 1c to EPS. Front end comp sales growth of 2.0% despite a negative impact of 0.6% from cold weather, continues solid front end growth despite the current promotional environment. We are updating our F2Q revenue to $19.61 billion and our F2Q EPS estimate is $0.94, ahead of consensus for $0.93. We maintain our Buy rating on WAG shares and increase our price target to $80."
Accenture plc.
Accenture is expected to report second quarter EPS of $1.04 on revenue of $7.21 billion, compared to last year's EPS of $1.00 on revenue of $7.06 billion.
Merrill Lynch gave Accenture a neutral rating with an $85.00 price objective on March 13th.
The analyst team at Merrill Lynch noted that emerging markets remained a near term risk for the company, but that the overall growth is likely to continue at a slow and steady pace.
"In June 2013, an unexpected slowdown in Brazil caught Accenture and investors by surprise. Accenture continues to face challenges in Brazil. BofAML economists now forecast just 1.6% YoY real GDP growth in 2014 in Brazil. Russia's political issues are also well known. BofAML has lowered its real GDP forecast to 1.7% in 2014 for Russia. In 4Q13, IBM's Services division saw mixed trends in its growth markets, particularly China. Recent declines in exports (down 2% YoY in Jan/Feb) have heightened China growth concerns."
S&P Capital IQ gave Accenture a Buy rating with an $88.00 price target on March 15th. The analysts at S&P see the company as well positioned in the industry over the long term.
"We look for revenue growth of 3.5% in FY 14 (Aug.), given some weakness in the first half of the fiscal year. We look for improved performance in the third and fourth quarters, reflecting the strong bookings ACN has posted recently. We point to the $4.3 billion booked in consulting in the November quarter, which was the second largest in recent memory. We see some near-term softness in certain segments, but we believe new contracts are ramping up. For FY 15, we see a 6.5% revenue gain."
GameStop 
GameStop is expected to report fourth quarter EPS of $1.93 on revenue of $3.79 billion, compared to last year's EPS of $2.16 on revenue of $3.56 billion.
Merrill Lynch gave GameStop a neutral rating with a $43.00 price objective on March 18. The analysts at Merrill Lynch noted that the competition from Walmart would provide a challenge for the company in the future.
"WMT announced today that, as of March 26, consumers will be able to trade in games in Walmart and Sam's Club stores, as well as online. In return, consumers will receive store credit that can be used across WMT's formats. Later this year, WMT will begin selling "certified pre-owned" games. The logistics and refurbishment process will be handled by CExchange, an online CE refurb retailer, focused primarily on CE and mobile products. While we view this as another multiple headwind to GME, ultimately, we do not think that it bears a meaningful risk to their used-gaming business (27% of sales, 44% of GP), as it is a very difficult business to scale and manage. We note that, in 2011, BBY entered the used-gaming business and was largely unsuccessful. GME management has stated that BBY's entry had no impact to their business and we believe the same will be true with WMT."
Credit Suisse had a similar view on March 5th with a neutral rating and a $46.00 price target.
"Risks to our $46 target price are: GME faces significant risk from the large discounters and consumer electronics retailers as they expand in the video game business due to the new gaming cycle. As well, GameStop faces risk to the extent that the US consumer slows down spending from its current rate and is exposed to European macro factors as the company has store locations abroad."
S&P Capital gave GameStop a strong Buy rating with a $60.00 price target on February 1st as the firm is expecting to see strong growth in gaming sales.
"We see FY 15 (Jan.) revenues increasing 8.1%, to $9.8 billion, from the $9.1 billion we expect in FY 14. Our forecast reflects strong growth in new video game hardware sales following the November 2013 release of two new game consoles. We expect the new console launches to drive increased trade-in activity and growth in sales of used video game products. We also see growth in sales of digital content and mobile devices."
BlackBerry
BlackBerry is expected to report a fourth quarter loss of $0.56 per share on revenue of $1.13 billion, compared to last year's EPS of $0.22 on revenue of $2.68 billion.
S&P Capital IQ gave Blackberry a hold rating on March 15th with at $10.00 price target. The firm was concerned about Blackberry's difficult road ahead as it has faced a huge loss of subscribers.
"Our hold recommendation on the shares reflects our concern regarding subscriber losses and difficulty in rebuilding enterprise relationships. BlackBerry recently agreed to sell $1.25 billion of convertible notes to a group of investors including Fairfax Financial. We believe the appointment of CEO John Chen is a positive for the company as he has already made several key hires. We expect the company to focus on physical keyboards, security, and monetizing software. However, we believe the company still has a long way to go to rebuild its relationships with enterprises, particularly those that have already left the platform."
Wells Fargo gave BlackBerry a market perform rating on February 19th, nothing that the company will need to change course in order to recover.
"With a potential sale of the company less likely in the near-term, we believe BBRY will likely look at other strategic alternatives (further restructuring, potential divestitures, aggressively target multi-platform strategy, etal). Upside risk could come from potential strategic actions."
Economic Releases
Investors will be focused primarily on US economic data this week after the US Federal Reserve surprised markets by insinuating that it plans to increase its interest rate sooner than expected. Fed Chair Janet Yellen's address following the meeting led most to believe that the bank sees the US economy as strong enough to stand on its own as early as next year. After a spate of poor economic data, which was largely attributed to the nation's severe winter, most are anxious to see further data like GDP and PMI figures to get a better picture of the US' economic health.
Daily Schedule
Monday
Economic Releases Expected: US manufacturing PMI, eurozone manufacturing PMI, eurozone services PMI, German manufacturing PMI, German services PMI, French manufacturing PMI, French services PMI
Tuesday
Earnings Expected: Walgreen (NYSE: WAG), PVH (NYSE: PVH), Steelcase (NYSE: SCS), Landec (NASDAQ: LNDC)
Economic Releases Expected: US new home sales, US redbook, British PPI, British CPI, German IFO business climate index
Wednesday
Economic Releases Expected:  New Zealand trade balance, US crude oil inventory data, US durable goods orders, British GDP, British current account, Italian retail sales, Italian consumer confidence
Thursday
Earnings Expected From: Lululemon Athletica (NASDAQ: LULU), Accenture plc (NYSE: ACN), UTi Worldwide (NASDAQ: UTIW), Gamestop (NYSE: GME), Restoration Hardware (NYSE: RH), Red Hat (NYSE: RHT)
Economic Releases Expected:  British consumer confidence, Japanese retail sales, Japanese CPI, Japanese unemployment rate, US GDP, British retail sales, French consumer confidence
Friday
View Comments and Join the Discussion!
Posted-In: CrimeaEarnings News Guidance Previews Global Pre-Market Outlook Trading Ideas Best of Benzinga