#PreMarket Primer: Thursday, March 20: Fed Surprises With Talk Of Tightening Sooner Than Expected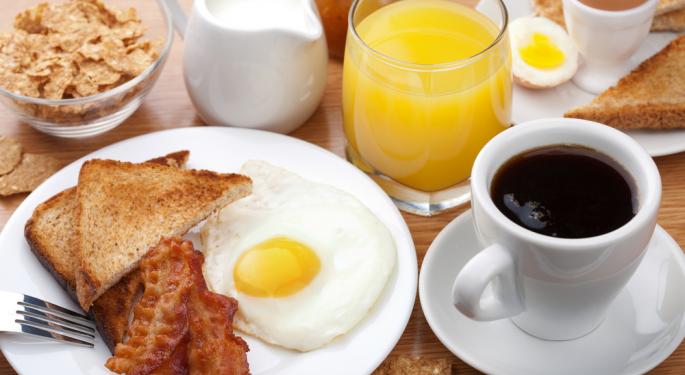 US bond yields soared and the dollar strengthened after the US Federal Reserve announced that it could begin to increase its key interest rate sooner than expected.
Fed Chair Janet Yellen wrapped up her first meeting as head of the bank by saying the bank plans to finish tapering its asset purchases by next fall; and that higher interest rates could come six months after that.
Yellen's statements following the meeting surprised as most weren't expecting the bank to tighten so soon.
In other news around the markets:
Satellite imagery showed what may have been parts of the missing Malaysia Airlines jet in the southern Indian Ocean off the coast of Australia. Investigators have yet to confirm whether or not the debris belongs to the plane, which disappeared on March 8th on its way to Beijing.
Ukraine began to pull military personnel from Crimea this week, effectively surrendering the peninsula to Russia. Russian President Vladimir Putin has shrugged off Western calls for diplomacy and moved forward with the annexation of Crimea. Now, the US and Europe are attempting to put pressure on the Kremlin by enacting economic sanctions.
Goldman Sachs has joined a growing list of banks which have downgraded their GDP forecasts for China. The bank decreased its 2014 GDP forecast from 7.6 percent to 7.3 percent and lowered its 2015 GDP expectations from 7.8 percent to 7.6 percent, saying the nation faces a difficult road ahead.
On Wednesday, FedEx Chief Executive Fred Smith blamed a significant part of this winter's Christmas shipping problems on e-retailers rather than the snow and ice. He said improperly labeled packages and poor communication were to blame for the company's delivery inconsistencies. He also called on online stores to improve their shipping policies or risk losing customers.
Asian markets were mostly lower on Thursday; the Japanese NIKKEI lost 1.65 percent, the Shanghai composite was down 1.40 percent, and the Shenzhen composite fell 2.40 percent. The Hang Seng index lost 1.79 percent and the South Korean KOSPI was down 0.94 percent.
European Markets
Europe's markets were down across the board; the UK's FTSE was down 0.78 percent and the eurozone's STOXX 600 fell 0.51 percent. The German DAX lost 0.70 percent, France's CAC 40 was down 0.67 percent and the Spanish IBEX was down 0.51 percent.
Energy futures were lower; Brent futures were down 0.19 percent and WTI futures lost 0.27 percent. Gold and silver lost 1.01 percent and 2.57 percent respectively and industrial metals were mixed with copper down 0.46 percent, but tin up 0.28 percent.
The euro tumbled against the dollar following the Fed meeting and traded at $1.3792 and the pound also lost 0.05 percent against the greenback. The dollar gained 0.07 percent against the yen and 0.20 percent against the Australian dollar.
Earnings
Notable earnings released on Wednesday included:
FedEx Corporation (NYSE: FDX) reported third quarter EPS of $1.23 on revenue of $11.30 billion, compared to last year's EPS of $1.23 on revenue of $10.95 billion.
General Mills, Inc. (NYSE: GIS)  reported third quarter EPS of $0.62 on revenue of $4.38 billion, compared to last year's EPS of $0.64 on revenue of $4.43 billion.
Jabil Circuit, Inc. (NYSE: JBL) reported second quarter EPS of $0.10 on revenue of $3.58 billion, compared to last year's EPS of $0.53 on revenue of $4.42 billion.
Stocks moving in the Premarket included:
Notable earnings releases expected on Thursday include:
Nike, Inc. (NYSE: NKE) is expected to report third quarter EPS of $0.72 on revenue of $6.70 billion, compared to last year's EPS of $0.73 on revenue of $6.19 billion.
ConAgra Foods, Inc. (NYSE: CAG) is expected to report third quarter EPS of $0.60 on revenue of $4.35 billion, compared to last year's EPS of $0.55 on revenue of $3.85 billion.
IHS Inc. (NYSE: IHS) is expected to report first quarter EPS of $1.24 on revenue of $514.04 million, compared to last year's EPS of $1.08 on revenue of $382.52 million.
Economics
Thursday's economic calendar will include US existing home sales, US initial and continuing jobless claims, British retail sales, and German PPI.
For a recap of Wednesday's market action, click here.
Tune into Benzinga's #PreMarket Prep show with Dennis Dick and Joel Elconin here
View Comments and Join the Discussion!
Posted-In: Earnings News Eurozone Futures Commodities Previews Forex Events Best of Benzinga