#PreMarket Primer: Tuesday, March 18: Market Tension Over Crimea Fades For Now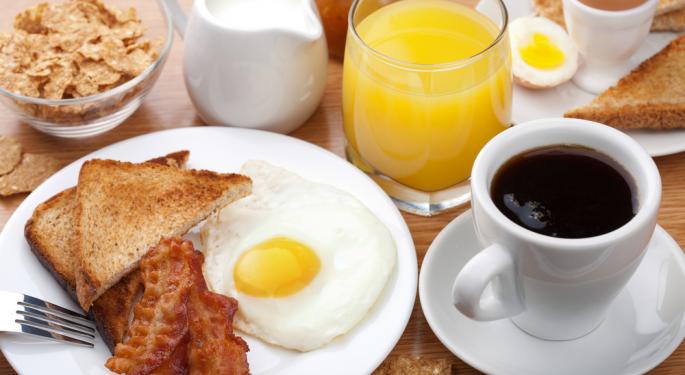 Fears of military action in Ukraine subsided for the time being and gave markets some breathing room to focus on economic data after the result of Crimea's weekend vote to succeed from Ukraine and join Russia created uncertainty around the globe.
Russian President Vladimir Putin seems to have brushed off the US and Europe's first round of economic sanctions as he signed a decree recognizing the small peninsula as an independent state on Monday.
Putin is set to speak later on Tuesday, which could bring the region's crisis back into focus if he expresses a desire to move the annexation process along quickly.
For the moment, investors have turned their attention to the US Federal Reserve's two day policy meeting which begins on Tuesday. The bank is expected to continue reducing its asset buying scheme by $10 million per month, but could revise some of its forward guidance. The bank originally said it would consider policy tightening when the nation's unemployment rate reached 6.5 percent. 
However, now that the unemployment rate is nearing that threshold, the bank is expected to use less specific language and put off a rate cut.
In other news around the markets:
Background checks into the crew and passengers of Malaysia Airlines' missing jet turned up no evidence that would suggest someone on board had motive to crash or hijack the plane. Investigators are now focusing primarily on the pilots as they believe that extensive knowledge of the plane was needed in order disable the navigation system.
Libyan rebels' attempt to sell the nation's oil on the global market was thwarted by US special forces on Monday after they seized an oil filled tanker controlled by the nation's anti-government group. Several of Libya's largest export terminals are being controlled by opposition groups who are demanding a share of the nation's oil revenue.
A drought in parts of the US is expected to drive food prices up by 3.5 percent this year, the largest yearly increase in three years. The rising prices could hurt both consumers and companies who are still feeling the effects of the nation's slow moving recovery.
Wal-Mart is making a move into the used video game space and moving in on GameStop's territory. The discount retailer is expected to begin allowing customers to trade in used video games for gift carts beginning next week.
Asian markets were up across the board on Tuesday; the Japanese NIKKEI rose 0.94 percent, the Shanghai composite was up 0.08 percent and the Shenzhen composite gained 0.12 percent. The Hang Seng index rose 0.51 percent and the South Korean KOSPI rose 0.66 percent.
European Markets
European shares stumbled, the UK's FTSE lost 0.19 percent and the eurozone's STOXX 600 was down 0.20 percent. The German DAX fell 0.61 percent and France's CAC 40 lost 0.15 percent.
Brent futures for May delivery gained 0.19 percent, but WTI futures for April delivery were down 0.66 percent. Gold and silver lost 0.87 percent and 1.72 percent respectively and industrial metals were mixed with aluminum down 0.89 percent but tin up 0.22 percent.
The euro held above $1.39, but the pound lost 0.20 percent. The dollar lost 0.35 percent against the yen, but gained 0.11 percent against the Australian dollar.
Earnings
Notable earnings released on Monday included:
LAN Chile S.A. (NYSE: LFL) reported fourth quarter EPS of $0.23 on revenue of $3.48 billion, compared to last year's EPS of $0.02 on revenue of $3.48 billion.
JA Solar Holdings, Co. Ltd (NASDAQ: JASO) reported EPS of $0.16 on revenue of $357.30 million, compared to last year's loss of $2.65 per share on revenue of $268.09 million.
Sterling Construction Company, Inc (NASDAQ: STRL) reported a fourth quarter loss of $1.83 per share on revenue of $125.90 million, compared to last year's EPS of $0.18 on revenue of $158.09 million.
Stocks moving in the Premarket included:
Notable earnings releases expected on Tuesday include:
DSW Inc. (NYSE: DSW) is expected to report fourth quarter EPS of $0.29 on revenue of $590.23 million, compared to last year's EPS of $0.35 on revenue of $594.25 million.
Oracle Corporation (NASDAQ: ORCL) is expected to report third quarter EPS of $0.70 on revenue of $9.36 billion, compared to last year's EPS of $0.65 on revenue of $8.97 billion.
Adobe Systems Incorporated (NASDAQ: ADBE) is expected to report fourth quarter EPS of $0.25 on revenue of $973.09 million, compared to last year's EPS of $0.35 on revenue of $1.01 billion.
Economics
Tuesday's economic calendar will be dominated by US data including housing starts, CPI, and building permits. Other notable economic releases include German economic sentiment, eurozone trade balance, Italian trade balance and Canadian manufacturing sales.
For a recap of Monday's market action, click here.
Tune into Benzinga's pre-market info show with Dennis Dick and Joel Elconin here.
Posted-In: Earnings News Eurozone Futures Commodities Previews Forex Events Best of Benzinga
View Comments and Join the Discussion!