#PreMarket Primer: Friday, March 14: Ukraine Prepares For Armed Combat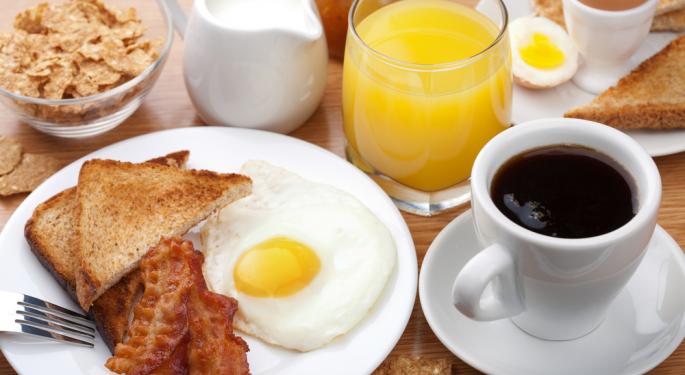 With tensions between the West and Russia at an all time high after Russian forces seized Ukraine's Crimean peninsula, Ukraine's interim government has asked the US for military aid.
The request included arms, ammunition and intelligence, but US President Barack Obama has been firm in his decision not to get involved militarily. Instead, the administration has agreed only to send military rations.
On Thursday, Russia sent troops to perform military exercises near the border of Ukraine as well as dispatching six fighter jets and three transport planes to Belarus to patrol the area. The move intensified the already tense situation and will likely push the US and Europe to enact economic sanctions in an effort to stop Moscow.
In other news around the markets:
On Thursday, General Electric announced that it is planning to sell a part of its credit card unit. The company will hold an IPO for the new company, set to be called Synchrony Financial. Some analysts have estimated the company's value at up to $20 billion, but GE has given no indication of its exact value.
The search effort for a Malaysia Airlines jet destined for Beijing shifted hundreds of miles west after it was discovered that the plane had been transmitting its location to satellites for nearly five hours after it disappeared from radar. Experts say the final transmission was sent over water at a normal cruising altitude and that it is unclear why the transmissions stopped.
Things got worse for General Motors on Thursday night after a safety watchdog group released a study showing that 303 deaths were linked to airbag deployment failures in 1.6 million GM cars which were recalled last month. As the probe into the company's handling of the defect continues, GM is facing more and more pressure to compensate victims.
Amazon is planning a 25 percent price increase for Prime members set to come into effect as early as next week. The company will take membership prices from $79 per month to $99 per month to offset fuel and shipping cost increases. The decision is unlikely to drive away current prime users, but may deter new customers from joining.
Asian markets ended the week on a low note with poor Chinese data weighing on shares. The Japanese NIKKEI lost 3.30 percent, China's Shanghai composite was down 0.73 percent, the Shenzhen composite lost 0.55 percent, and the Hang Seng index was down 1.00 percent.
European Markets
Europe's markets were also lower; the UK's FTSE lost 0.13 percent and the eurozone's STOXX 600 was down 0.47 percent. The German DAX fell 0.29 percent and France's CAC 40 lost 0.43 percent.
Energy futures were  quiet on Friday; Brent futures were up 0.02 percent and WTI futures gained 0.08 percent.  Gold gained modestly, up 0.07 percent, but silver gained 0.50 percent. Industrial metals were lower with the exception of copper, which gained 0.92 percent. Aluminum lost 1.28 percent, zinc was down 0.25 percent and tin fell 0.11 percent.
The euro continued its climb and traded at $1.3892 and the pound fell modestly against the dollar, down 0.05 percent. The dollar lost 0.22 percent against the yen and 0.02 percent against the Australian dollar.
Earnings
Notable earnings released on Thursday included:
Dollar General Corporation (NYSE: DG) reported fourth quarter EPS of $1.01 on revenue of $4.49 billion, compared to last year's EPS of $0.97 on revenue of $4.21 billion.
Aeropostale Inc (NYSE: ARO) reported a fourth quarter loss of $0.35 on revenue of $670.00 million, compared to last year's EPS of $0.24 on revenue of $797.71 million.
Christopher & Banks Corporation (NYSE: CBK) reported a fourth quarter loss of $0.01, compared to last year's loss of $0.11 on revenue of $115.98 million.
Stocks moving in the Premarket included:
Notable earnings releases expected on Friday include:
Brown Shoe Company (NYSE: BWS) is expected to report fourth quarter EPS of $0.10 on revenue of $620.35 million, compared to last year's EPS of $0.14 on revenue of $640.18 million.
ANN INC (NYSE: ANN) is expected to report fourth quarter EPS of $0.07 on revenue of $623.88 million, compared to last year's EPS of $0.05 on revenue of $607.68 million.
Buckle, Inc (NYSE: BKE) is expected to report fourth quarter EPS of $1.20 on revenue of $349.93 million, compared to last year's EPS of $1.28 on revenue of $360.62 million.
Economics
Friday's economic calendar will include German CPI, Spanish trade balance, British trade balance, US PPI, and US consumer sentiment data.
For a recap of Thursday's market action, click here.
Tune into Benzinga's pre-market info show with Dennis Dick and Joel Elconin here.
Posted-In: Earnings News Eurozone Futures Commodities Previews Forex Events Best of Benzinga
View Comments and Join the Discussion!