Five Star Stock Watch: EMC Corp.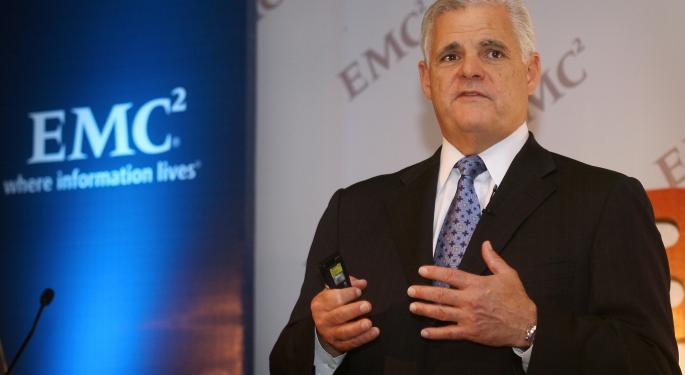 One of the best trades or investments that can be made is when a stock breaks through a key 52-week resistance point. Breaks of this nature can lead to continued uptrends or the start of new ones.
A stock currently trying to make this type of breakout is EMC. Check out the stock analysis below for the stock's key resistance level and possible trading opportunity.
The company: EMC Corp.
Ticker Symbol: (NYSE: EMC)
Sector: Technology 
Industry: Data Storage Devices
EMC Corporation develops, delivers, and supports information infrastructure and virtual infrastructure technologies, solutions, and services. It operates in three segments: Information Storage, Information Intelligence Group, and RSA Information Security.
Related: Five Star Stock Watch: Nokia
The company offers enterprise storage systems and software deployed in storage area networks (SAN), networked attached storage (NAS), unified storage combining NAS and SAN, object storage, and/or direct attached storage environments, as well as provides backup and recovery, disaster recovery, and archiving solutions.
Please take a look at the one-year chart of EMC below with added notations: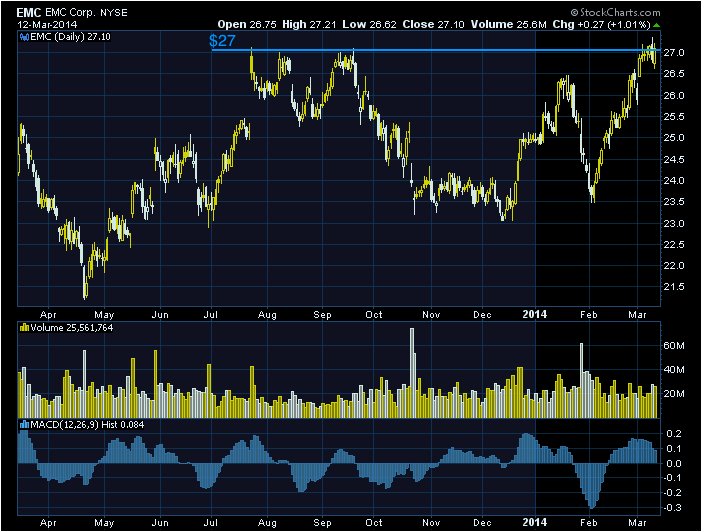 All in all, EMC really hasn't gone anywhere over the last eight months. The stock has went from $23 up to $27, back down to $23 and now is back up at $27 again.
However, over that period of time EMC has created a strong resistance area at $27. That resistance is also a 52-week high resistance and the stock is currently trying to break through it.
Related: Five Star Stock Watch: Lennar
EMC isn't set to release earnings again until April 23, 2014.
No matter what your strategy, or when you decide to enter, always remember to use protective stops and you'll be around for the next trade. Capital preservation is always key!
Tags: Five Star Stock Watch
Posted in: Long Ideas Technicals Tech Trading Ideas Best of Benzinga