#PreMarket Primer: Monday, March 3: Markets Unsteady On The Prospect Of War In Ukraine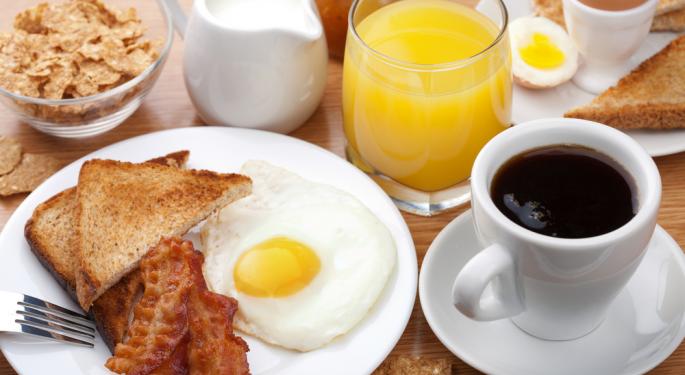 Over the weekend, Russian President Vladimir Putin announced his right to invade neighboring Ukraine in order to protect Russian interests.
His statement was interpreted as a declaration of war, sending a chill through markets as investors looked for safe bets and liquid currencies.
Russian troops took control of Ukraine's Crimean peninsula on Sunday despite Western warnings not to intervene using military force. Russia's decision to snub US advisories sent a powerful message to the West and has sent Western leaders scrambling to retaliate without using military action.
The US has threatened to impose trade restrictions on Russia in order to isolate the country economically; however such sanctions will have little impact without the cooperation of major European nations. Most analysts don't see the EU matching the US' sanctions as the region relies heavily on Russia for natural gas. Instead, EU leaders, set to meet on Monday to discuss the situation, will likely push for mediation between Ukraine and Russia.
In other news around the markets:
Just as the US began to thaw out from an unusually cold winter, another storm made its way to the East coast promising severe cold and snow. Federal and local offices in Washington have been shut down and votes scheduled for Monday in the Senate and House of Representatives have been postponed. On Sunday night, airlines canceled nearly 2,000 flights and upwards of 5,000 were delayed due to the storm.
On Monday, North Korea fired two short range missiles off its north coast as part of a regular military exercise. The missiles, believed to be Scud-C models, flew almost 500 km which indicates that they could be directed to hit targets in both South Korea and Japan.
Mixed economic data from China made assessing the nation's economic strength more confusing on Monday. The nation's services PMI increased to 55.0 in February, a three month high. However, data showed that Chinese manufacturing PMI dropped to 48.5, below the 50 point level that indicates contraction and the nation's third consecutive decline.
US refiners like Valero Energy and Marathon Petroleum are moving to expand their fuel making capacities as a flood of oil from Oklahoma, Texas and North Dakota is expected. The Wall Street Journal reported that American refiners are expected to increase their oil refining capacity by 400,000 barrels per day over the next five years.
Asian markets were shaky as investors processed the situation in Ukraine. The Japanese NIKKEI lost 1.27 percent, China's Shanghai composite was down 0.92 percent, the Hang Seng index fell 1.36 percent and the South Korean KOSPI was down 0.77 percent.
European Markets
European markets were steady , the UK's FTSE was down 0.01 percent and the eurozone's STOXX 600 gained 0.46 percent. France's CAC 40 gained 0.27 percent and Italy's MIB was up 0.60 percent.
Energy futures surged on the possibility of a war between Russia and Ukraine. Brent futures increased by 1.62 percent and WTI futures were up 1.22 percent.  Precious metals also gained momentum; gold was up 1.86 percent and silver rose 1.64 percent.  However industrial metals were mostly lower with copper down 0.63 percent and aluminum down 0.79 percent.
Earnings
Notable earnings released on Friday included:
3D Systems Corporation (NYSE: DDD) reported fourth quarter EPS of $0.19 on revenue of $154.80 million, compared to last year's EPS of $0.26 on revenue of $155.07 million.
Liberty Interactive Corporation (NASDAQ: LINTA) reported fourth quarter EPS of $0.42 on revenue of $3.20 billion, compared to last year's EPS of $0.33 on revenue of $3.14 billion.
Stocks moving in the PreMarket included:
Notable earnings releases expected on Monday include:
Economics
PMI data will be the star of Monday's economic calendar with manufacturing PMI data due out from the US, the UK, the eurozone, Germany, France and Italy. Other notable releases include US construction spending and the Reserve Bank of Australia's interest rate decision.
For a recap of Friday's market action, click here.
Tune into Benzinga's pre-market info show with Dennis Dick and Joel Elconin here.
View Comments and Join the Discussion!
Posted-In: Earnings News Emerging Markets Commodities Previews Forex Events Global Best of Benzinga