#PreMarket Primer: Friday, February 28: Tension Between Russia And The West Escalates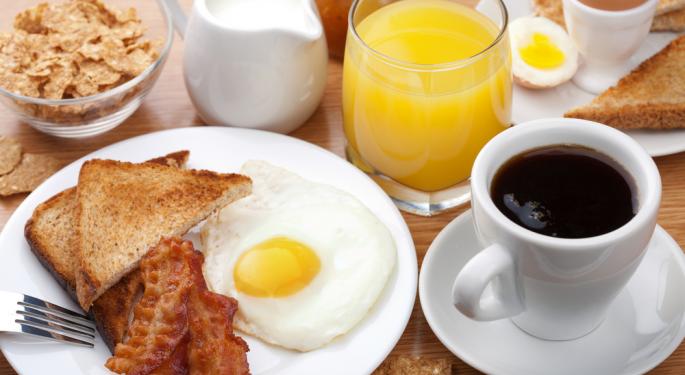 The ongoing problems in Ukraine have begun to reach further than the country's borders as tension between the West and Russia ramps up.
On Friday, armed forces took control of two Crimean airports. The men were described by the Ukrainian government as Russian forces, but the Russian government has denied any involvement.
A day earlier, Russian President Vladimir Putin ordered troops to perform military exercises just miles from the Ukrainian border. His decision prompted the US to warn Moscow against military intervention. 
In other news around the markets:
Upbeat data from Japan has suggested that the nation's economy will be able to withstand the repercussions of April's planned sales tax increase. The nation's January factory activity increased at its fastest pace in over two years while core inflation remained near five year highs.
Facebook share prices have been on the rise after news that the company will acquire Whatsapp Inc. for $19 billion. However, some investors are skeptical as history has shown that every internet acquisition over $10 billion has ended poorly.
On Thursday, IBM began a $1 billion restructuring plan by cutting US jobs in several states. The restructuring program is designed to help the company increase profits and boost share prices to $20 a share by the end of 2015.
Janet Yellen remained positive about the Federal Reserve's plans at her testimony to the Senate Banking Committee on Thursday and said the recent spate of poor data could be largely explained by the nation's bout of severe weather. Yellen indicated that she intends to stay the course and expects US economic indicators to pick up now that the winter is coming to a close.
Asian markets ended the week mostly higher; the Shanghai composite gained 0.44 percent and the Shenzhen composite was up 1.15 percent. New Zealand's NZ 50 rose 0.52 percent, but Australia's ASX 200 was down 0.12 percent.
European Markets
European Markets were down across the board; the UK's FTSE lost 0.21 percent and the eurozone's STOXX 600 was down 0.05 percent. France's CAC 40 lost 0.26 percent and the Spanish IBEX was down 0.76 percent.
Energy futures for April delivery fell; Brent futures lost 0.31 percent and WTI futures were down 0.39 percent. Precious metals were also lower with gold and silver down 0.35 percent and 0.47 percent respectively. Industrial metals also slid with copper down 0.84 percent and aluminum down 0.37 percent.
The euro gained momentum after data showed the nation's inflation was stable at 0.8 percent and the common currency gained 0.58 percent against the dollar. The pound was up 0.39 percent against the dollar and the greenback lost 0.26 percent against the yen.
Earnings
Notable earnings released on Thursday included:
Best Buy Co., Inc. (NYSE: BBY) reported fourth quarter EPS of $1.24, compared to last year's EPS of $1.55 on revenue of $16.71 billion.
Salesforce.com Inc (NYSE: CRM) reported fourth quarter EPS of $0.00, compared to last year's EPS of $0.13 on revenue of $834.68 million.
Hilton Worldwide (NYSE: HLT) reported fourth quarter EPS of $0.11.
Sotheby's (NYSE: BID) reported fourth quarter EPS of $1.10, compared to last year's EPS of $0.96 on revenue of $291.12 million.
Stocks moving in the Premarket included:
Notable earnings releases expected on Friday include:
3D Systems Corporation (NYSE: DDD) is expected to report fourth quarter EPS of $0.20 on revenue of $101.57 million, compared to last year's EPS of $0.26 on revenue of $155.07 million.
Liberty Interactive Corporation (NASDAQ: LINTA) is expected to report fourth quarter EPS of $0.45 on revenue of $3.18 billion, compared to last year's EPS of $0.33 on revenue of $3.14 billion.
Economics
Friday's notable economic releases will include Canadian GDP, US GDP, eurozone unemployment, eurozone CPI,  and German retail sales.
For a recap of Thursday's market action, click here.
Tune into Benzinga's pre-market info show with Dennis Dick and Joel Elconin here.
Posted-In: Earnings News Eurozone Futures Previews Forex Events Global Best of Benzinga
View Comments and Join the Discussion!