Target Earnings Preview: More Pain To Come?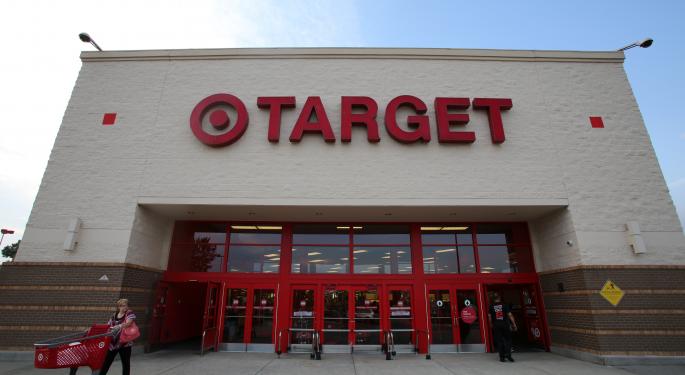 Target (NYSE: TGT), which is still reeling from a massive credit card data breach late last year, is scheduled to report its fiscal fourth-quarter and full-year results Wednesday, February 26, before the markets open.
Aside from any updates on how the retailer is responding to the data breach, investors will be on the lookout for signs that declines in earnings may have bottomed and for profit margins to have improved. Is Target a bargain now, or is there more pain to come? Note that competitor Wal-Mart (NYSE: WMT) posted declining earnings and offered soft guidance last week.
See also: Replacing Cards In Target Hack Has Cost Banks $200 Million So Far
Expectations
Analysts on average predict that Target will say that its revenue for the quarter fell more than five percent year-over-year to $21.46 billion. Earnings of $0.80 per share are also in the consensus forecast. That would be up from $0.56 in the previous period, but down from $1.47 per share in the same period of last year.
Analysts' sentiment has slipped, as the consensus EPS estimate was $1.26 just 60 days ago, and individual estimates range from $0.69 to $0.97. And note that Target fell short consensus expectations in three of the previous four quarters; the beat in the third quarter was by about 11 percent.
Target's third-quarter results were negatively impacted by costs of the retailer's expansion into Canada, as well as what it called "constrained consumer spending" in the United States. The share price pulled back more than four percent in the days following the third-quarter report.
The analysts' consensus full-year forecast calls for $3.18 per share in earnings on revenue of $72.64 billion. Target posted earnings of $4.38 per share and $73.30 billion in sales in the previous year. That consensus EPS estimate has also dropped in the past 60 days, from $3.61.
The Company
Target is a retailer of general merchandise with more than 1,900 stores in the United States and Canada. Its wares include pharmaceuticals, consumer electronics, apparel, groceries, and automotive and seasonal merchandise. It also sells merchandise online via Target.com.
This S&P 500 component was founded in 1902, and its headquarters are in Minneapolis. It now has a market capitalization of more than $35 billion. Gregg Steinhafel has been chief executive officer of the company since 2008 and chairman of the board since 2009.
Competitors include Sears Holdings (NASDAQ: SHLD) and Walmart. The former is expected to post a net loss per share and declining revenue, relative to a year ago, when it next reports. For the current quarter, Walmart is expected to show marginal growth on both the top and bottom lines.
See also: Walmart Posts Drop In Q4 Profit, Issues Weak Outlook
During the three months that ended in January, Target saw strong Black Friday sales, revealed that millions of credit card accounts had been hacked, opened a 20,000-square-feet TargetExpress store in Minneapolis and unveiled plans for further expansion in Canada.
Performance
Target has a price-to-earnings (P/E) ratio that is less than the industry average, and its long-term earnings per share growth forecast is more than 10 percent. The return on equity is almost 15 percent, and the operating margin is greater than the industry average. The dividend yield is near 3.1 percent.
The number of Target shares sold short, as of the most recent settlement date, represents more than four percent of the total float. That was the highest level of short interest in the past year. It would take almost four days to close out all of the short positions.
For the past three months, the consensus recommendation of the analysts surveyed by Thomson/First Call who follow the stock has been to hold shares. The analysts' mean price target, or where they expect the stock to go, is about 12 percent higher than the current share price.
The share price is down about 11 percent year to date, after hitting a 52-week low in the first week of February. It is currently below the 50-day and 200-day moving averages. Over the past six months, Target has underperformed not only the competitors mentioned above, but also the broader markets.
At the time of this writing, the author had no position in the mentioned equities.
Keep up with all the latest breaking news and trading ideas by following us on Twitter.
View Comments and Join the Discussion!
Posted-In: sears Target Target.com TargetExpressEarnings News Previews Trading Ideas Best of Benzinga