Earnings Expectations For The Week Of February 24: Best Buy, Home Depot & More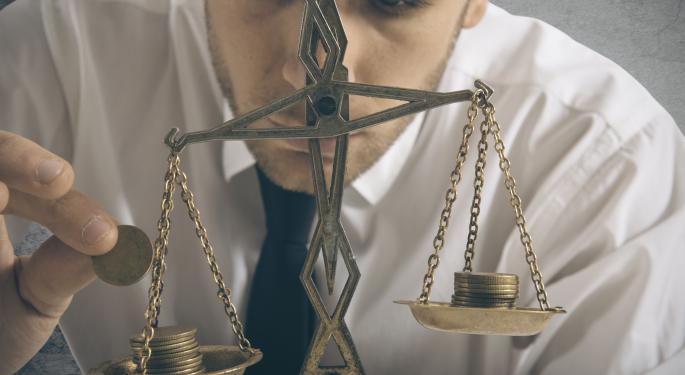 Last week, Wal-Mart (NYSE: WMT) kicked off the parade of big retailers stepping into the earnings spotlight by offering up subpar same-store sales and weak guidance for the year. Inclement weather got some of the blame.
Will that be so for Best Buy (NYSE: BBY), Gap (NYSE: GPS), Home Depot (NYSE: HD), J.C. Penney (NYSE: JCP), Macy's (NYSE: M) and Target (NYSE: TGT) when they share their quarterly results this week?
Here is a quick look at what analysts expect from some of this week's most anticipated quarterly reports from retailers.
See also: Weekly Preview: Last Of The Retailers Reporting
Best Buy
In its report early Thursday, this consumer electronics retailer is expected to post per-share earnings of $1.01 for its most recent quarter, down from a profit of $1.55 per share in the year-ago period. Full-year earnings per share (EPS) are forecast to be more than 29 percent lower year-on-year to $1.84.
Revenues are predicted to have slipped more than 12 percent to $14.66 billion for the quarter and almost 14 percent to $42.71 billion for the full year. So far, revenue is expected to be down marginally for the current quarter and essentially flat for the current year.
Gap
The forecast for this San Francisco-based apparel retailer calls for EPS of $0.66 and for revenue to total $4.60 billion for the fourth quarter. That would be lower than the $0.73 per share and $4.72 billion in sales in the year-ago period. EPS have not missed consensus estimates in the past four quarters.
For the full year, the consensus expectations are for $2.73 per share in earnings and revenue of $16.18 billion. That would be up from $2.33 per share and $15.65 billion in the previous year. The Gap is scheduled to share its results Thursday after the closing bell.
Home Depot
Analysts expect Home Depot to post earnings of $0.71 per share for its fiscal fourth quarter, up from $0.67 per share a year ago. But revenues for the quarter are estimated to total $17.92 billion, which would be less than two percent lower than a year ago. Note that EPS have not fallen short of consensus estimates in the past four quarters.
The consensus full-year forecast has earnings at $3.74 per share and $79.02 billion in sales. That would be up more than 17 percent and more than five percent, respectively, relative to the previous year. The home improvement superstore operator is scheduled to share its results Tuesday before the markets open.
J.C. Penney
When it shares its results late Wednesday morning, this struggling company is expected to say its net loss for the fourth quarter narrowed from $1.95 per share a year ago to $0.82. For the full-year, the net loss is expected to be $6.11 per share, compared to a per-share loss of just $3.50 in the previous year.
The forecast also calls for quarterly revenues of $3.86 billion, down fractionally, but for full-year revenue to have fallen about eight percent to $11.93 billion. In addition, analysts thus far are looking for more than four percent growth in revenue for the current quarter, but another net loss.
Macy's
Fourth-quarter earnings from this Cincinnati-based department store operator are expected to come to $2.17 per share, on $9.27 billion in revenue, in Tuesday morning's report. That would compare to EPS of $2.05 but sales of $9.35 billion in the same period of the previous year.
The full-year forecast offers gains on both the top and bottom lines: EPS up more than 10 percent to $3.87, as well as revenue growth of more than one percent to $28.02 billion. So far, higher revenue and EPS are predicted for the current quarter, relative to the year-ago period.
Target
In its Wednesday morning report, this Minneapolis-based retailer is expected to show a profit of $0.80 per share for the quarter and $3.18 for the full year. That would be down from EPS of $1.47 and $4.38, respectively, year over year. Note that in the past 60 days, the quarterly EPS estimate has dropped from $1.26 while the full-year one has fallen from $3.61.
Target also is expected to say that revenues declined more than five percent to $21.46 billion for the quarter and slipped marginally to $72.64 billion for the full year. So far, revenue and earnings results for the current quarter are expected to be higher sequentially and year-over-year.
See also: Nordstrom's Quarterly Results: Analysts Calm About Long-Term, But Short-Term Questions Remain
And Others
Analysts also are looking for earnings growth this week from retailers Barnes & Noble, Dollar Tree, Lowe's Companies, Office Depot and TJX Companies. On the other hand, Abercrombie & Fitch, Kohl's, L Brands and Ross Stores are expected to show a year-over-year decline in their per-share earnings.
Elsewhere, the consensus forecasts for American Tower, Anheuser-Busch InBev, Baidu, Cablevision Systems, Chesapeake Energy and Toll Brothers call for year-over-year earnings gains. But declines in EPS are expected from First Solar, Salesforce.com, SodaStream International, 3D Systems and Transocean.
And analysts foresee net losses from GT Advanced Technologies, SolarCity and T-Mobile US when the report this week.
Keep up with all the latest breaking news and trading ideas by following us on Twitter.
View Comments and Join the Discussion!
Posted-In: 3D Systems abercrombie & fitch American TowerEarnings News Previews Pre-Market Outlook Trading Ideas Best of Benzinga