Elon Musk: Tesla Is 'Unlikely' To Satisfy Demand In China In 2014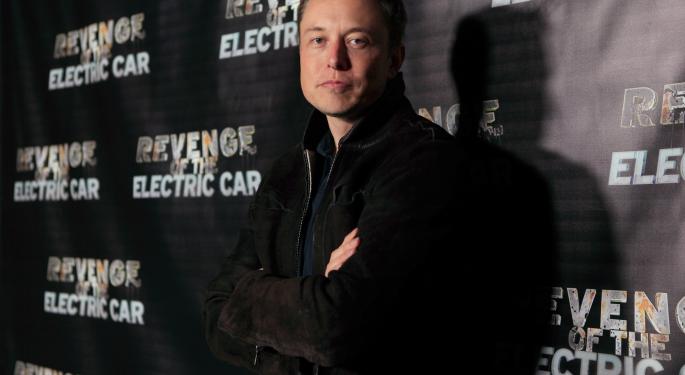 Tesla (NASDAQ: TSLA) CEO Elon Musk has admitted that his company is not likely to satisfy the demand in China for its flagship vehicle.
During the automaker's fourth quarter earnings call, Musk said that based on current trends, "it seems unlikely that we'll be able to satisfy demand in China this year."
"There's likely to be unmet demand in China," he added.
His comments came after Musk and Tesla CFO Deepak Ahuja published a shareholder letter, which revealed that Tesla's Beijing store had become the company's "largest and most active retail location in the world."
See also: Tesla Jumps After Crushing Analyst Estimates
Model X Demand Soars Without Marketing
Tesla is not actively marketing the Model X, but demand is already very high for this next-generation vehicle.
"We're not actually trying to sell the Model X at all, but the demand seems to be very high," Musk told investors, adding that Tesla is seeing a steady accumulation of deposits.
"Which is on top of our ongoing Model S deposits," Ahuja added.
Musk believes that the Model X will see "at least" as much demand as the Model S. He also speculated that the Model X could be even bigger but asked investors not to hold him to that estimate.
Tesla's Mysterious Giga Factory
Musk and Ahuja were unwilling to specifically answer most questions regarding the proposed battery giga factory, but Musk did discuss the number of partners who might be involved.
"We expect it will be more than one partner in the factory," said Musk. "Panasonic is currently our primary partner on cell production. The default assumption would be that Panasonic would continue to partner with us in making a factory."
Musk added that there are likely to be other suppliers in the factory that provide the precursor materials. He said that more would be revealed next week.
Car Fires And Declining Sales
Last year there were reports that a few Model S vehicles had caught on fire. This hurt the stock and initially deterred consumers who were concerned about the vehicle's safety.
"As consumers came to understand that it was kind of a media-driven thing and not a real danger with the car, sales improved steadily since then and have continued to improve since that initial news," said Musk, who reiterated that the Model S has a lower propensity for fires than a gasoline car.
Musk also said that he likes the Internet and social media, which can be helpful in dealing with tricky situations.
"In the absence of social media, I'm not sure we would have been able to correct the misperception," he said.
Investors Rejoiced
Tesla jumped more than 12 percent (and was up more than 15 percent initially) in after hours trading after the company announced its fourth quarter results.
The automaker sold and delivered 6,892 Model S vehicles, setting a new quarterly sales record.
Tesla reported a Q4 EPS of $0.33, which was significantly higher than the Street estimate of $0.19. Earnings per share were up 151 percent from the year-ago period.
Revenue rose 26 percent to $761 million.
Disclosure: At the time of this writing, Louis Bedigian had no position in the equities mentioned in this report.
View Comments and Join the Discussion!
Posted-In: Deepak Ahuja Elon Musk Model S Model XEarnings News Management Events Best of Benzinga