#PreMarket Primer: Thursday, February 6: Markets Taking A Breather After Twitter Earnings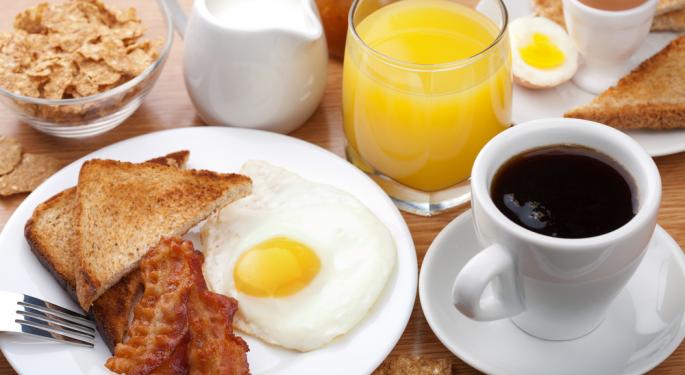 After what looked to be another rough day at the open, the markets rebounded and ended down only fractionally.
The Dow flat up at 15,440.23. The S&P was down 0.2 percent to 1,751.64 and the NASDAQ was down about 0.5 percent to close at 4,011.55.
This morning, U.S. markets are sharply higher. The Dow is indicated up about 70 points while the S&P is up slightly more than 8. The NASDAQ is up about 18 points in early premarket trading.
Coca-Cola (NYSE: KO) is purchasing a 10 percent stake in Green Mountain Coffee (NASDAQ: GMCR) at a price of $1.25 billion. The two will collaborate for the next 10 years to produce Coke products for Green Mountain's K-cups.
Sony (NYSE: SNE) will sell its PC business, spin off its TV business, and cut 5,000 jobs.
Asian Markets
After a mostly up day, Japanese shares retreated to end the day fractionally lower on continued fears of US earnings. The Nikkei finished 0.2 percent lower on Thursday to close at 14,155.12.
The Hang Seng was down about 0.7 percent to close at 21,423.13 and the KOSPI was up 0.8 percent to 2,033.08.
European Markets
Europe is trending higher as it awaits data due out today. The FTSE is up about 0.7 percent at 6,502.70, the DAX is up more than one percent, and the CAC is up about one percent.
Commodities are higher across the board as natural gas continues higher. WTI is up about 0.4 percent at $97.77 while Brent is up at $106.62. Natural Gas is soaring 3.7 percent to $5.21.
Gold is up about 0.2 percent at $1,259.80 and silver is up about 1.2 percent at $20.06. Copper is up 0.4 percent to $3.20
Currencies are mostly quiet this morning. The euro sits at 1.3528 against the dollar—down about 0.03 percent and the dollar is at 101.52 against the yen—0.09 percent higher.
The pound is 0.1 percent lower against the U.S. currency at 1.629 and the Aussie dollar is at 0.895 against the dollar—up about 0.5 percent.
Twitter (NYSE: TWTR) is down 20 percent after disappointing earnings.
Green Mountain Coffee is up 40 percent after announcing a partnership with Coca-Cola.
Pandora (NYSE: P) is down 10 percent after announcing disappointing earnings.
Merck (NYSE: MRK) reported Q4 EPS of $0.88, missing the consensus estimate of $0.89. Revenue of $11.32 billion missed the consensus estimate of $11.39 billion.
Ralph Lauren (NYSE: RL)reported EPS of $2.57, beating the consensus estimate of $2.51. Revenue of $2.02 billion was in-line with the consensus estimate.
Twitter (NYSE: TWTR) reported fourth quarter EPS of $0.02, beating the consensus estimate of -$0.01. Revenue of $243 million beat the consensus estimate of $216.86 million.
Pandora reported Q4 EPS of $0.11, beating the consensus estimate of $0.08. Revenue of $200.8 million was in-line with the consensus estimate.
Earnings expected after the closing bell include:
Activision Blizzard (NASDAQ: ATVI) will report Q4 EPS of $0.73 on revenue $2.22 billion according to analyst estimates.
AptarGroup (NYSE: ATR) will report Q4 EPS of $0.65 on revenue of $602.4 million according to analyst estimates.
Initial jobless claims will reach the market at 8:30 AM ET along with international trade data. The EIA natural gas report will be closely watched given the volatility in natural gas. Charles Plosser will speak at 12:30 PM ET and Dennis Lockhart at 1:40 PM ET.
Posted-In: Earnings News Eurozone Futures Commodities Forex Management Global Best of Benzinga
View Comments and Join the Discussion!