MasterCard Misses Fourth Quarter Earnings, Management Comments on Poor Quarter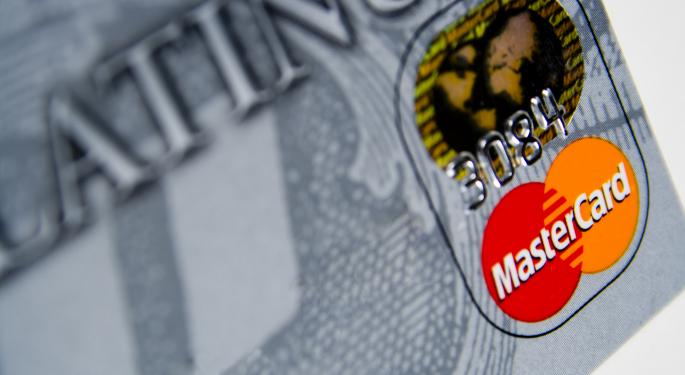 On Friday morning, Mastercard (NYSE: MA) released its fourth quarter results in which its operating EPS of $0.57 missed the consensus by three cents.
Revenue of $2.12 billion came in $20 million short of the consensus estimate.
MasterCard reported that it saw a 14 percent increase in volume to $1.1 trillion during the quarter and processed transactions rose 13 percent to $10.4 billion. The increased spending by cardholders was not sufficient to offset a higher level of rebates and incentives paid out by Mastercard.
Sanjay Sakhrani, analyst at KBW said that Matercard's earnings were in-line with expectations.
In a note to clients, Sakharni wrote " Overall, we would characterize MA's results as relatively in-line with our expectations. Volume trends were relatively mixed, with the US coming in line to slightly better than our expectations, while international was below our estimates, due to adverse f/x impacts during the quarter. While revenues were consistent with our estimates, expenses were higher, and we believe this will be an item of focus for investors, along with commentary around emerging markets, given the weakness of late.
During Mastercard's post earnings conference call, management touched on several of Sakharni's concerns.
Emerging markets
Overall, it seems like the economic environment is improving, especially in the U.S. and Europe," said Ajaypal Banga, Mastercard's Chief Executive Officer. "I understand that emerging markets are going through a bumpy patch, which we will continue to watch. But remember, they are starting in a much better place than they were in previous crises. And so I believe that over a period of time, that should stabilize.
Foreign exchange volatility
"Given the current volatility in the FX market, especially with an appreciating U.S. dollar and euro versus other currencies, we're carefully managing those exposures, but we could see some impact depending on how these currencies behave in 2014," said Marina Hund-Mejean, Mastercard's Chief Financial Officer.
Rising expenses
"First, the 12% increase in G&A expenses continues to be primarily driven by investments related to all aspects of our growth strategy, including initiatives such as MasterPass and tokenization," said Mejean. "Second, advertising and marketing was up by 8% mainly due to higher customer marketing support and media spend."
Management stated that it anticipates 2014 operating expenses to grow less than the nine percent it grew in 2013.
Posted-In: Ajaypal Banga Marina Hund-Mejean MasterCard Earnings Sanjay SakhraniEarnings News
View Comments and Join the Discussion!