CEO Jeff Bezos: 'It's A Good Time To Be An Amazon Customer'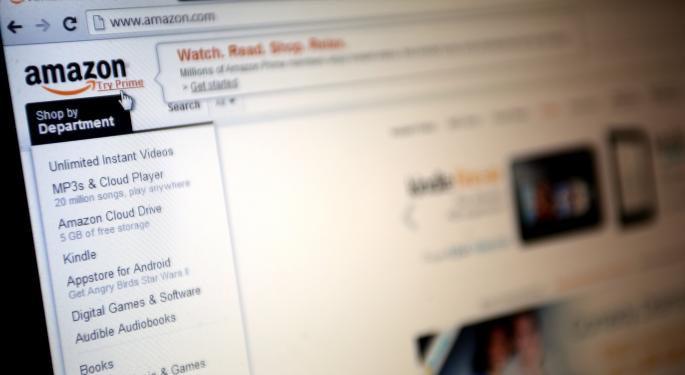 Amazon (NASDAQ: AMZN) is down more than six percent in after hours trading after the company reported its fourth quarter results.
The stock fell after the company reported worse-than-expected earnings results during the holiday shopping season. The online retail giant also guided lower-than-expected results for the first quarter, disappointing Wall Street.
For the fourth quarter, Amazon reported a Q4 EPS of $0.51 versus the Street estimate of $0.66.
Earnings per share were up 143 percent from the year-ago period.
Revenue came in at $25.59 billion versus the Street estimate of $26.07 billion. Sales were up 20 percent year-over-year.
While the Q4 results may have been below analyst expectations, the company had a record-setting holiday season for its two-day shipping and online video service, Amazon Prime. The company reiterated that it had "tens of millions of members" worldwide.
Amazon also claimed that the service was so popular that it had to limit new membership signups during "peak periods" in December.
Interestingly, the company only mentioned the word "record" (as in "record-setting") once in its entire press release.
"It's a good time to be an Amazon customer," Jeff Bezos, founder and CEO of Amazon.com, said in a company release. "You can now read your Kindle gate-to-gate, get instant on-device tech support via our revolutionary Mayday button, and have packages delivered to your door even on Sundays.
"In just the last weeks, Forrester, YouGov, and ForeSee have all ranked Amazon #1 – and we believe we're just scratching the surface of what world-class customer service can be."
Amazon anticipates Q1 sales will fall within the $18.2 billion to $19.9 billion range versus the Street estimate of $19.7 billion.
A Typically Slow Quarter
Amazon performed very well in the minutes leading up to the firm's fourth quarter results, hitting $400 today. The stock closed up more than four percent and was 25 percent higher than the last quarter.
The online retail giant rose more than four percent when it reported its third quarter results on October 24, 2013.
Back then, Amazon founder and CEO Jeff Bezos was very excited by the results.
"It's been a busy few months -- we launched a new Paperwhite and new Kindle Fires to positive reviews and surprised people with the revolutionary Mayday button -- average Mayday response times are just 11 seconds!" Bezos said in a company release.
The average response time has now decreased to nine seconds, which is significantly faster than Amazon's goal of 15 seconds.
"Amazon Prime membership continues to grow, and we now have tens of millions of members worldwide," Bezos remarked on December 26, 2013.
Year-to-date, Amazon has experienced a few ups and downs. The stock was down more than three percent YTD at market close on Wednesday, January 29.
Historically, the first quarter tends to be a slower time for Amazon. Despite a few fluctuations, the stock was somewhat flat during the first two months of 2012 (up 0.37 percent). Amazon performed slightly better during the same period in 2013, rising more than two percent.
Amazon ultimately rose 13 by the end of Q1 2012 (thanks to a huge spike at the end of March), and was up more than three percent by the end of Q1 2013.
Nonetheless, shares of Amazon are still up more than 40 percent over the last 12 months. The stock is up nearly 100 percent over the last two years, thanks to an increasing customer base who prefers to shop online.
Prime Members: Still A Mystery
Contrary to a handful of stories circulating online, Amazon has not actually said how many users have signed up for Prime.
While there is a lot of hype for the video service that Amazon provides (and its potential to compete with Netflix and Hulu), some industry watchers say it's a bonus -- not a key feature -- to consumers.
"The increase in subscribers isn't because of video," James Norman, founder of GroupFlix.tv, told Benzinga. "I would say a high percentage of those people don't even know they have video available to them."
GroupFlix is an online video service that is attempting to stand apart from Netflix and Amazon prime by offering individual cable shows the day after they air. Unlike its competitors, GroupFlix only charges consumers for the shows they want.
GroupFlix recently released a report regarding the future outlook for OTT (over-the-top) streaming video and music services.
Norman said that, even when consumers do come to Prime for video, they do so as a backup for when Netflix and Hulu don't have a certain show or movie. They still primarily subscribe for the two-day shipping, he said.
"[Amazon has] a big disconnect in terms of awareness of their video service and acquiring customers," Norman added. "You can't really match the 20 million Prime [estimated] customers that there are in the market to people actually using the video service."
Verdict
Amazon may be a dot-com stalwart, but the online retail giant may have a tough road ahead on Wall Street if it continues to fall below expectations.
Disclosure: At the time of this writing, Louis Bedigian had no position in the equities mentioned in this report.
View Comments and Join the Discussion!
Posted-In: Amazon Jeff BezosEarnings News Management Best of Benzinga