Analysts React to Las Vegas Sands Earnings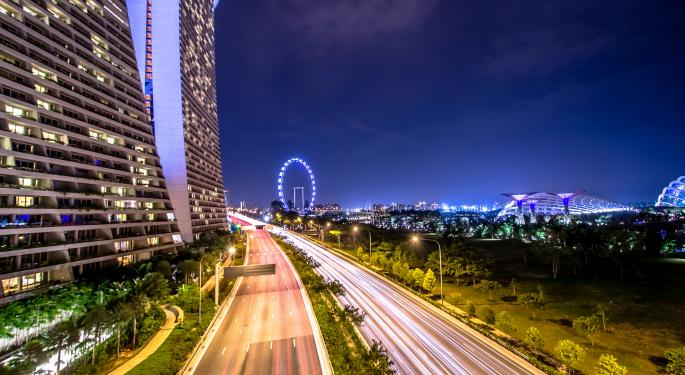 On Wednesday, Las Vegas Sands (NYSE: LVS) reported its fourth quarter results.
The company announced an EPS of $0.87, beating the consensus estimate of $0.84. Revenue of $3.66 billion fell short of the $3.71 billion consensus estimate.
Sheldon Adelson, chairman and chief executive officer, said, "In Macao, we delivered record financial results, with strong growth and operating momentum reflected in every segment of our business. We welcomed more than 17 million visits during the quarter to our Macao property portfolio, which delivered a record $835.9 million of adjusted property EBITDA."
"We remain confident that our market-leading Cotai Strip properties, including our latest Integrated Resort on the Cotai Strip, the Parisian Macao, which is now under construction and is targeted to open in late 2015, will meaningfully enhance the appeal of Macao to business and leisure travelers and provide an outstanding platform for growth in the years ahead," he added.
Stifel: All About Macau
Brad Boyer, a gamaing analyst at Stifel, said Macau's performance is a central point to the company's growth.
"We believe better than expected Macau results (hold-adjusted EBITDAR 8 percent ahead of consensus) should more than offset the adverse impact of generally sluggish Singapore performance," Boyer said in a research note to clients. "All told, Las Vegas Sands' Macau assets continue to outperform despite stiffening investor expectations."
Related: 3D Printers Capable of Printing Living Tissue and Organs: Are We Ready?
Las Vegas Sands has many positive catalysts yet to be realized, and should remain a core holding for all investors who want exposure to the gaming market, according to Boyer.
Among these initiatives include liquidity enhancing options, such as $12 billion to $14 billion market value of mall sales, a strong commitment to returning excess cash to shareholders, and an under-leveraged balance sheet at 1.3x net debt to TTM EBITDA.
Shares are Buy rated with a $92 price target.
Barclays: Ignore Singapore, Macau 'Central' to Thesis
Felicia Hendrix, an analyst at Barclays, said Las Vegas Sands is a top pick among Macau-related stocks. 
"LVS' performance in Macau continues to ramp significantly, as mass table yield increased 11 percent sequentially and 25 percent y/y," she said in a note to clients. "We expect this metric to grow a further 22 percent y/y by 4Q14; anticipated strength from the new premium mass area at SCC is a noteworthy driver."
In addition to a strong performance in Macau, Las Vegas Sands can see further upside as Japan remains a viable catalyst.
Las Vegas Sands' unused assets that could be monetized, such as malls and co-op apartments, the company could maintain a low debt/EBITDA levels.
Hendrix said a slowdown in Las Vegas Sands' Singapore properties is not a concern and "doesn't change our valuation given the offsetting strength in Macau."
From a financial perspective, Las Vegas Sands has "ample runway" to hike its dividends and share buybacks.
Shares are Neutral rated with a $86 price target.
ISI: Re-thinking Estimates
Ian Weissman at ISI Group, said Las Vegas Sands had a solid quarter, but the company's miss in Singapore is a concern.
"While LVS's 4Q earnings came in below our forecast, the miss was almost entirely attributable to very low hold in Singapore, and to a lesser extent Macau," Weissman said in a note to clients. "We are re-thinking our estimate of a sustainable hold run-rate in Singapore after several tough quarters in 2013."
Weissman noted that Las Vegas Sands' properties in Macau "exceeded our expectations" in terms of volumes of VIP and mass. VIP and mass revenues in Macau grew 9.9 percent and 49.5 percent year over year in the quarter -- exceeding the market's growth rate on the mass side (36 percent) and under-performing in the VIP segment (18 percent).
According to Weissman, Las Vega Sands has a favorable mix-shift, as 51 percent of its revenues in the quarter came from mass, up from 48.5 percent in the previous quarter.
Weissman noted that Singapore "dramatically under-performed" his forecasts of 49 percent. Revenue and property EBITDA missed his analysts "almost entirely due to low hold in the VIP segment."
Shares are Neutral rated with a $80 price target.
Elsewhere on the Street
Deustche Bank has a Buy rating with an $85 price target.
Bank of America has a Buy rating with a $95 price target.
Morgan Stanley has an Overweight rating with an $89 price target.
UBS has a Buy rating with an $87 price target.
View Comments and Join the Discussion!
Posted-In: Earnings News Guidance Emerging Markets Travel Restaurants Economics Markets Best of Benzinga