#PreMarket Primer: Thursday, January 30: Fed Cut Stimulus By Further $10 Billion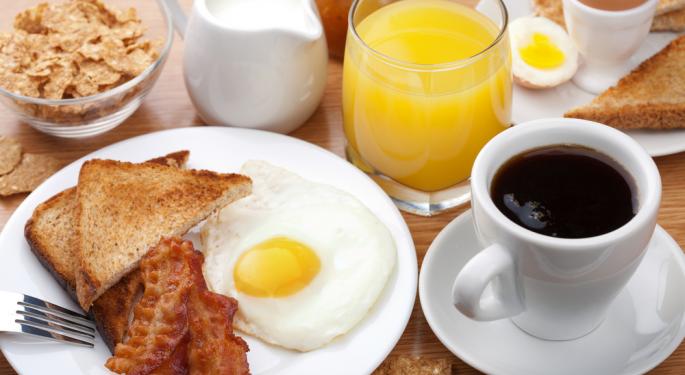 Despite the emerging markets sell-off, the US Federal Reserve decided to cut its monthly asset purchase program by another $10 billion in February, bringing the total monthly spend down to $65 billion per month.
The decision was backed by improving economic data which the bank believes will be sustainable in the long term without the assistance of the bank's stimulus.
The meeting was Chairman Ben Bernanke's last as leader of the US central bank, Janet Yellen will succeed him.
In other news around the markets:
Investors continued to flee towards safe-haven bonds on Thursday bringing global stocks down to a two and a half month low. Improvement in developed economies has caused many to pull out of emerging markets, especially those facing political uncertainty. With upcoming elections in several nations including Brazil and India, most are expecting policymakers to avoid increasing interest rates in order to preserve economic growth.
Reuters reported that Syria is falling behind on its commitment to get rid of its chemical weapons. Next week, the nation was supposed to send all of its toxic agents abroad for destruction; however the Syrian government is expected to miss that deadline. Additionally, the Syrian government has surrendered less than five percent of its chemical weapons up to this point.
Thailand will attempt to hold an election on Sunday despite growing violence among anti-government protestors. The nation's government has said they will increase the number of troops in Bangkok in case the opposition tries to stop people from voting.
Lenovo made a deal with Google in which the Chinese company will buy Google's handset business for $2.91 billion. However, Google said that the terms of the deal will allow it to hold on to most of Motorola's patents. The agreement underscores Lenovo's growing determination to gain market share in the technology sector.
Asian markets were mostly lower on Thursday. The Japanese NIKKEI was down 2.45 percent, China's Shanghai composite lost 0.82 percent and the Shenzhen composite was down 0.88 percent.  However, the South Korean KOSPI gained 1.26 and Indonesia's JSX composite was up 0.03 percent.
European Markets
European markets were down across the board, the UK's FTSE fell 0.36 percent and the eurozone's STOXX 600 was down 0.48 percent. The German DAX lost 0.38 percent and France's CAC 40 was down 0.46 percent.
Energy futures benefitted from cold weather in the US; Brent futures rose 0.17 percent and WTI futures were up 0.50 percent. Gold lost 0.34 percent and silver was down 0.70 percent. Industrial metals were mostly lower with zinc down 0.52 percent and aluminum down 0.71 percent.
The euro fell to $1.3592 and the pound lost 0.65 percent against the strengthening dollar. The  American currency lost 0.05 percent against the yen but gained 0.02 percent against the Australian dollar.
Earnings
Notable earnings released on Wednesday included:
Stocks moving in the Premarket included:
Notable earnings releases expected on Thursday include:
Economics
Thursday's economic calendar will include US pending home sales, US initial and continuing jobless claims, US GDP, German CPI, the Brazilian unemployment rate, eurozone consumer confidence, British mortgage lending, the German unemployment rate, and Spanish GDP.
For a recap of Wednesday's market action, click here.
Tune into Benzinga's pre-market info show with Dennis Dick and Joel Elconin here.
View Comments and Join the Discussion!
Posted-In: Earnings News Eurozone Futures Events Global Economics Federal Reserve Best of Benzinga