Facebook Wraps Up A Great 2013 With Q4 Earnings Beat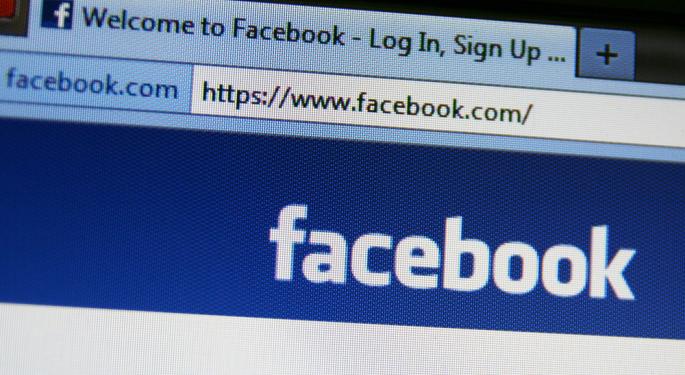 Facebook (NASDAQ: FB) is up more than six percent in after hours trading after the company reported its fourth quarter results.
The social media giant reported a Q4 EPS of $0.31 versus the Street estimate of $0.27.
Earnings per share were up 82 percent from the year-ago period.
Revenue came in at $2.59 billion versus the Street estimate of $2.33 billion. Sales were up 64 percent year-over-year.
"It was a great end to the year for Facebook," Mark Zuckerberg, Facebook founder and CEO, said in a company release. "We're looking forward to our next decade and to helping connect the rest of the world."
Social Star
Facebook shares jumped more than 12 percent after the company reported its third quarter results. At the time, Zuckerberg said that his company was "on a mission to connect the world."
"The strong results we achieved this quarter show that we're prepared for the next phase of our company, as we work to bring the next five billion people online and into the knowledge economy," Zuckerberg added.
Facebook rose more than 95 percent in 2013, making it one of the hottest stocks of the year. Those gains came after the first quarter (when Facebook's shares fell more than eight percent) and the second quarter (when Facebook lost an additional 2.5 percent). The social media giant began to rise at the end of July, rising more than 55 percent through August 30.
As of the market close on Tuesday, January 28, 2014, Facebook had risen more than 44 percent since its IPO in May 2012.
Big Spender
Facebook acquired several companies over the last 12 month, including the Atlas Advertiser Suite from Microsoft.
Brian Boland, Facebook's product marketing director, blogged about the buyout on February 28, 2013.
"Ultimately, Atlas's powerful platform, combined with Nielsen and Datalogix, will help advertisers close the loop and compare their Facebook campaigns to the rest of their ad spend across the web on desktop and mobile," Boland wrote.
Facebook also picked up Hot Studio (a design agency in New York and San Francisco), Parse (a cloud-based platform for developers) and Mobile Technologies (a developer of speech recognition and translation technology).
The terms of those deals were not disclosed, but Facebook recently paid a reported $15 million for Branch Media, a company that developed tools to start and share a conversation about virtually anything.
Facebook's most famous (and most expensive) acquisition came in April 2012 when the company paid $1 billion to acquire Instagram.
The company reportedly offered to pay $3 billion to acquire Snapchat, but the startup rejected the offer.
User Growth
Facebook has successfully increased the number of monthly active users (MAUs) every quarter since its IPO.
During the fourth quarter, Facebook's monthly active users rose to 1.23 billion. The social media giant's DAUs (daily active users) jumped to 757 million -- an increase of 22 percent year-over-year.
The Social Dominance Continues
Based on today's earnings and the company's continued growth in global users, it does not appear that any other social media firm will be able to dethrone Facebook in the near future.
Disclosure: At the time of this writing, Louis Bedigian had no position in the equities mentioned in this report.
Posted-In: Facebook Mark ZuckerbergEarnings News Tech
View Comments and Join the Discussion!