Ford Says 2013 One Of Its 'Best Years Ever,' But Challenges Loom In 2014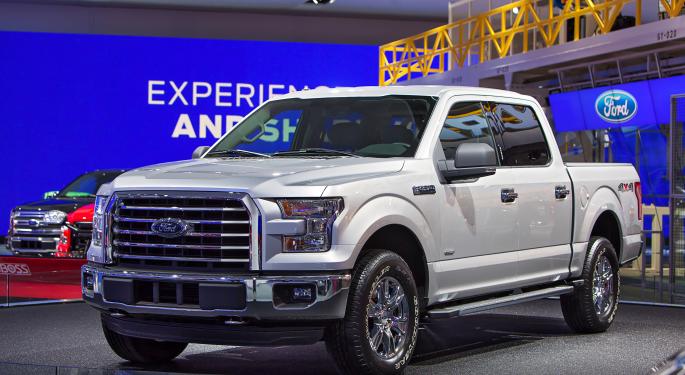 Ford (NYSE: F) is roaring into 2014 on a trunkload of good news.
The automaker beat analysts' expectations with a very strong fourth-quarter earnings report Tuesday. It also announced 2013 to be one of its "best years ever," with a pre-tax profit of $8.6 billion for last year – an increase of $603 million from 2012.
The company's total fourth quarter pre-tax profit of $1.3 billion was a decrease of $402 million compared to the same time period a year earlier. But nevertheless, it was Ford's 18th consecutive profitable quarter.
Ford says it expects its North American sales to remain strongly profitable as well this year, but at a lower level than in 2013 – due to the launch of 16 all-new or "significantly refreshed" vehicles. It has also scheduled shutdowns at two Ford plants this summer, as the company retools its factories for the new F-150 pickup truck, which features a mostly aluminum body.
Related: Ford's Alan Mulally Talks Aluminum, His Future & His Favorite Ride
Ford also reported a record market share in China, with "breakeven" results in South America and less loss in financially-troubled Europe compared to a year earlier.
Industry experts say the company is very well-positioned to build on its recent achievements.
"For 2014 it is important that Ford executes a successful wind-down of current F-150 and make a successful launch of its successor," Jack Nerad, executive editorial director and market analyst at Kelley Blue Book, wrote in an email to Benzinga. "Mid-cycle renewals of other products are also important, and Ford has a chance to add volume with the all-new version of Mustang."
Alec Gutierrez, another KBB senior analyst, was impressed by Ford's ability to pick up market share in the very competitive U.S. auto sales market – a market he expects will become more challenging in 2014.
"Ford, like all large automakers, will be put to the test this year as volume growth slows and manufacturers look for new ways to get the attention of consumer," he told Benzinga. "Ford will need to remain focused on maintaining production levels to meet demand so that they don't have to up incentive spend."
Despite the challenges ahead in both the domestic and overseas markets, Gutierrez believes Ford can stay well in the black in 2014 and beyond, "provided that they maintain their disciplined approach to production and incentives as well as their focus on product quality that has helped them to recover from the depths of recession."
Posted-In: Earnings News Emerging Markets Eurozone Travel Global Economics Markets Best of Benzinga
View Comments and Join the Discussion!