Apple Conference Call Highlights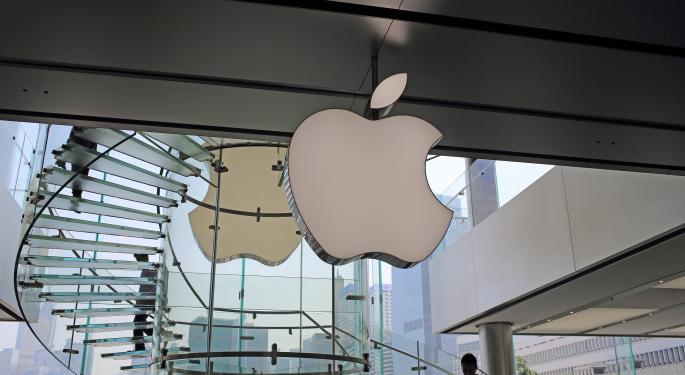 Monday's Apple (NASDAQ: AAPL) earnings announcement wasn't enough to keep investors from taking profits. In pre-market trading Tuesday, the stock was down about six percent, but well off its lows of more than eight percent lower in Monday's aftermarket.
Here are some of the highlights from the conference call.
Revenue for the quarter was $57.6 billion—up $3.1 billion or six percent year-over-year. Its gross margin was 37.9 percent, above the high end of the company's range.
Based on data published by Kantar, the iPhone accounts for 69 percent of the smartphone market in Japan. The iPhone also saw strong growth in Greater China, Latin America, the Middle East and Russia.
A December survey of U.S. customers found a 96 percent iPhone customer satisfaction rate and a 90 percent loyalty rate. These numbers were considerably higher than the competition.
iPhone received FIPS 140-2 certification from the U.S. federal government. The phone is now holds a 59 percent share of the U.S. commercial smartphone market.
Related: Five Star Stock Watch: Apple
iPad Data
Despite supply constraints, Apple sold 26 million iPads during the quarter—about three million more year-over-year representing a quarterly sales record.
A November ChangeWave survey found that of those planning to purchase a tablet, 72 percent were planning to buy an iPad.
The device has a 97 percent satisfaction rate and a 78 percent share of the U.S. commercial tablet market.
Nearly every NFL team uses iPads as playbooks and schools have purchased 7 million iPads—750,000 to the State of Texas alone.
iOS7 and Mac
80 percent of iOS devices are running iOS7, making it the most popular operating system in the world.
Sold 4.8 million Macs compared to 4.1 million one year ago, for an increase of 19 percent.
Mac has gained global market share in 30 of the last 31 quarters.
iTunes revenue was 4.4 billion—a 19 percent year-over-year increase.
The App Store has a 63 percent to 37 percent market share advantage over Google Play.
Apple Retail Sales
Revenue for the quarter was $7 billion—a nine percent year-over-year increase and a new quarterly record.
Apple now has 420 stores with 166 outside of the United States.
Average revenue per store was $16.7 million compared to $16.3 million the year before.
Cash
Ended the quarter with $158.8 billion in cash—a sequential increase of $12 billion. Domestic cash was $34.4 billion—a sequential decline of $1.1 billion.
78 percent of the company's total cash was offshore.
Apple paid $2.7 billion in dividends and repurchased $5 billion or 9.6 million shares of its stock.
Dividend of $3.05 per share will be paid on February 13, 2014.
Outlook
Apple expects revenue of $42 to $44 billion compared to $43.6 billion one year prior.
Expects gross margins of 37 percent to 38 percent.
Disclosure: At the time of this writing, Tim Parker was long Apple.
Posted-In: Apple buybackEarnings News Guidance Dividends Retail Sales Tech Best of Benzinga
View Comments and Join the Discussion!