Apple Earnings Preview: A Return To Earnings Growth?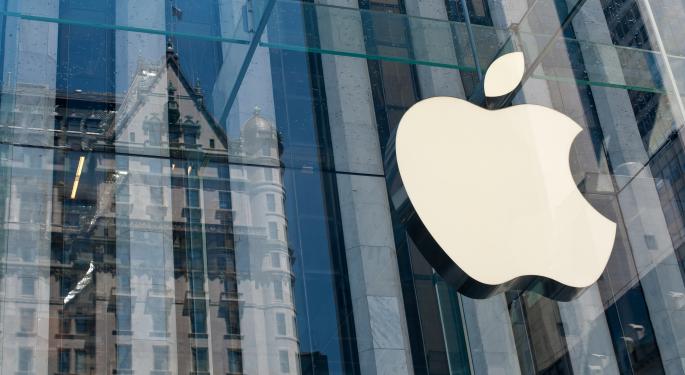 Apple (NASDAQ: AAPL), which reportedly has its eye on mobile payments as the next big thing, is scheduled to report its first-quarter fiscal 2014 results Monday, January 27, after the closing bell.
Investors will be looking for a halt to four straight quarters of year-on-year earnings declines, as well as keeping an eye the sales numbers for the recently launched iPad Air and iPad Mini with Retina Display. This quarter will not include iPhones sold through China Mobile.
See also: Carl Icahn's Letter To Apple Shareholders ... What Did It Say?
Expectations
Analysts on average predict that Apple will report that its revenue for the quarter increased more than five percent year-over-year to $57.46 billion. Earnings of $14.09 per share are also in the consensus forecast. That would be up from a reported profit of $13.81 per share in the comparable period of last year.
Note that 60 days ago the consensus earnings per share (EPS) estimate was just $13.99. And analysts have underestimated Apple's EPS in the previous four quarters. The beat in the previous quarter was by 30 cents, or almost four percent.
"We're pleased to report a strong finish to an amazing year with record fourth quarter revenue, including sales of almost 34 million iPhones," the CEO said in the fourth-quarter report. But both EPS and gross margin were down year over year. The share price dropped less than three percent following the report and did not recover for almost a month.
Looking ahead to the current quarter, the analysts' consensus forecast so far calls for year-over-year EPS growth of more than seven percent, as well as revenues that are more than five percent higher. And the full-year forecast calls for EPS and revenues to be up more than nine percent and more than eight percent, respectively, relative to the previous year.
The Company
Apple is a manufacturer of mobile communication and media devices such as the iPad, iPhone, Mac and Apple TV. It also offers software, services, peripherals and networking solutions related to its products. The company sells digital content and applications through its iTunes Store, App Store and other platforms.
This S&P 500 component was founded in 1977, and its headquarters are in Cupertino, California. It now has a market capitalization of more than $491 billion. Tim Cook has been chief executive officer of the company since August 2011.
Competitors include BlackBerry and Hewlett-Packard, which are expected to post declining revenues for the current quarter, as well as a net loss from the former. Google is expected to offer up strong quarterly results when it reports on Thursday.
During the three months that ended in December, Apple launched the iPhone 5s and 5c in Russia and other countries, launched the iPad Air in the United States, rolled out iBeacon at its U.S. Apple Stores, launched a new Mac Pro and set a deal with China Mobile.
See also: Apple Still Has China Mobile Problems To Solve
Performance
Apple has a long-term earnings per share growth forecast of more than 14 percent and a price-to-earnings (P/E) ratio less than the industry average. Its operating margin is greater than the industry average, and it has a return on equity near 29 percent. The dividend yield is near 2.3 percent.
The number of Apple shares sold short, as of the December 31 settlement date, represents less than two percent of the total float. That was the lowest level of short interest in at least a year, and well less than half the peak of almost 41.6 million shares short last April.
Of the 55 analysts surveyed by Thomson/First Call who follow the stock, 18 of them rate it at Strong Buy, and another 24 also recommend buying shares. The analysts' mean price target, or where they expect the stock to go, is almost nine percent higher than the current share price.
The share price is less than four percent higher than 90 days ago, but up more than 24 percent from a year ago. Shares are trading well above the 200-day moving average. Over the past six months, Apple has outperformed BlackBerry, HP and the S&P 500. But it has underperformed Google in that time.
At the time of this writing, the author had no position in the mentioned equities.
Keep up with all the latest breaking news and trading ideas by following us on Twitter.
Posted-In: Apple Blackberry china mobile GoogleEarnings News Previews Trading Ideas Best of Benzinga
View Comments and Join the Discussion!