BlackBerry's Third Quarter Was Tough, Will Earnings Disappoint?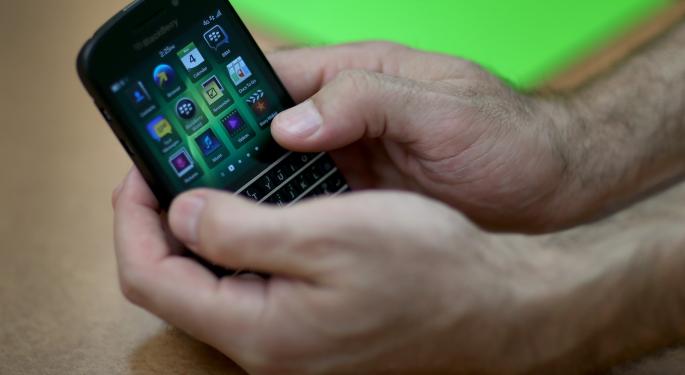 BlackBerry (NASDAQ: BBRY) is set to report its third quarter 2014 results on Friday, before the market opens.
Typically results are released at 7:00 a.m. EST, with a conference call to take place an hour later.
The consensus estimate for EPS is a loss of $0.44 a share, on revenues of $1.58 billion.
Last quarter the company announced a loss of $0.47  (beating the consensus estimates of a $0.49 cent loss) on $1.6 billion of revenue, short of the $1.63 billion consensus estimates.
Tough Quarter: No Love from Canadian Banks
BlackBerry has seen its fair share of attention in the recent quarter, and not necessarily in a positive way.
Back in October the company appeared to be on the selling block and ready to be taken private. Fairfax Financial, Canada's "equivalent of Berkshire Hathaway," was interested in acquiring the fellow Canadian smartphone maker.
As the prospects for an acquisition failed, BlackBerry received a $1 billion convertible last month, led by Fairfax Financial.
The company's balance sheet was boosted and was categorized as being in "good shape" by analysts at CIBC Equity Research in a note to clients following Fairfax Financial's note offering.
"BlackBerry's balance sheet is now in good shape. Pro-forma cash (convert & restructuring) is $3.1 billion or ~$5 a share. BlackBerry's survival was an issue for many enterprises who have watched the downward spiral," CIBC tech analyst Todd Coupland wrote. "Today's cash up should alleviate the financial concerns, but competitive ones remain."
The analysts at CIBC rated BlackBerry with a Sector Underperform, with a price target lowered to $5.00 from a previous $12.00
National Bank Financial issued an equally bullish report on Nov. 4.
"We were hopeful [Fairfax Financial] could pull off or inspire a take-private transaction. We thought this would result in the optimal shareholder outcome," Kris Thompson, an analyst at the Toronto-based bank, wrote in a note to clients.
As the Fairfax Financial deal failed, Thompson calculated that there is about $2.00 a share of debenture interest ahead of equity holders.
Shares were downgraded to Underperform from Sector Perform, with a price target lowered to $3.00 from a previous $9.00.
Earnings Preview
Analysts at JPMorgan (NYSE: JPM) issued an earnings preview to clients in a note dated Thursday.
Rod Hall, analyst at JPMorgan noted that, "heading into earnings on Friday, we don't see much to get excited about but we reserve judgement given we have yet to hear from interim CEO John Chen."
Hall is modeling the quarterly revenue below consensus. The analyst sees the company reported third quarter revenues of $1.508 billion and fourth quarter revenue of $1.286 billion, which is also below the consensus estimate of $1.448 billion.
Hall is expecting the company to report a "steep" fall in gross margin to 31.5 percent, below the consensus estimate of 35.6 percent. Next quarter, the analyst sees the company's margins at 29.5 percent, also below the consensus estimate of 34.6 percent.
The company has enacted a strategy of lowering prices to boost shipments, which would negatively affect margins.
Shares were rated Neutral, with a $13.00 price target following a period of restriction where shares weren't rated.
Other Items Traders Need to Look Out For
Analysts at BGC Partners warned clients to expect the possibility of further "headcount reductions" (i.e layoffs), as the quarter's losses may be volatile versus the consensus estimates. The quarter could also be loaded with write-offs.
Analysts at MKM warned clients to pay attention to the company's cash burn. Anything less than $300 million could be considered as a "positive."
Posted-In: Blackberry Fairfax Financial john chen telecommunicationsEarnings News Analyst Ratings Tech
View Comments and Join the Discussion!