'The Hobbit: The Desolation of Smaug' Has Big First Weekend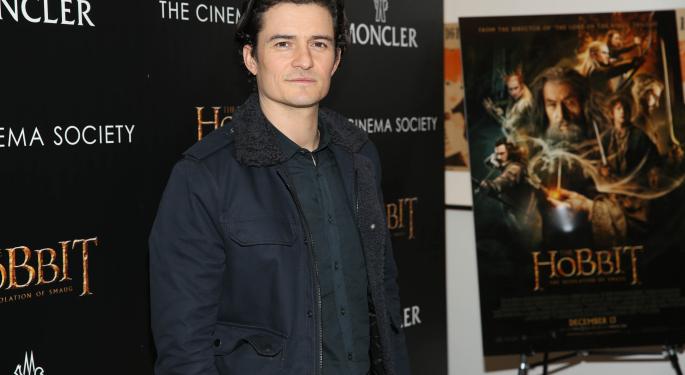 You might not be a fan of orcs, hobbits and adventures through fantasy lands but you have to give the newest movie in The Lord of the Rings franchise a thumbs-up after reading this weekend's box office numbers.
Before all of The Lord of the Rings fans object to the three-part Hobbit prequel series being lumped in with the widely successful Lord of the Rings trilogy, please accept our apologies but for the sake of movie studio metrics, it makes for easier comparisons.
The Hobbit: Desolation of Smaug brought in $31.3 million domestically on Friday alone.
While that's lower than the $37.5 million purse from the first in the Hobbit series, The Hobbit: An Unexpected Journey, one year earlier, the numbers are still quite impressive.
The full weekend haul came in at $73.6 million—lower than part one in the series that had a first weekend total of $84.6 million but giant snow storms and artic temperatures all over the nation were blamed for an overall damper on box office attendance making the large showing even more impressive.
Related: Venture to Middle Earth with Austravel
Not only is this a big win for Warner Brothers (NYSE: TWX) and its studio partners, smaller names like IMAX, Dolby, and RealD are reaping the rewards of an audience will to pay up for a more premium viewing experience that includes 3D and a movie that plays well in IMAX theaters.
Another company feeling good about the positive showing is News Corp., the company that owns the rights to author J.R.R. Tolkien's books through HarperCollins.
Based on early estimates, it's likely that this second in the three-film Lord of the Rings prequel will top $1 billion. The first film, which premiered at this time last year, went on to bring in $1.017 billion after a strong international showing that made up about 70 percent of the film's total haul.
At nearly $5 billion, the Lord of the Rings franchise (including the Hobbit movies) could move much closer to the Harry Potter franchise- the most successful franchise of all time bringing in $7.7 billion.
In other news, Tyler Perry's A Madea Christmas earned about $16 million in its first weekend—a possible signal that people have moved on from Madea.
Disclosure: At the time of this writing, Tim Parker had no position in the companies mentioned.
View Comments and Join the Discussion!
Posted-In: dolby imax News Corp RealID The Hobbit The Lord of the RingsEarnings News Best of Benzinga