Slideshow: The Top 10 'Highs & Dives' Of S&P 500 Stocks In 2013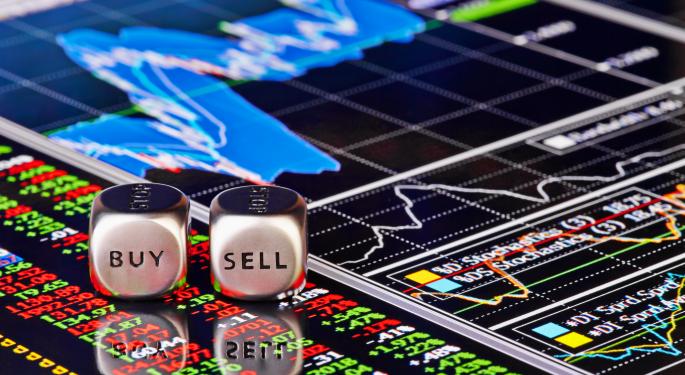 2013 is nearly done and gone. And what a great year for stocks -- possibly the best for the Standard & Poor's 500 Index since 2003. The big-cap index was up 24.5 percent after Thursday's close.
The gain is were matched by just about all major indexes. The Dow Jones industrials were up 20.1 percent with Thursday's close, its best performance since 2003; the Nasdaq Composite Index is up 32.4 percent, potentially its best year since jumping 43.9 percent in 2009.
It shouldn't surprise that, with fewer than three weeks left of trading, nearly 450 S&P 500 stocks are higher for the year. Eight are up more than 100 percent, an additional four are up nearly 100 percent.
Enjoy the results. History suggests it will be difficult for stocks to produce the same results in 2014 -- although stocks did rise 20 percent a year or more between 1995 and 1999. If the economy continues to grow and the bond market doesn't panic when the Federal Reserve starts to dial back its bond buying, 2014 could be a decent year.
So, what do we know about the top 10 S&P 500 stocks?
Their gains were mostly not the result of the Federal Reserve's keeping interest rates at ultra-low levels. The stocks went up because the companies excited investors about their growth prospects. Or they drew in money because they had survived the 2008-2009 crash (or beyond) and, more importantly, looked to be finding their way again.
Here is a look at those 10 stocks.
Note: Pricing data for this article is as of Thursday, December 12, 2013.
Netflix

Thursday close: $373.33.

Year-to-date change: 303.2 percent.

Netflix (NASDAQ: NFLX) shares soared because investors bought into their vision: That televised entertainment or programming is starting to migrate from the television that is hard-wired into a cable system to an Internet-based streaming universe.

You can watch a show or the news on a television connected to the Internet, on a computer, on a tablet or a smart phone. And you can pay Netflix or Amazon.com (NASDAQ: AMZN) or Hulu for the access. To add to the excitement, Netflix started to produce original programming. The political serial "House of Cards" won nine Emmy nominations this year.

(Photo)

Micron Technology

Thursday close: $22.54.

Year-to-date change: 255.5 percent.

Micron (Nasdaq: MU) is the second-largest maker of dynamic random access memory chips and NAND flash memories. Revenue grew 10.2 percent in its 2013 fiscal year, which ended in August.

Earnings jumped from a loss of $1.04 a share in fiscal 2012 to a profit of 95 cents. The company made a terrific acquisition in Elpida Memory, a Japanese chipmaker and, as a result, is among the top three producers of computer memory.

Volume has picked up. The company has seen price increases stick. A new processor, the Automata processor, is said to be able to process huge amounts of data and compete favorably against Intel's (NASDAQ: INTC) server chips. Activist shareholder David Einhorn has bought a big position in the stock.

(Photo)

Best Buy

Thursday close: $40.23.

Year-to-date change: 239.5 percent.

In 2012, the question was if Best Buy (NYSE: BBY) would still be in business at the end of 2013. Instead, CEO Hubert Joly has managed to produce a big turnaround in investor confidence.

The rebound came about when Joly decided to compete on price against Amazon.com, Wal-Mart Stores (NYSE: WMT), Target (NYSE: TGT) and others. Plus, he beefed up the company's web site, and promised to build up the training for its employees. While the gains for the stock are impressive, the future is still cloudy.

Revenue is flat to slightly lower from a year ago. (Earnings, however, were higher in the third quarter.) The competitive landscape remains brutal.

(Logo)

Delta Air Lines

Thursday close: $28.21.

Year-to-date change: 137.7 percent.

Delta Air Lines (NYSE: DAL) shares have taken off because the airline business is no longer (at least for now) poised to collapse. The economic recovery has put more passengers on planes, especially business travelers, who pay higher fares.

In the third quarter, domestic passenger unit revenue -- the amount taken for each passenger flown a mile -- was up 7.7 percent. Transatlantic revenue was up 5.6 percent. The company's finances are stable after a Chapter 11 bankruptcy, and it has made the most of a merger with Northwest Airlines.

(Photo)

Celgene

Thursday close: $ 165.52.

Year-to-date change: 110.9 percent.

Celgene(NASDAQ: CELG) has been one of the leaders in a rally that's made biotechnology has been one of the stock market's hottest sectors. At Thursday's close, the NYSE Arca Biotechnology Index is up 43.6 percent this year. Celgene's rise has been due in large part on the prospects for its Revlimid cancer treatment.

A study showed the medicine could be an initial treatment for patients with multiple myeloma, a cancer that afflicts plasma cells. This month, investors have also cheered its decision this month to help OncoMed Pharmaceuticals (NASDAQ: OMED) develop and market six experimental anti-cancer stem cell cancer drugs.

(Photo)

Pitney Bowes

Thursday close: $21.97.

Year-to-date change: 106.5 percent.

Pitney Bowes (NYSE: PBI) has been shedding non-core businesses, such as its management services business, to concentrate first on selling mail-metering machines. Admittedly, mail-metering is a business that has been in decline as email and other forms of electronic communications have begun to eat away at the U.S. Postal Service's business.

But the business is still very profitable, with net profit margins around 10 percent. At the same time, it plans to develop software and services linked to the digital economy.

Facebook and eBay (NASDAQ: EBAY) are customers. The stock has been among the most heavily shorted. As the share price has risen, it has forced short-seller to buy back their shares, accelerating the surge.

(Photo)

E*Trade Financial

Thursday close: $18.40.

Year-to-date change: 105.6 percent.

E*Trade's (NASDAQ: ETFC) core online brokerage business has been improving along with stocks generally. At the same time, E*Trade has also jettisoned businesses that aren't performing, like a market-making business. That E*Trade is even alive is a miracle.

The shares traded as high as $722 during the dot.com bubble, then crashed to under $40. They rallied again to more than $275 and crashed again, thanks to a bet gone back on mortgages. The shares fell to as low as $5.90 in March 2009. Only a $2.7 billion rescue package from hedge-fund Citadel kept the company going.

Even if the core business looks better, it still has a sizable inventory of mortgage securities that could pull the company down. "It's like an out-of-control truck that's barreling toward a cliff. Everybody sees the truck," one analyst said.

(Logo)

Boston Scientific

Thursday close: $11.48.

Year-to-date change: 100.4 percent.

Boston Scientific (NYSE: BSX) was clobbered by recession in the United States and Europe plus problems with its stent business. Stents are mesh tubes inserted into arteries to keep them open. Boston Scientific's shares bottomed at $5.05 in late 2011. The shares started to rebound strongly in late 2012.

The stent problems are largely fixed, and its non-cardiac businesses are doing well. Earnings adjusted for restructuring and other charges were up strongly in the third quarter, and analysts are bullish about 2014.

(Photo)

Constellation Brands

Thursday close: $70.09.

Year-to-date change: 98.1 percent.

Constellation Brands (NYSE: STZ) owns or controls some of the world's best-known brands -- including Robert Mondavi wine, Corona beer and Black Velvet whiskey -- and business has been terrific this year.

It's been aided by the acquisition of Grupo Modelo's U.S. beer business from Anheuser-Busch InBev (NYSE: BUD) for $4.75 billion. That gave Constellation control of such brands as Corona, Pacifico and Tsingtao from China. Free cash-flow in the first half of its 2014 fiscal year jumped 32 percent from a year earlier to $440 million. It sees fiscal 2014 earnings rising as much as 41 percent from a year ago.

(Logo)

Genworth Financial

Thursday close: $14.86.

Year-to-date change: 97.9 percent.

Genworth Financial (NYSE: GNW) shares have nearly doubled this year because it looks like a true turnaround. Seriously hurt by the housing bust, which damaged its mortgage insurance business. But the business has been recovering thanks to the housing recovery that began in 2011.

The company has been unloading businesses it doesn't need, like a mortgage insurance business in Australia and a wealth-management business at home. Genworth was spun out of General Electric (NYSE: GE) in 2004.

It is the largest provider of long-term care insurance and has a sizable life insurance business as well as its mortgage-insurance operation. Thomas McInerny took over as CEO in January. Earnings for the first nine months of the year were up 124 percent from a year ago.

(Photo)

About the rest...

Yahoo (NASDAQ: YHOO) is the 11th best S&P 500 performer, up 97.7 percent as of Thursday. Marisa Mayer has been leading a turnaround effort since July 2012. Since her arrival, the stock is up 151 percent. The shares topped $40 on Tuesday for the first time since January 2006.

Yahoo is followed by Tripadvisor (NASDAQ: TRIP), up 97 percent; Lincoln National (LNC), up 95.3 percent; (NASDAQ:Gilead Sciences: GILD), up 91.4 percent and Biogen Idec (Nasdaq: BIIB), up 89.8 percent.

Tesla Motors (NASDAQ: TSLA), up 335.4 percent, would be the top SP 500 stock if it was a component of the index. It isn't yet. It is the top-performing stock in the Nasdaq-100 Index, however, ahead of Netflix.

Facebook isn't yet in the S&P 500. It joins after the Dec. 20 close. The shares were up 94.7 percent for the year on Thursday.

Also joining the index with Facebook are Alliance Data Systems (NYSE: ADS), which builds marketing software, and flooring manufacturer Mohawk Industries (NYSE: MHK). They're up 69.9 percent and 55.5 percent, respectively.

The trio will replace Teradyne (NYSE: TER), Abercrombie & Fitch (NYSE: ANF) and JDS Uniphase (NASDAQ: JSDU). They're down 3.1 percent, 32.2 percent and 12.6 percent, respectively.

Lastly, the top performer among the Dow industrials is Bank of America (NYSE: BAC), up 76.4 percent. Twenty-eight of the 30 Dow stocks are higher. The laggards are Caterpillar (NYSE: CAT), down 4.5 percent, and IBM (NYSE: IBM), down 9.5 percent.

Related links
View Comments and Join the Discussion!
Posted-In: Earnings News Guidance Economics Federal Reserve Pre-Market Outlook After-Hours Center Markets Best of Benzinga