#PreMarket Primer: Thursday, December 5: Apple & China Mobile Ink Deal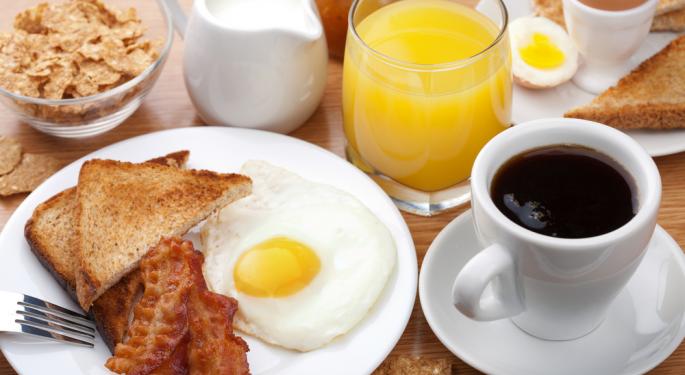 At his meetings with Chinese officials in Beijing, Joe Biden expressed Washington's disapproval of China's recently declared air defense zone.
The disputed zone includes a group of islands which are currently involved in a territorial dispute with Japan. At the meetings, China's Foreign Ministry insisted that the decision to set up the zone was in accordance with international law and that so far, it has not restricted the freedom of flight for civilian airlines.
In the five hour discussions, Biden claimed that he was firm about the US' position on the matter and that China will be expected to diffuse the situation over the coming weeks.
Activist investor Carl Icahn put more pressure on Apple by filing a shareholder proposal for a stock buyback on Wednesday. Icahn has been trying to convince the company to do a large scale buyback for some time, however the proposal was for a much smaller amount than the $150 billion he originally suggested. Instead, Icahn submitted a proposal for a $50 billion buyback.
Moody's Investors Service raised its outlook on Spanish government bonds from "negative" to "stable." Although Moody's left its Baa3 rating unchanged, the firm noted that the country has made progress recently and saw strong evidence that the Spanish recovery could be sustained.
Ukrainian President Viktor Yanukovych has bee

n trying to secure additional funding from both Moscow and Bejing to keep Ukraine's economy afloat, but so far his efforts have been fruitless. The Ukranian economy is expected to need around $18 billion over the next year, but since turning down the EU trade deal last month, Yanukovych doesn't have many options.

Apple signed a deal with China Mobile under which iPhones will run on the company's network. The deal will likely give Apple a leg up as the company is the world's largest carrier with more than 700 million subscribers. The iPhones will be offered on the network starting on December 18th.
Asian markets were down across the board, the Japanese NIKKEI was down 1.50 percent and Australia's ASX 200 lost 1.44 percent. China's Shanghai composite was down 0.21 percent and the Shenzhen composite lost 0.26 percent.
European Markets
Europe's markets were also lower on Thursday, the UK's FTSE was down 0.26 percent and the eurozone's STOXX 600 lost 0.29 percent. The Spanish IBEX lost 0.27 percent and France's CAC 40 was down 0.33 percent.
Energy futures were mixed, Brent futures were down 0.25 percent and WTI futures were up 0.12 percent. Gold fell 0.89 percent and silver was down 1.21 percent. Industrial metals were up across the board with Aluminum posting the largest gains, up 1.90 percent.
The euro gained 0.16 percent against the dollar and the pound to dollar ratio was mostly flat. The dollar gained 0.39 percent against the yen and lost 0.04 percent to the Australian dollar.
Earnings
Notable earnings released on Tuesday included:
Brown Forman Corporation

(NYSE:

BFB

) reported second quarter EPS of $0.96 on revenue of $1.08 billion, compared to last year's EPS of $0.80 on revenue of $1.01 billion.

Avago Technologies Limited (NASDAQ: AVGO) reported fourth quarter EPS of $0.89 on revenue of $731.58 million, compared to last year's EPS of $0.71 on revenue of $618.00 million.
Aeropostale Inc. (NYSE: ARO) reported a third quarter loss of $0.29 per share on revenue of $514.60 million, compared to last year's EPS of $0.31 on revenue of $605.92 million.
Stocks moving in the Premarket included:
Apple Inc

(NASDAQ:

AAPL

) gained 1.88 percent in premarket trade after rising 3.49 percent over the past 5 days.

McDonald's Corp. (NYSE: MCD) lost 0.16 percent in premarket trade after falling 1.39 percent over the past week.
Notable earnings expected on Wednesday include:
Kroger Company

(NYSE:

KR

) is expected to report third quarter EPS of $0.53 on revenue of $22.78 billion, compared to last year's EPS of $0.46 on revenue of $21.81 billion.

UTI Worldwide Inc. (NASDAQ: UTIW) is expected to report third quarter EPS of $0.09 on revenue of $1.14 billion, compared to last year's EPS of $0.16 on revenue of $1.13 billion.
Dollar General Corporation (NYSE: DG) is expected to report third quarter EPS of $0.70 on revenue of $4.43 billion, compared to last year's EPS of $0.63 on revenue of $3.96 billion.
Economics
Thursday will be an important day for monetary policy as both the European Central Bank and the Bank of England will reveal their interest rate decisions. Other notable economic releases include US GDP, US initial and continuing jobless claims, and the French unemployment rate.
For a recap of Wednesday's market action, click here.
Tune into Benzinga's pre-market info show with Dennis Dick and Joel Elconin here.
View Comments and Join the Discussion!
Posted-In: Earnings News Eurozone Futures Previews Forex Global Economics Best of Benzinga