#PreMarket Primer: Monday, December, 2: Thousands Of Protesters Gather In Kiev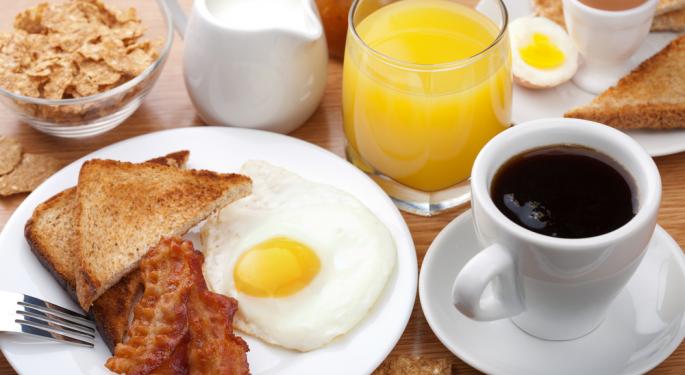 After Ukrainian President Viktor Yanukovych decided to put off sighing an accord with the EU, protesters took to the streets in what has become the nation's most dramatic uprising since Orange Revolution took place nine years ago.
The EU pact is seen by many as the final step to secure Ukraine's future as a Western nation, and Yanukovych's decision to hold off on signing has created an uprising. Over the weekend, protesters stormed Independence Square in Kiev calling for Yanukovych's removal from office.
The Wall Street Journal reported that retail spending over the weekend was lower than in previous years, despite some store's decision to open early on Thanksgiving. Spending on Thanksgiving day increased, but Black Friday sales suffered as a result. Data from the National Retail Federation showed that estimated total spending for the entire weekend was down 2.7 percent from last year's figure at $57.4 billion.

PMI data from China strengthened the case for Beijing's decision to shift the nation's economy towards domestic consumption rather than investment. China's HSBC PMI dropped to 50.8 from 50.9 in October and the report showed that the nation's new export orders growth fell to a three month low. By contrast, China's official PMI remained steady at 51.4, an 18 month high.
Sunday was dubbed "Victory Day" by protesters in Thailand who were working to oust the nation's Prime Minister. However, the demonstrators were unsuccessful in their attempt to seize the Government House over the weekend. On Monday protests resumed and quickly escalated to violence as riot police threw teargas and stun grenades to keep the rallies under control.
The recent deal between Western leaders and Iranian officials will likely benefit a range of US and European companies as they regain trade options in Iran when some of the nation's sanctions are eased next month. The two sides agreed to lift sanctions on some goods like car and plane parts as well as creating a financial channel which will allow banks to accept payments for some goods including medical supplies and agricultural products.
Asian markets began the week on a low note, the Japanese NIKKEI was down 0.04 percent, China's Shanghai composite lost 0.59 percent and the Shenzhen composite was down 3.81 percent. The South Korean KOSPI was down 0.69 percent , but the Hang Seng index gained 0.50 percent.
European Markets
European markets were mostly lower, the UK's FTSE was down 0.06 percent and the eurozone STOXX 600 lost 0.19 percent. France's CAC 40 was down 0.17 percent and the Spanish IBEX fell 0.23 percent.
Energy futures were higher on Monday, Brent futures were up 0.36 percent and WTI futures gained 0.59 percent. Gold lost 0.38 percent and silver was down 1.01 percent and industrial metals were higher with tin posting the largest gains, up 1.22 percent.
The dollar lost some ground on Monday, the euro was up 0.13 percent against the greenback and the pound gained 0.32 percent against the American currency. The dollar lost 0.54 percent against the Australian dollar, but gained 0.12 percent against the yen.
Earnings
No Notable Earnings released on Friday
Stocks moving in the Premarket included:
Perrigo Co.

(NYSE:

PRGO

) gained 0.81 percent in premarket trade after a week of choppy trading.
MasterCard Inc. (NYSE: MA) gained 0.30 percent in premarket trade after gaining 0.84 percent over the past five days.
Notable earnings expected on Monday include:
Thor Industries, Inc.

(NYSE:

THO

) is expected to report first quarter EPS of $0.70 on revenue of $844.74 million, compared to last year's EPS of $0.58 on revenue of $875.61 million.

FedEx Corporation (NYSE: FDX) is expected to report second quarter EPS of $1.63 on revenue of $11.43 billion, compared to last year's EPS of $1.39 on revenue of $11.11 billion.
Ascena Retail Group, Inc. (NASDAQ: ASNA) is expected to report first quarter EPS of $0.32 on revenue of $1.18 billion, compared to last year's EPS of $0.39 on revenue of $1.14 billion.
Economics
PMI data will be the star of Monday's economic calendar; manufacturing PMI figures are due out for the US, the UK, the eurozone, Germany, France, Italy, Norway, Spain and India.
For a recap of Friday's market action, click here.
Tune into Benzinga's pre-market info show with Dennis Dick and Joel Elconin here.
Posted-In: Earnings News Eurozone Futures Commodities Forex Events Global Best of Benzinga
View Comments and Join the Discussion!