Summary of Green Mountain Coffee 4Q13 Conference Call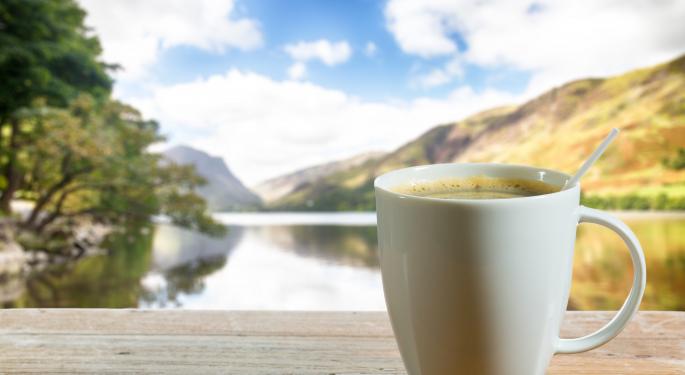 On Wednesday evening, Green Mountain Coffee Roasters (NASDAQ: GMCR) held its fiscal 2013 Fourth Quarter Conference Call.
Brian Kelley, Green Mountain President and CEO commented, "we're very confident about our business for a number of reasons. First, our balance sheet is very strong and capable of optimizing shareholder returns, as we focus on organic growth. Second, our Keurig platform remains very healthy, with a number of additional opportunities for continued growth over the long-term. Third, our innovation pipeline is strong and diversified."
For comparative purposes, the remarks in the conference call excluded the extra week in 2012 which added $90 million in net sales. Earnings Summary:
Green Mountain reported 4Q13 EPS of $0.89 versus the Street estimate of $0.75. Earnings per share were up 39 percent from 4Q12.
Revenue was reported at $1.05 billion versus the Street's estimate of $966.27 million.
U.S. business delivered 18 percent revenue growth for the year, and 26 percent growth for the quarter.
Sales were up 11 percent year-over-year.
Kelley noted, "Our 16 percent revenue growth for the year and 22 percent growth for the quarter were driven by robust brewer sales and continuing momentum in portion packs."
Portion pack units grew 29 percent in the fourth quarter.
For the full year, Green Mountain estimated that unlicensed packs achieved 8 percent of the Keurig platform and that this share increased to 12 percent by the end of the fourth quarter.
In a press release on Wednesday, the board approve a $1 billion share repurchase authorization.
Green Mountain sold 8.3 billion portion packs, a 26 percent increase annual increase on a 52-week comparison from 6.6 billion packs last year. Portion pack unit shipment increased 29 percent in the fourth quarter.
2014 Outlook:
Green Mountain expects the first quarter 2014 EPS to land between $0.85-0.90, below the Street's estimate of $0.96.
The company expects the fiscal year 2014 EPS to land between $3.75-3.85, compared to the Street's estimate of $3.78.
Free cash flow is expected to be in the $200-300 million range.
Capital investments are predicted to be in the range of $400-450 million, including $200 million to fund IT investments and new innovation.
Green mountain is on track to deliver $100 million is saving over the next two fiscal years.
Important Notes From The Call:
Kelley commented on inventory noting, "As we enter the holiday season, we believe retailers' brewer inventory is at seasonally appropriate levels to be able to satisfy anticipated consumer demand."
Over the following 12 months, Green Mountain will launch new lineup of hot system brewers and portion packs with an interactive readability.
The company aims to convert unlicensed players into licensed Keurig system partners.
The company reported a strong increase in its away-from-home brewer shipments this quarter, reflecting the placement of 73,000 brewers at Hilton Garden Inn.
Kelley confidently spoke on the benefits and technology of the Keurig 2.0. He said, "And so we think that what we're going to give them with Keurig 2.0 is going to give them not only what they have today, but much more, and going to do it at value pricing that they're used to today. And we anticipate a large number of current Keurig users choosing to switch into the new system because it's a better one. And anytime new technology comes out, and it's a better technology and you already love the brand, and you offer a better product, you generally get consumers to switch. And I think, think iPhone, think iPod, not that we're comparing ourselves to that. But think of great products out there and that's what happens."
Green Mountain Coffee Roasters closed at $61.83 on Wednesday and shares are currently trading +16.07 percent.
View Comments and Join the Discussion!