Twitter Prices at $26; First Day's Trading Could Be Volatile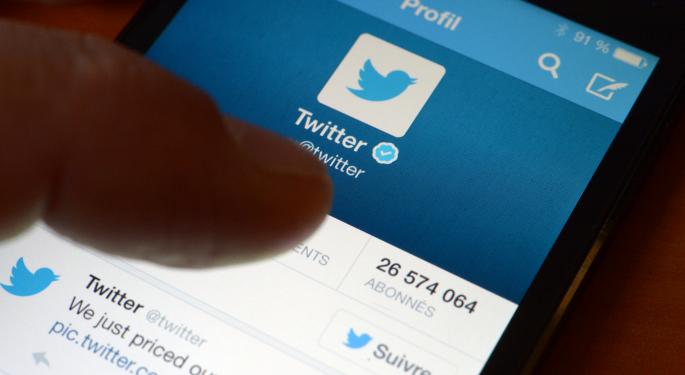 Social-networking company Twitter (NYSE: TWTR), famed for its 140-character messages, announced its $26 a share pricing late Wednesday.
The IPO values the company, founded only in 2006, at roughly $14.4 billion.
With overallotments, restricted stock and the like, the market value for the company could be as high as $18 billion.
Trading in the shares will begin Thursday on the New York Stock Exchange. It's not clear at what price the shares will open, much less the closing price. There were suggestions from Charles Gasparino, Jim Cramer and others that the shares could open at $40 and move higher. But the trading is likely to be volatile because many analysts and traders believe that the money-losing company's shares may be too pricey.
Still, Dealogic, a market research firm, told The Wall Street Journal that shares of companies just going public this year have risen an average 17% on the first day of trading.
Twitter's IPO is the largest since Facebook (NASDAQ: FB) went public in May 2012.  The price was better that what the company and its underwriters had predicted as recently as Monday: $23 to $25. Early on Wednesday, analysts were projecting a range of $25 to $28, and The Journal and CNBC reported investment bankers were expecting a $27 price.
Twitter has been the most eagerly awaited IPO of 2013, in part because of its 230 million monthly active users and the 500 million "tweets" they generate every day
Its mobile capacities are powerful and popular. The service is use world-wide. President Obama used Twitter to announce he'd won the 2008 election, and Twitter posts allowed many caught up in Middle East unrest and violence an easy way to communicate with the rest of the world. Protestors against Iran's government in the disputed election of 2009 sent dramatic reports of the unrest to the rest of the world via Twitter.
Financially, the picture isn't so clear Twitter's revenue grew 275 percent in 2011 and 199 percent in 2012. Through the first nine months of 2013, revenue of $422.2 million was up 102 percent from the year before.
But Twitter is not yet a profitable company. Its losses between the start of 2011 and Sept. 30, 2013, have totaled $408.9 million. There are hopes expectations that Twitter will profitable in the next few years.
It wasn't clear why $26 a share was deemed acceptable. But Lawrence Haverty, a money manager with Gamco Investors (NYSE: GBL) suggested to Bloomberg News that Twitter didn't want its IPO to suffer the problems that Facebook did a year ago.
Still, the $26 price is rich. It works out to about 27 times its revenue of the prior four quarters, according to data in Twitter's prospecturs. By contrast, Facebook's $38-a-share IPO sold for about 24 times trailing four quarters of revenue. And Facebook was a profitable company at the time.
Facebook's shares had been priced too high and the size of the IPO was expanded well beyond expected demand. Worse, the Nasdaq trading platform didn't work properly. The company went public at $38 on May 17, 2012. They opened the next day at $42, hit $45 and ended the day at $38.23.
The backlash was awful: The shares fell to as low as $17.55 on Sept. 4, 2012, and hovered between $24 and $32 over the next twelve months. They finally topped $50 at the end of September and finished Wednesday at $49.12, down 99 cents, or 1.97 percent. However, the shares have risen 84.5 percent in 2013.
When trading begins on Thursday, CEO Dick Costolo will be on hand at the New York Stock Exchange, along with co-founders Evan Williams, Biz Stone and Jack Dorsey.
Williams owns some 57 million shares in the company, now worth $1.48 billion. He is now CEO of Medium and Obvious Corp., a technology startup.
Dorsey's 23.6 million shares are worth nearly $610 million. Dorsey is now CEO of Square, the payments startup whose square credit card readers plug into Apple (NASDAQ: AAPL) and Android-based devices. The Wall Street Journal said late Wednesday he is exploring the possibilities of taking that company public.
It wasn't clear how many shares Stone still owns, but his net worth is estimated at $200 million.
View Comments and Join the Discussion!
Posted-In: Biz StoneNews Financing IPOs Hot Pre-Market Outlook Markets Media Best of Benzinga