#PreMarket Primer: Monday, November 4: Twitter Faces International Challenges Ahead Of IPO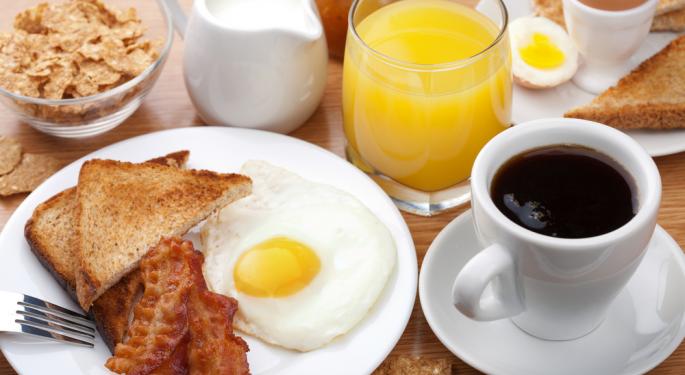 This week, Twitter's nearly $1.4 billion initial public offering will be heavily anticipated as many wait to see whether or not the social media network will suffer the same fate as Facebook after last year's botched IPO.
Although Twitter has priced its shares much more modestly than Facebook, many see the company's ad revenue growth stalling in the future. Twitter's investor road show revealed that although two thirds of the company's users come from outside the US, international ad's make up only a fraction of the company's revenue, creating a large opportunity for growth.
However, many worry that Twitter faces an uphill battle as it will struggle to cross cultural barriers in order to tailor the experience for a particular market.
In other news around the markets:
Fairfax Financial Holdings may sure up a tentative agreement to take BlackBerry private on Monday. The deal, worth $4.7 billion, isn't a sure thing just yet as bids from other companies like Qualcomm Inc. and Cerberus Capital Management LP may extend the deadline.
In an effort to help spur consumer spending, Greece opened its shops on a Sunday for the first time this weekend.  A new law passed as part of the country's bailout program will allow consumers to shop on Sundays seven times per year, rather than the previously allowed two. The new rule has mixed reactions with some Greeks protesting the change but others hoping to take advantage of the extra shopping day.
Federal Reserve Bank of Dallas President Richard Fisher spoke in Australia on Monday about the US Federal Reserve's plans moving forward. Fisher said the bank's tapering timeline is linked to the strength of economic data from the region, and that the bank is trying to avoid large market disruptions when it comes time to cut back on its easy money policy. Fisher also took aim at US policy makers, saying the US government's irresponsibility has counteracted the benefits of the Fed's stimulus program.
Trading is likely to be sluggish this week as investors exercise caution ahead of US data which many believe will show some of the impact from the Federal government's shutdown. Payrolls data due out on Friday is expected to show only a minimal rise, due largely to October's budget showdown.
Asian markets started the week on the back foot with most indices posting losses. The Japanese NIKKEI lost 0.88 percent, the South Korean KOSPI was down 0.70 percent and the Hang Seng index fell 0.28 percent. The Shenzhen composite had the only gains, up 0.38 percent.
European Markets
European shares were higher on Monday, the UK's FTSE was up 0.41 percent and the eurozone's STOXX 600 gained 0.34 percent. The German DAX and France's CAC 40 both rose 0.30 percent.
Energy futures saw a boost on Monday morning, Brent futures were up 0.40 percent and WTI Futures gained 0.12 percent. Gold gained 0.10 percent but silver was down 0.47 percent. Industrial metals were also lower with aluminum posting the largest loss, down 0.86 percent.
Currency markets were quiet ahead of several central bank decisions. The euro was up 0.06 percent against the dollar and the pound gained 0.08 percent against the American currency. The yen gained 0.05 percent against the dollar and the Australian dollar was up 0.64 percent against the greenback.
Earnings
Notable earnings released on Friday included:
Chevron Corporation (NYSE: CVX) reported third quarter EPS of $2.57 on revenue of $56.60 billion, compared to last year's EPS of $2.57 per share on revenue of $58.04 billion.
WellCare Health Plans, Inc. (NYSE: WCG) reported EPS of $1.56 on revenue of $2.50 billion, compared to last year's EPS of $1.05 on revenue of $1.82 billion.
CBOE Holdings, Inc. (NASDAQ: CBOE) reported third quarter EPS of $0.47 on revenue of $136.70 million, compared to last year's EPS of $0.43 on revenue of $128.32 million.
Stocks moving in the Premarket included:
First Solar Inc. (NASDAQ: FSLR) gained 10.34 percent in premarket trade after gaining 17.56 percent on Friday
Western Digital Corporation (NASDAQ: WDC) lost 1.34 percent in premarket trade after falling 3.83 percent over the past five days.
Blackberry Limited (NASDAQ: BBRY) gained 0.95 percent in premarket trade as the company moved towards a deal which will take its shares private.
Earnings reports expected on Monday include:
Plains All American Pipeline, L.P. (NYSE: PAA) is expected to report third quarter EPS of $0.49 on revenue of $9.71 billion, compared to last year's EPS of $0.73 per share on revenue of $9.35 billion.
Hill International, Inc. (NYSE: HIL) is expected to report EPS of $0.05 on revenue of $ 131.73 million, compared to last year's EPS of $0.03 on revenue of $103.56 million.
CME Group Inc. (NASDAQ: CME) is expected to report third quarter EPS of $0.75 on revenue of $723.35 million, compared to last year's EPS of $0.70 on revenue of $683.20 million.
Economics
Monday's economic calendar will be packed with PMI data including Chinese services PMI, British construction PMI, and eurozone, German, French, Italian, and Spanish manufacturing PMI. Other notable economic releases include eurozone investor confidence and US factory orders.
For a recap of Friday's market action, click here.
Tune into Benzinga's pre-market info show with Dennis Dick and Joel Elconin here.
Posted-In: Earnings News Eurozone Futures Commodities Previews Forex Events Best of Benzinga
View Comments and Join the Discussion!