Make it Quick: How Some of the Fast Food Stocks Have Been Performing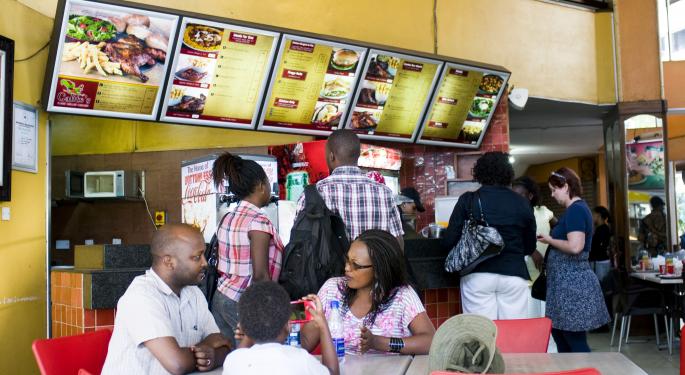 For some time now, fast food stocks havebeen a relatively safe stock bet for investors.  But we've recently seen many of the top fast food brands overhauling their images in a number of ways, not the least of which has been revamping their menus from top to bottom.
Some have even taken the liberty of redesigning their business models, which has caught the eye of a number of analysts. Here are some of 2013's strongest stock performers in the fast food sector; companies that are expected to remain strong in 2014.
McDonald's (NYSE: MCD). With a solid credit rating and a current yield of almost 3 percent, McDonald's is seen by investors as a good alternative to bank deposits as well as fixed income. The company's shares came close to an all-time high trading, above $100 per, at its highest point in 2013. And the economic downturn didn't seem to do much to affect the fast food icon, as its shares have risen nearly 100% since March of 2009.
New menu items like the customizable McWrap and a line of premium coffee drinks are expected to keep the company's core business heading in the right direction.
Burger King (NYSE: BKW). Shares of Burger King have risen over 25 percent since the company went public again in 2012 -- after 3G Partners, a private-equity firm, acquired them. The brand has a new logo and has remodeled its restaurants by adding digital menu boards and changing virtually its entire menu.
Whereas burgers were the staple menu item (and who could blame them given the company's name and tradition) and appealed primarily to the 18 to 34-year-old male demographic, BK has added a number of vegetarian items -- as well as turkey burgers -- in an effort to appeal to females and other age groups. As a result, both shares and reported earnings were up in 2013.
Panera Bread (NASDAQ: PNRA). After showing steady and somewhat surprising growth in recent years, Panera Bread stumbled at bit out of the gates in 2013 -- with shares falling almost 5 percent during the month of April. A less than stellar earnings report was largely to blame, as well as, according to company insiders, a slew of winter storms that made it challenging to maintain good operations.
Panera managed to rebound over the summer but has been steadily falling again over the autumn months. The last five years have seen the company's shares grow nearly 300 percent, but the recent resignation of CEO William Moreton is not expected to help maintain that growth heading into 2014.
Chipotle (NYSE: CMG). With chief competitor Taco Bell -- owned by Yum Brands (NYSE: YUM) -- making significant changes to its menu, most analysts thought Chipotle would all but collapse under the weight of TB's expected success. The company weathered the storm, however, and despite a strong surge in 2013 by Taco Bell, Chipotle has climbed to more than 20 percent, year-to-date and shares have risen to over $360.
Company executives attribute the success to its business model, which they claim is applicable to virtually any kind of cuisine and is not exclusive to Mexican food -- which is the reason Chipotle is currently testing that model with Asian food.
Posted-In: Earnings News Rumors Restaurants Global Economics Markets General Best of Benzinga
View Comments and Join the Discussion!