U.S. Auto Makers Reported Strong October Despite Ford and Chrysler Missing Estimates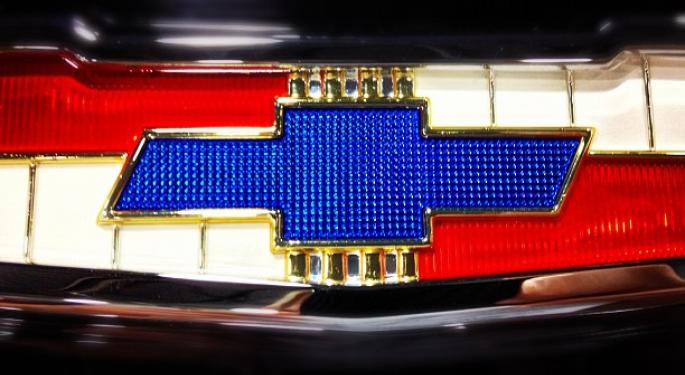 U.S. Auto makers reported strong sales this October despite Ford and Chrysler missing estimates.
U.S. auto maker General Motors (NYSE: GM) reported a 15.7 percent sales growth in October, delivering 226,402 vehicles. Kurt McNeil, VP of U.S. sales operations, commented, "Chevrolet, Cadillac and Buick-GMC all performed well in the month, and the sales tempo really picked up after the government shutdown ended."
General Motors noted that Buick total sales increased 31 percent, Cadillac's sales grew 10 percent, GMC was up 16 percent and Chevrolet sales grew 15 percent. The Cruze had the best-ever retail sales last month, Impala retail deliveries were close to double and Malibu sales increased 58 percent.
Ford (NYSE: F) reported that new-vehicle sales increased 14 percent to 191,985. The double digit increase missed analysts' expectations that Ford would move 194,301 automobiles. Retail sales had a 15 percent increase, the best October retail sales since 2004.
Ford Fusion and Fiesta posted best-ever October sales, and the F-Series again topped 60,000 sales. John Felice, vice president of U.S. marketing, sales and service, noted "October was simply an outstanding retail performance, as consumers continued to choose Ford for great fuel efficiency, styling and value at all levels of the market."
October sales for Chrysler were up 11 percent versus a 14 percent growth estimate. This was the best October in six years, but missed expectations that Chrysler would move 143,536 autos.
Chrysler new Cherokee booked 579 sales after the one-month delay needed to tune software in the nine-speed transmission. The company expects the Cherokee to drive a strong fourth quarter and hit its 2013 marks.
Posted-In: Earnings News Best of Benzinga
View Comments and Join the Discussion!