Apple Takes 94 Percent Share In Education Tablet Market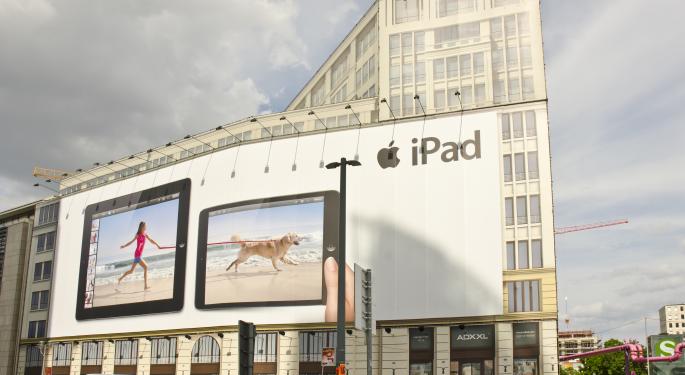 It's not exactly the sexy side of Apple (NASDAQ: AAPL).
The company isn't creating special media events complete with presentations fit for a Broadway stage around this side of the business, but that doesn't mean it's the ugly stepchild of the company. It's a large part of the Apple profit machine yet receives little press…because it's no match for an iPhone media event.
It's the company's education business. Microsoft (NASDAQ: MSFT) has long dominated the education market because a couple hundred Dell (NASDAQ: DELL) or Hewlett-Packard (NYSE: HPQ) computers loaded with Windows have traditionally been much cheaper than macs but with the iPad able to save schools a lot of money by not having to purchase physical textbooks, the Apple ecosystem, including its line of Macs, now looks a lot more attractive.
That translated to revenue in its education division topping $1 billion in its fiscal third quarter—the first time in the company's history.
There were some other impressive stats that came out Apple's earnings release. Educational sales were up eight percent year over year including 22 percent year over year growth in iPad sales. Mac sales were up eight percent and possibly most impressive, the iPad holds a 94 percent marketshare in the educational tablet market.
Related: Apple Down 2% After Q4 Earnings Beat, 33.8 Million iPhones Sold
Apple CEO Tim Cook seemed a little shocked by that stat. "It's sort of unheard of," Cook said. "I've never seen a market share that high before. So we feel like we're doing really well here, and feel great to be making a contribution to education."
Apple is constantly under fire for the large reliance it has on the iPhone—a product positioned in a highly competitive market that might be close to peaking, but the education market is just in its infancy.
Increasingly, schools are seeing the financial advantages of investing in iPads. Digital textbooks could save a school around $250 per year and when costs associated with printing handouts are factored in, the cost savings goes much higher.
Even safety is a factor. The medical community has criticized schools for years about the extreme amount of strain put on a student's back from a backpack full of heavy textbooks. In an environment where school funding is tied to student performance, keeping them healthy and comfortable is an investment that pays.
The education market continues to grow and as of now, Apple has a near monopoly on the market. It may not get a lot of press but at the end of the day, when it comes to making money, the largely untapped landscape of the education market looks a lot more attractive than the eye candy that is the iTV or iWatch we may never see.
Disclosure: At the time of this writing, Tim Parker was long Apple.
View Comments and Join the Discussion!
Posted-In: Apple DELL Education HP Tim CookEarnings News Tech Best of Benzinga