#PreMarket Primer: Monday, October 28: All Eyes On Apple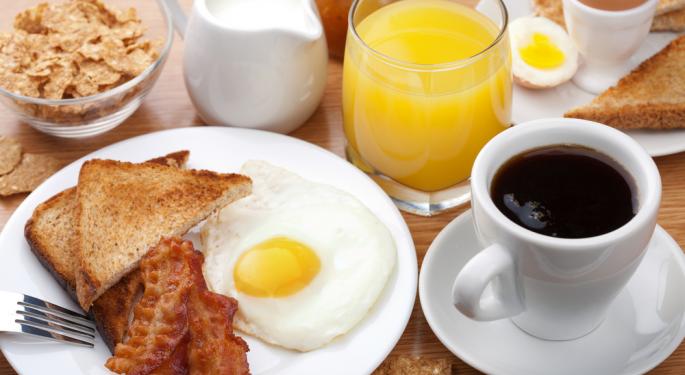 With 24 percent of the S&P 500 companies set to report third quarter earnings this week, Apple stands out as one of the most highly anticipated. The technology giant is set to open its books to the public after the bell on Monday.
After the second quarter showed a negative trend in iPad sales, many will be watching for a reversal; though it is possible that the decline will continue as customers wait for November to upgrade to Apple's latest model.
The technology sector has been on fire for third-quarter results, with 84 percent of companies having beat analyst expectations. Amazon and Microsoft released better than expected figures last week, leading the S&P 500 to finish the week on at all-time high of 1,759.79.
In other news around the markets:
China's Communist Party Leaders are set to hold a meeting in November at which the country's economic agenda could see several large scale changes. Most notably, the government could relax the country's one child policy and make it easier for parents to qualify for having a second child.
Bank of America was found liable for making bad home loans and passing them on to Freddie Mac and Fannie Mae under a long unused civil fraud statute, Financial Institutions Reform, Recovery and Enforcement Act. The statute allows the US Justice Department to make a criminal case against financial institutions without the burden of having to prove fault beyond a reasonable doubt.
Although German news outlets are reporting that President Obama was aware of the NSA's eavesdropping on Chancellor Angela Merkel's phone calls, US officials claim the White House was unaware that the NSA was monitoring nearly 35 world leaders. Whatever the case, this marks the first admission from the government that the US has in fact been spying on international leaders.
In an interview with Focus Magazine, German Finance Minister Wolfgang Schaeuble said Germany is planning to cut debt to GDP to below 60 percent over the next 10 years by refraining from issuing any new debt.
Asian markets started off the week on a high with the Japanese NIKKEI posting the largest gains, up 2.19 percent. The South Korean KOSPI was up 0.68 percent and Hong Kong's Hang Seng index gained 0.36 percent. Australia's ASX 200 was up 1.02 percent and the New Zealand NZ 50 rose 0.59 percent.
European Markets
European markets were mostly higher, the UK's FTSE was up 0.07 percent and the eurozone's STOXX 600 was up 0.09 percent. Italy's MIB was up 0.61 percent but France's CAC 40 lost 0.21 percent.
Energy futures were mixed with Brent futures up 0.09 percent and WTI futures down 0.35 percent. Gold lost 0.27 percent and silver was down 0.44 percent. Industrial metals were mostly higher with tin up 1.42 percent and aluminum up 1.07 percent.
The euro remained above $1.38 and the pound to dollar ratio was quiet, up just 0.07 percent. The yen lost 0.17 percent against the dollar and the Australian dollar gained 0.21 percent against the dollar.
Earnings From Last Week
Notable earnings released on Friday included:
Pre-market Movers
Microsoft (NASDAQ: MSFT) was up 6.38 percent in premarket trade after beating expectations in last week's earnings report.
Facebook, Inc. (NASDAQ: FB) gained 1.46 percent ahead of its much anticipated earnings release
Amazon.com, Inc. (NASDAQ: AMZN) gained 7.78 percent after beating expectations in last week's earnings report.
Earnings reports expected on Monday include:
Economics
Monday's economic releases will likely be overshadowed by earnings reports. US pending home sales, US industrial production and Italian business confidence will be among the most watched releases.
Happy trading and good luck!
For a recap of Friday's market action, click here.
Tune into Benzinga's pre-market info show with Dennis Dick and Joel Elconin here.
Posted-In: Earnings News Eurozone Futures Commodities Previews Forex Events Best of Benzinga
View Comments and Join the Discussion!