Market Primer: Tuesday, October 22: Nonfarm Payrolls Likely To Show US Was On A Roll Ahead Of The Shutdown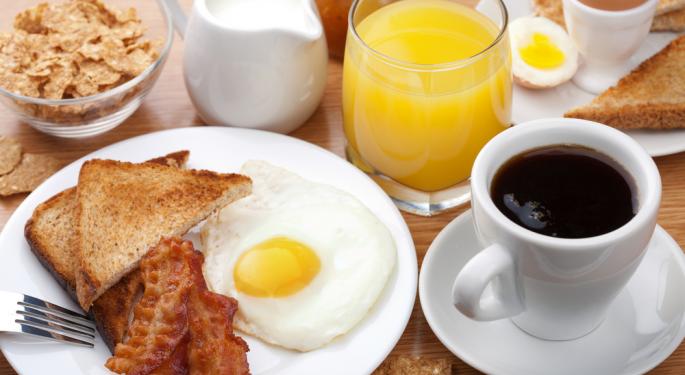 Nonfarm payrolls data for September is due out on Tuesday, almost two months late due to the US government shutdown.
The data is expected to show that US job growth increased in September before the political squabbling halted some of the nation's momentum. Analysts are expecting that employers added 180,000 jobs and that the unemployment rate will remain at 7.3 percent.
The report would make a good case for the Federal Reserve to begin tapering its $85 billion per month bond buying plan, however the recent government shutdown likely dragged on the US economy. The bank will have to wait for October's data for a clearer picture of the damage done by the shutdown.
In other news around the markets:
The relationship between the US and Saudi Arabia has slowly been eroded over the past few months as disputes over Syria, Iran and Egypt policy put the two sides at odds. On Friday, Saudi Arabia elected not to take a seat on the UN Security Council, saying the UN had "double standards". Over the weekend, Saudi Arabia's intelligence chief claimed he is planning to cut back on his cooperation with the US to arm and train Syrian rebels.
On Tuesday Australia's freshly elected conservative government announced plans to raise the debt limit by A$500 billion. The increase was widely expected and had a minimal impact on Australian markets.
JP Morgan is nearing a settlement with the Justice Department in which it won't be penalized for problems from Washington Mutual or Bear Stearns Co, both of which the bank bought during the financial crisis. The deal will force JP Morgan to pay $13 billion and could be finalized this week.
As part of a global probe into currency market manipulation, the Commodity Futures Trading Commission has asked big banks to look through their records for evidence of foul play and hand their findings over to the CFTC. Several large banks, including Deutsche Bank, are spending millions scanning traders' emails and chats looking for keywords and phrases that could implicate them.
Asian markets were mixed on Tuesday, the Japanese NIKKEI gained 0.13 percent, but the Shanghai composite was down 0.89 percent and the Shenzhen composite lost 1.03 percent. The Hang Seng Index was also down 0.49 percent, but New Zealand's NZ 50 was up 0.61 percent.
European Markets
Europe's markets were quiet on Tuesday, the UK's FTSE was up 0.10 percent and the eurozone's STOXX 600 lost 0.05 percent. The Spanish IBEX was down 0.39 percent and the German DAX was down 0.09 percent.
Energy futures were mixed, Brent futures were up 0.11 percent and WTI futures were down 0.23 percent. Gold gained 0.08 percent and silver was down 0.46 percent. Industrial metals were mostly higher with zinc up 0.31 percent and tin up 0.44 percent.
The dollar was steady against the euro on Tuesday morning, but the pound gained 0.14 percent against the American currency. The yen lost 0.07 percent against the dollar and the Australian dollar gained 0.11 percent against the greenback.
Earnings Reported Yesterday
Notable earnings released on Monday included:
Stocks moving in the pre-market included:
Yahoo! Inc. (NASDAQ: YHOO) gained 1.29 percent in premarket trade after rising 1.64 percent on Monday
First Solar Inc. (NASDAQ: FSLR) rose 0.41 percent in premarket trade after gaining 21.46 percent over the past week
International Business Machines Inc. (NYSE: IBM) gained 0.39 percent in premarket trade after dropping 7.55 percent over the past five days.
Earnings reports expected on Tuesday include:
Economics
Delayed US nonfarm payrolls data will be the most anticipated economic release on Tuesday. Other notable releases include Australian CPI, US unemployment rate and Canadian retail sales.
For a recap of Monday's market action, click here.
Tune into Benzinga's pre-market info show with Dennis Dick and Joel Elconin here.
Posted-In: Earnings News Eurozone Rumors Futures Commodities Previews Global Best of Benzinga
View Comments and Join the Discussion!