Market Primer: Monday, October 14: Investors Flock To The Yen As A Safe Haven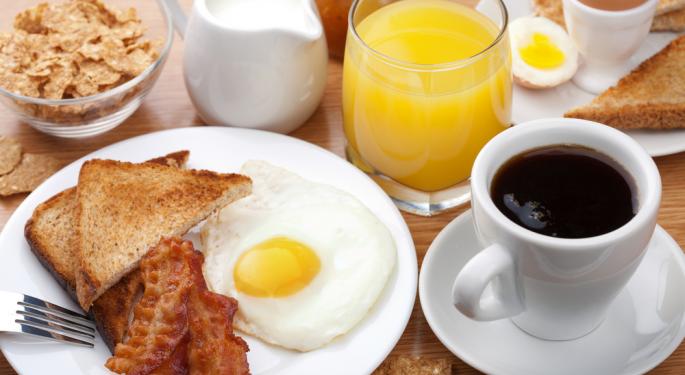 With the October 17 deadline only days away, investors looked to the yen for a safety net. Asian stocks fell and US share index futures dropped on Monday morning following failed budget negotiations over the weekend.
Democrats and Republicans in Washington have reopened discussions about the automatic spending cuts set to take effect in early 2014 which put negotiations on rocky grounds.
Now, the two sides will need to agree on whether or not to do away with the across-the-board spending cuts and replace them with a broader plan.
In other news around the markets:
German Chancellor Angela Merkel has been working hard to cross party lines and form a grand coalition after losing the absolute majority in the lower house of parliament. Merkel is set to meet with the Social Democrats on Monday and the Greens on Tuesday to discuss the possibility of a partnership. German Finance Minister Wolfgang Schaeuble has said he expects the new government to be in place by mid-November.
Chinese inflation increased to 3.1 percent in September after bad weather increased the price of food. Although the figure is still below China's official target of 3.5 percent, analysts are expecting to see CPI rise further in the fourth quarter, possibly overtaking the 3.5 percent goal and forcing the People's Bank of China to consider policy tightening.
India suffered its strongest cyclone in 14 years over the weekend, but the death toll stood at just 15 people due to the nation's massive preparation and evacuation efforts. The cyclone left a trail of destruction in its wake with millions of people forced to crowd into shelters. The Red Cross has warned that more aid will be needed over the coming days as nearly one million people have been uprooted.
Talks between the West and Iran over Tehran's nuclear program may have reached a setback over the weekend after Iranian Deputy Foreign Minister Abbas Araqchi declined to send nuclear material out of the country. With talks about the country's uranium enrichment program set to continue on Tuesday, Iranian officials have indicated that they are willing to be flexible in other areas, but will not consider sending materials out of the country.
Asian markets were mixed as investors waited for a US budget deal. The Japanese NIKKEI was up 1.48 percent, the Shanghai composite was up 0.54 percent and the Shenzhen composite was up 0.97percent. The South Korean KOSPI was down 0.04 percent and New Zealand's NZ 50 lost 0.14 percent.
European Markets
European markets were quiet on Monday morning, the UK's FTSE was up 0.88 percent and the eurozone's STOXX 600 was unchanged. Italy's MIB was up 0.24 percent and the German DAX and Spanish IBEX were flat.
Energy futures were lower with Brent futures down 0.07 percent and WTI futures down 0.16 percent. Gold gained 0.27 percent and silver was down 0.37 percent. Industrial metals were mostly higher with Zinc posting the largest gains, up 1.16 percent.
The dollar lost out on Monday, the euro gained 0.19 percent against the American currency and the pound was up 0.21 percent against the greenback. Investors flocked to the yen, which rose 0.30 percent against the dollar.
Earnings
Notable earnings released on Friday included:
Stocks moving in the pre-market included:
Earnings reports expected on Monday include:
Stanley Furniture Company (NASDAQ: STLY) is expected to report a third quarter loss of $0.11 per share on revenue of $25.32 million, compared to last year's loss of $0.14 per share on revenue of $23.98 million.
Wintrust Financial Corporation (NASDAQ: WTFC) is expected to report third quarter EPS of $0.65 on revenue of $195.50 million, compared to last year's EPS of $0.66 on revenue of $195.52 million.
Economics
Monday's economic calendar is relatively quiet with releases including eurozone industrial production and Swiss PPI.
Happy trading and good luck!
For a recap of Friday's market action, click here
Tune into Benzinga's pre-market info show with Dennis Dick and Joel Elconin here.
Posted-In: Earnings News Eurozone Futures Commodities Previews Forex Events Best of Benzinga
View Comments and Join the Discussion!