Market Wrap For Friday, October 11: Markets Rebound Near Pre-Shutdown Levels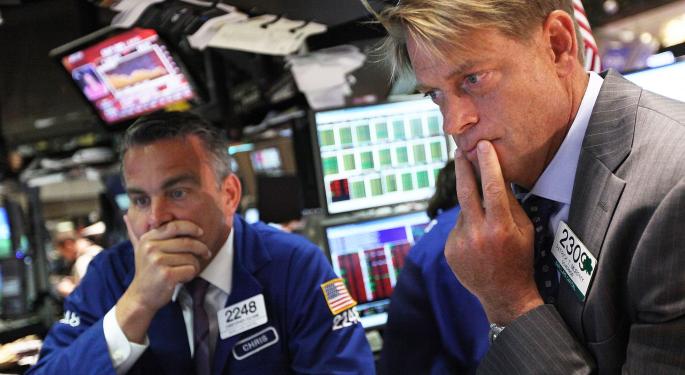 The market continued upward to end the week on increased likelihood for a debt deal. Major indexes (except the Dow) are approaching pre-debt ceiling sell off levels.
The other big news of the day is JPMorgan's quarterly loss as it faces legal battles. The comparative EPS is $1.42, 16 percent higher than analysts expectations.
Major Averages
The Dow Jones Industrial Average rose 111.04 points, or 0.73 percent, to 15,237.11.
The S&P 500 added 10.64 points, or 0.63 percent, to 1,703.2.
The Nasdaq Composite climbed 31.12 points, or 0.83 percent, to 3,791.87.
The Russell 2000 jumped 13.45 points or 1.26 percent to 1,082.95.
Consumer Confidence
University of Michigan Consumer Confidence for October was slightly below analyst estimates at 75.2. The government shut down, which leaves 800,000 people without pay has pushed this number down from 77.5 for the previous month.
Stock Movers
Seaspan (NYSE: SSW) shot up 9.81 percent to $21.61 after the company announced the termination of its public offerings of common shares and convertible notes.
Spirit Airlines (NASDAQ: SAVE) gained 14.83 percent to $39.11 after the company reported higher traffic for the month of September.
The Gap (NYSE: GPS) were down 6.71 percent to $36.83 after the company reported a three drop in its same-store sales in September.
Micron Technology (NASDAQ: MU) shares tumbled 8.63 percent to $16.84 after the company reported a weaker-than-expected FQ4 net profit.
Commodities
Crude oil fell Friday, taking WTI near the $100 level. Near the end of equities trading, WTI was down 1.1 percent to $101.88 with Brent down 0.47 percent to $111.27. Natural gas moved up $0.06 on the day to $3.78..
Precious metals also slid during the session. At last check, COMEX gold futures were down 2.27 percent to $1,267.50, below the $1,300 level. Silver was down 2.84 percent to $21.28.
Global Markets
Both Asian and European markets were higher for the day. China's Shanghai index rose 1.7 percent and Hong Kong's Hang Seng jumped 1.16 percent. Japan also moved up 1.48 percent. These moves can be correlated with a fall in likelihood for United States government default.
The index that tracks eurozone blue chips rose 0.16 percent, London's FTSE added 0.88 percent, and France's CAC moved up just 0.04 percent.
Currencies
The U.S. dollar fell Friday, despite market optimism. The PowerShares ETF (NYSE: UUP) that tracks the performance of the greenback versus a basket of foreign currencies was down 0.21 percent to 21.66.
The closely watched EUR/USD pair was last up 0.21 percent to $1.3549. The other big mover for the day was the USD/JPY couple, up 0.38 percent after falling in the morning.
Volatility and Volume
Volatility continued falling Friday, with the CBOE's VIX down 2.85 percent to 16.01.
Volume was slightly down to end the week. Only 99 million shares of the SPDR S&P 500 ETF (NYSE: SPY) traded hands, compared to the ten day average of 140 million.
Posted-In: Earnings News Emerging Markets Eurozone Futures Commodities Forex Global Best of Benzinga
View Comments and Join the Discussion!