Safeway Shares Rallying Despite Q3 Profit Miss, Lowered Outlook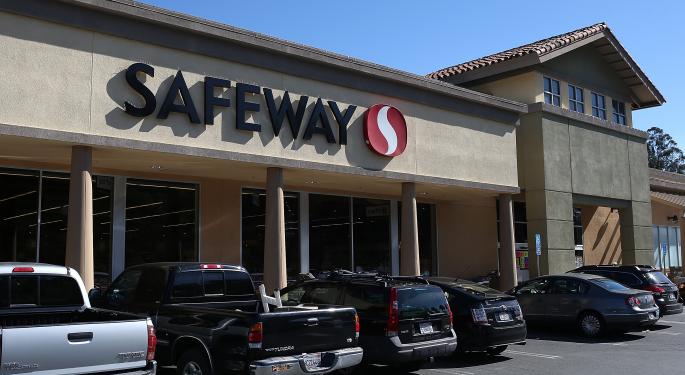 Investors are bidding up shares of Safeway (NYSE: SWY) in Thursday's post-market session despite quarterly results which seemed concerning and fiscal-year guidance which was lowered.
The stock last traded at $33.65, up more than six percent from Thursday's close.
Safeway's GAAP third-quarter net income totaled $65.8 million, down a whopping 58 percent from the same quarter last year. On an adjusted basis (the quarter included an impairment charge related to a warehouse information software project), net income came in at $24.6 million, down nearly 37 percent.
Non-GAAP earnings per share totaled $0.10, below the Street estimate of $0.16.
Revenue increased 1.1 percent to $8.6 billion; analysts were expecting quarterly sales of $8.52 billion.
The superstore's gross profit declined 36 basis points to 25.81 percent in the third quarter versus 26.17 percent in the third quarter of last year. Operating profit margin declined 43 basis points to 0.94 percent.
Safeway is expecting FY13 adjusted diluted EPS of $0.93 to $1.00, down from previous guidance of $1.02 to $1.12. Excluding Dominick's operating results, guidance for adjusted diluted EPS is in the range of $1.05 to $1.12. Analysts are currently looking for fiscal year 2013 earnings of $1.09 per share.
Capital expenditures are expected to be approximately $850-875 million, compared to prior guidance of $900-950 million. Expected free cash flow increased from $600 million to $650 million.
In the first 36 weeks, net cash flow provided by operating activities declined to $129.6 million, net cash flow used by investing activities decreased to $336.4 million, and net cash by financing activities increased to $143.1 million due to stock repurchases and sale of Blackhawk.
In the release, Safeway said it will be exiting Chicago market with near-term tax benefit of $400-450M.
Posted-In: Earnings News Best of Benzinga
View Comments and Join the Discussion!