Market Wrap For Friday, October 4: Markets Finish The Week Flat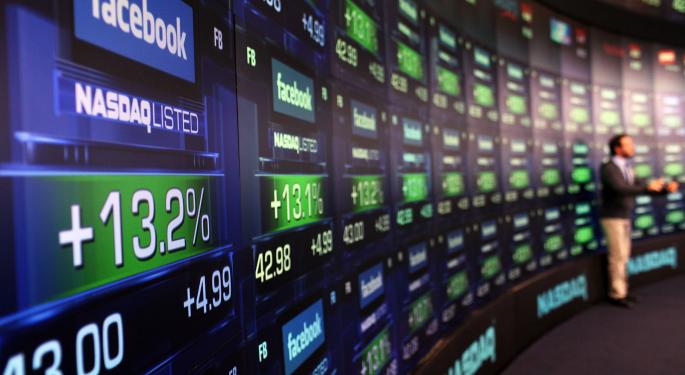 The satirical story of the day (and probably week) is that shares of TWTRQ (OTC: TWTRQ) shooting higher as investors confused them for Twitter, which is yet to IPO. Shares were last up 684.62 percent before being halted.
As the government shutdown continues, Lockheed Martin (NYSE: LMT) furloughed 3,000 employees and is trading down 0.32 percent.
Major Averages
The Dow Jones Industrial Average climbed 76.1 points, or 0.51 percent, to 15,072.58.
The S&P 500 added 11.85 points, or 0.71 percent, to close at 1,690.51.
The Nasdaq rose 33.41 points, or 0.89 percent, to 3,807.75.
The Russell 3000 gained points 6.94 points, or 0.69 percent to close at 1,017.24.
Nonfarm Payrolls
Nonfarm payroll measures were supposed to be released Friday, but the data was not collected due to the government shutdown. However, the ADP nonfarm payroll estimate came out Tuesday better than expected.
Stocks Movers
Tesla (NASDAQ: TSLA) rose 4.43 percent to $180.98 after the company announced the recent Model S fire took place after it collided with a large object.
Harte-Hanks (NYSE: HHS) shot up 6.76 percent to $8.53 after BMO Capital upgraded the stock from Market Perform to Outperform.
Facebook (NASDAQ: FB) gained 3.78 percent to $51.04. Facebook's Instagram reported that it will introduce advertisements in the coming months. Sterne Agee raised the price target on the stock from $50.00 to $58.00.
Lannett Company (NYSE: LCI) shares tumbled 13.95 percent to $18.01 after the company priced an underwritten public offering of 5,869,566 shares of common stock at a price of $18.00 per share.
Commodities
Crude oil gaped up a bit on the day. Near the close of equities, WTI crude futures were up by 0.31 percent to $103.63. Brent crude futures rose 0.32 percent to $109.35. At last check, natural gas futures were up a penny to $3.51
Precious metals fell on the day as equity markets rose. COMEX gold futures had lost 0.57 percent to $1,310.10 near the end of the day while silver was down 0.23 percent to $21.74.
Currencies
The dollar rocketed higher Friday, recovering some of the week's early losses. The PowerShares ETF (NYSE: UUP), which tracks the performance of the greenback versus a basket of foreign currencies, was up 0.42 percent to 21.60. The index is down 0.55 percent on the week.
The closely watched EUR/USD pair was last down 0.47 percent to $1.3555. Other significant movers included the GBP/JPY, which fell 0.77 percent on the session and the AUD/JPY which gained 0.5 percent.
Volatility and Volume
Volume was noticeably light on the session. Only around 80 million SPDR S&P 500 ETF (NYSE: SPY) shares traded hands on the day, compared to a 3-month daily average of 125 million.
The VIX fell 4.81 percent Friday, but is still up almost 20 percent on the week. Heading into the close, the index was at 16.82.
Global Markets
Japan's Nikkei fell 0.94 percent after a Bank of Japan press conference. China continued to be closed Friday, which will continue into next week.
European markets were mostly flat on the day. The Euro Stoxx index, which tracks 50 euro zone blue chips rose 0.9 percent percent. London's FTSE added 0.08 percent, and France's CAC gaped up 0.88 percent.
Posted-In: Earnings News Emerging Markets Eurozone Futures Commodities Forex Global Best of Benzinga
View Comments and Join the Discussion!