It's 'Sink Or Swim' Time For Best Buy (BBY)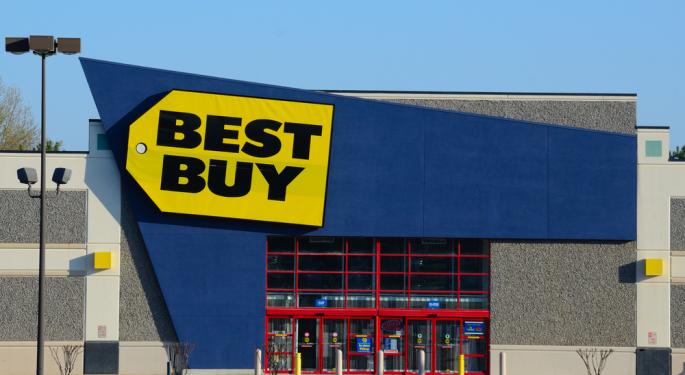 After reporting much better than expected second quarter results, shares of Best Buy (NYSE: BBY), jumped more than 10 percent Tuesday, indicating to some that the death spiral the company was in had finally been halted. To others, not so much.
Related: UPDATE: Jefferies Raises PT on Best Buy Following Good Q2 EPS Beat
According to Bloomberg, death spirals can be tricky things. More importantly, quarterly earnings reports can be tricky things. Quite simply, with same store sales declining 0.6 percent and revenue down 0.4 percent, it's more a matter of "managing the decline" as Bloomberg called it.
Comparing Best Buy's latest financials with those of a year ago, improvement is obvious. At the end of Q2 FY 13, comparable store sales were down 3.3 percent. As noted, for Q2 FY14, comparable store sales were down just 0.6 percent.
Much of this improvement was attributed to Best Buy CEO, Hubert Joly's permanent price-matching policy in which Joly hoped to reduce so-called "showrooming" in which customers visit stores like Best Buy to see and touch products, then go home and order (for less) from online retailers like Amazon.com (NASDAQ: AMZN).
In addition the company expanded profits by cutting costs, all part of Joly's 5-point Renew Blue plan to reinvigorate the retailer.
The problem, Bloomberg said, is that cutting costs and still creating profit is difficult when competing with Amazon, which isn't worried about profits. Amazon's game has more to do with building warehouses, improving delivery times, and growing its technological ability to serve customers.
Best Buy is trying to retool. Creating a more boutique look to its stores with sections for Microsoft (NASDAQ: MSFT), Apple (NASDAQ: AAPL), and Samsung, along with the addition of high-end appliances and sound systems has helped drive foot traffic. Customers knowing they can buy for prices comparable to online should, in theory, increase sales.
Ultimately, Forbes said, Best Buy will survive mostly by reinvesting in employees. Price matching will help, but at the end of the day, customers will buy when they are in the store, like the product, and trust that the employee knows what he or she is talking about.
Bloomberg seemed to agree, saying service would be key. Best Buy will never be able to match Amazon on selection but the combination of instant gratification, informed employees, and first-rate service might do the trick.
Meanwhile on Wednesday, Best Buy was down over two percent at $33.94.
At the time of this writing, Jim Probasco had no position in any mentioned securities.
Posted-In: Amazon.com Inc. Apple Best Buy Co. Inc.Earnings News Retail Sales Events Media Best of Benzinga
View Comments and Join the Discussion!