Barnes & Noble Resolves Dispute with Simon & Schuster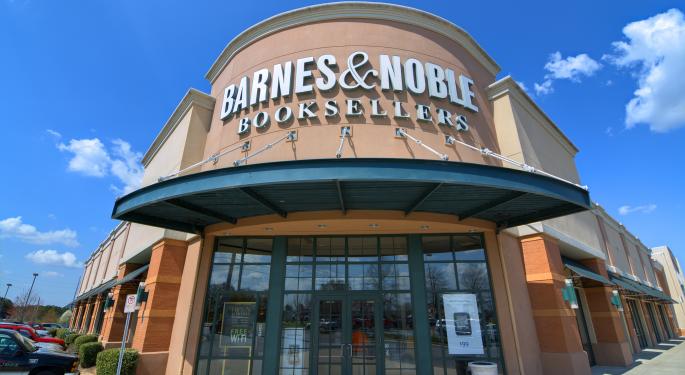 After an eight-month battle, CBS (NYSE: CBS) owned Simon & Schuster and Barnes & Noble (NYSE: BKS) have called a truce.
The Wall Street Journal reported Monday that the two companies issued a joint statement announcing that they had "resolved their outstanding business issues."
Those issues included a dispute over who would take the hit for e-book discounts and who was financially responsible for in-store promotions, among other things. Because of the conflict, Barnes & Noble reduced the number of Simon & Schuster titles in its stores.
The problem began in January when Barnes & Noble began cutting back on the number of Simon & Schuster titles on its shelves. The conflict hurt authors who count on exposure in America's largest book retailer to sell copies of their books. The Wall Street Journal said a number of literary agents had threatened to stop submitting titles to Simon & Schuster as the dispute waged on.
Related: Amazon Should Root for Barnes & Noble to Stay Afloat
According to The New York Times, editors at Simon & Schuster had spent the summer worried that the conflict would spill over into the fall bookselling season, which begins after Labor Day.
Carolyn K. Reidy, CEO at Simon & Schuster, sent an email to authors and agents Monday saying, "I and my colleagues have felt keenly the effect this trade dispute has had on books published during this time and have tried nevertheless to achieve the best possible distribution and marketing for your books."
In a related story, The Wall Street Journal reported that Barnes & Noble chairman, Leonard Riggio, advised the board he has suspended efforts to make an offer for the company's retail business.
In an amended Securities and Exchange Commission filing, Riggio said, "While I reserve the right to pursue an offer in the future, I believe it is in the company's best interests to focus on the business at hand."
Prior to the market opening Tuesday, the company reported an EPS ex-items loss of ($0.86) compared with consensus of ($0.89). Q1 revenue came in at $1.3 billion versus consensus of $1.32 billion. Overall Q1 consolidated revenue decreased 8.5 percent, according to a company press release.
In early trading Tuesday, Barnes & Noble shares were down more than 11 percent.
At the time of this writing, Jim Probasco had no position in any mentioned securities.
Posted-In: Barnes & Noble Inc. Carolyn K. Reidy CBS Corp. E-book Leonard RiggioWall Street Journal Legal Media Best of Benzinga
View Comments and Join the Discussion!