Barnes & Noble Shares Tumble; Riggio Will Not Pursue Offer for Retail Segment (BKS)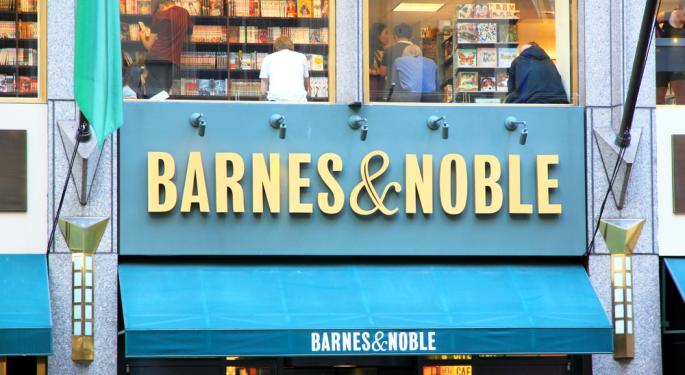 Shares of Barnes & Noble (NYSE: BKS) will be under pressure Tuesday following an amended 13D filing from the company's Chairman Leonard Riggio disclosing he will no longer be pushing to make an offer for the Retail segment.
From the filing:
"Mr. Riggio has advised the Board of Directors of the Company that he has suspended his efforts to make an offer for the Company's retail business. Mr. Riggio cleared the way for such an offer when he filed Amendment No. 13 to his Schedule 13D filing with the Securities and Exchange Commission on February 25, 2013. In connection with the foregoing, Mr. Riggio said, "While I reserve the right to pursue an offer in the future, I believe it is in the company's best interests to focus on the business at hand. Right now our priority should be to serve the more than 10 million customers who own NOOK devices, to concentrate on building our Retail business, and to accelerate the sale of NOOK products in our stores, and in the marketplace."
Barnes & Noble shares ran up about 17 percent at the end of February as news of Riggio's interest began making the rounds. Three months later, shares of Barnes & Noble were sitting at a three-year high over $22.
Traders in Barnes & Noble are also responding to first-quarter 2014 results Tuesday morning; however, investors are clearly holding much more weight to the news of Riggio's backing out.
The company reported a quarterly GAAP loss of $1.56/share, or a loss of $0.86/share on an adjusted basis. Analysts on the Street were looking for a loss around $0.67/share. Barnes & Noble reported sales of $1.33 billion, about inline with the analyst consensus estimate of $1.32 billion.
Shares of Barnes & Noble are trading down more than 14 percent to around $14.27 in Tuesday morning's pre-market session. Volume is extremely heavy.
Posted-In: Leonard RiggioEarnings News Management Best of Benzinga
View Comments and Join the Discussion!