Benzinga Market Primer: Monday, August 19: Markets Cautious Ahead of Fed Meeting Minutes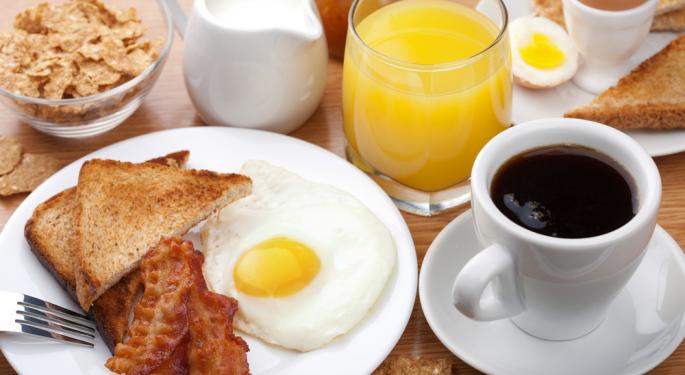 Speculation around whether or not the US Federal Reserve will begin tapering its stimulus program remained in the spotlight and has kept investors from making any aggressive moves.
In other news around the markets:
The US manufacturing sector has been making a comeback and could be competing with the likes of China in the near future. The US deficit on trade of manufactured goods fell fro $225 billion from $227 billion last year.
At least 850 people have been confirmed dead in Egypt since violence between ousted President Mohamed Mursi's supporters and the Egyptian military broke out on Wednesday. The clashes have affected crude prices as investors worry about interruptions at the Suez Canal.
Data shows that the correlation between similar stocks' movements has fallen over the past year, suggesting that investors are focusing more on individual companies rather than making wide bets on a group of stocks.
Kentz Corporation LTD. confirmed that it had rejected an unsolicited proposal from Amec PLC. Ketnz shares increased more than 20% following the announcement
Asian markets were mixed on Monday, the Nikkei index in Tokyo jumped 0.1 percent due to a weakening yen. Volatile trading on Friday resulted in a 0.2 percent slip for China's Shanghai Composite after the benchmark jumped 5.6 percent on an Everbright Securities computer glitch that flooded the market with buy orders. Brokerage shares are paying the price for the accident as Haitong Securities Co. and Citic Securities Co. were both trading more than 3 percent down. The Hang Seng Index in Hong Kong dropped 0.2 percent on weak trade and Australian shares remained flat.
European Markets
European stocks slipped lower on Monday as speculation about FOMC minutes to be released on Wednesday played into worries about a disorderly pull back on the Fed's stimulus spending. The region's Stoxx 600 index lost 0.4 percent while the UK's FTSE 100 index retreated 0.3 percent. The German DAX fell 0.6 percent and France's CAC-40 followed suit with a 0.7 percent loss.
Commodities also suffered under the Federal Reserve tapering speculation, although oil prices were lifted by worries about unresolved tension in the Middle East. October Brent crude futures gained 0.1% and traded at $110.48 per barrel while US Crude held at $107.47, little changed from Friday's closing price of $107.46. Precious metals also traded higher riding on the back of a weaker dollar. Gold was up 0.32 percent on Monday and traded at $1,375.30 an ounce while silver remained near its previous close at $23.31 an ounce.
Currencies
The dollar index climbed 0.1 percent to 81.333 after U.S. 10-year Treasury yields hit a two-year high on Friday. The dollar remained steady against the yen at ¥ 97.55 to the dollar and is expected to remain between ¥ 97 and ¥ 98 for the remainder of the day. The euro remained strong against the dollar at $1.337 as investors looked ahead for another stream of positive data this week. The Indian rupee hit a new low against the dollar, declining 1.3 percent to 62.44.
Earnings Reported Yesterday
Key companies that reported earnings Friday include:
UTStarcom Holdings Corporation (NASDAQ: UTSI) reported 2nd quarter loss with EPS of $0.05 on revenue of $47.7 million
Notable companies expected to report earnings Monday include:
Vanguard Health Systems (NYSE: VHS) is expected to report fourth quarter EPS of $0.19 vs. $0.23 on last year's revenue of $1.45 billion.
Bob Evans Farms, Inc. (NASDAQ: BOBE) is expected to report first quarter EPS of $0.58 on $335.19 million worth of revenue compared to the same EPS for a revenue $409.72 million a year ago.
Urban Outfitters, Inc. (NASDAQ: URBN) is expected to report second quarter EPS of $0.48 on revenue $768.76 million, up from last year's EPS of $0.42 on $676.27 million.
International Rectifier Corporation (NYSE: IRF) is expected to report a fourth quarter loss of $0.10, an improvement from last year's loss of $0.20 on $269.68 million worth of revenue.
Economics
On Monday's economics calendar, New Zealand will release inflation expectations and the Reserve Bank of Australia will release it's monthly policy meeting minutes. Also notable will be the release of Hong Kong's unemployment rate.
Happy Monday and good luck trading!
Tune into Benzinga's pre-market info show with Dennis Dick and Joel Elconin here.
For a recap of Friday's market action, read Benzinga's daily market wrap here.
View Comments and Join the Discussion!
Posted-In: Earnings News Guidance Dividends Eurozone Futures Commodities Previews Best of Benzinga