Earnings Expectations For The Week Of August 19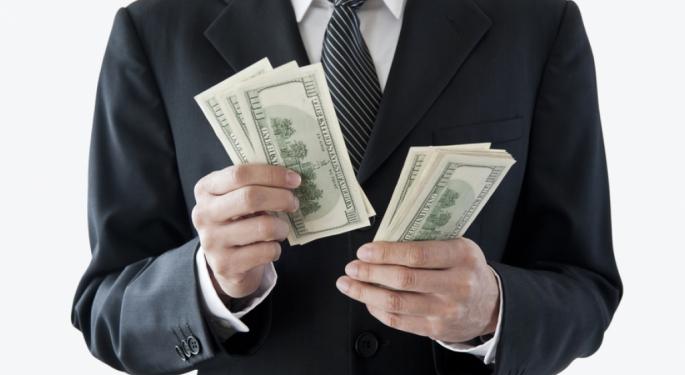 The earnings season for the big retailers is underway. Last week's second-quarter reports from Walmart (NYSE: WMT), Macy's (NYSE: M), Nordstrom (NYSE: JWN) and Kohl's (NYSE: KSS) may have been solid, but weak outlooks for the rest of the year disappointed investors.
Many more retailers are on deck this week. By and large, analysts expect to see earnings growth, or in some cases narrower net losses. But these stocks, and the broader markets, could take a hit if lowered guidance continues to roll in due to consumers who have become more cautious about spending.
See also: Weekly Preview: FOMC Minutes, Housing Market In Focus
Expected Earnings Growth
Home improvement superstore operator Home Depot (NYSE: HD) is expected to say that earnings came to $1.21 per share for its second quarter. That would be up from $1.01 per share in the year-ago period. Note that analysts underestimated earnings per share (EPS) in the previous four quarters.
Revenues for the second quarter are estimated to be about six percent higher year-over-year to $21.80 billion. But revenue for the current quarter is only expected to be less than five percent higher. Look for Home Depot's earnings report first thing Tuesday morning.
In its report before the markets open Thursday, Abercrombie & Fitch (NYSE: ANF) is expected to post second-quarter EPS that were more than 28 percent higher than in the year-ago period to $0.28. That consensus estimate has slipped from $0.31 in the past 60 days. And earnings fell short of expectations in the first quarter by 80 percent.
Revenues this specialty retailer are predicted to total $996.64 million for the most recent quarter. That would be less than five percent higher than in the same period a year ago. Analysts so far expect revenue for the current quarter to be up sequentially and year-over-year.
Analysts also expect to see year-over-year EPS growth in this week's reports from America's Car-Mart (NASDAQ: CRMT), ANN (NYSE: ANN), Buckle (NYSE: BKE), Dick's Sporting Goods (NYSE: DKS), Dollar Tree (NASDAQ: DLTR), Foot Locker (NYSE: FL), Gap (NYSE: GPS), Hibbett Sports (NASDAQ: HIBB), L Brands (NYSE: LTD), Lowe's Companies (NYSE: LOW), PetSmart (NASDAQ: PETM), Ross Stores (NASDAQ: ROST), Stein Mart (NASDAQ: SMRT), TJX Companies (NYSE: TJX), Tuesday Morning (NASDAQ: TUES) and Urban Outfitters (NASDAQ: URBN).
Expected Earnings Declines
Second-quarter 2013 earnings from Minneapolis-based retailer Target (NYSE: TGT) are expected to be $0.98 per share, on revenues of $17.29 billion. In the same quarter of the previous year, the company beat consensus EPS estimates when it posted $1.06 and sales of $16.78 billion.
The consensus EPS forecast has been both a penny higher and a penny lower over the past 60 days. Note that earnings fell short of consensus estimates in the previous two quarters; the beat in the first quarter was by less than four percent. Look for Target's earnings report early Wednesday.
In its Tuesday morning report, consumer electronics retailer Best Buy (NYSE: BBY) is expected to say that its fiscal second-quarter EPS fell from $0.26 a year ago to $0.12. That consensus estimate is a penny higher than it was 60 days ago, but the company have missed consensus estimates in half of the past four quarters.
Revenues from this Richfield, Minnesota-based company are forecast to total $9.13 billion for the most recent quarter. That would be more than 14 percent lower year-over-year. So far, revenue is predicted to have decreased by a similar percentage in the current quarter and for the full year.
The forecasts for American Eagle Outfitters (NYSE: AEO), Cato (NYSE: CATO) and Gamestop (NYSE: GME) also call for a decline in EPS from a year ago. However, Staples (NYSE: SPLS) is expected to offer up the same EPS as in the same period of the previous year.
Expected Net Losses
Analysts predict that J.C. Penney (NYSE: JCP), which is struggling to turn around its fortunes, will report Tuesday morning that for its second quarter it had a net loss of $1.06 per share and $2.76 billion in revenue. In the same period of the previous year, it posted a $0.37 per share net loss, while revenue totaled $3.02 billion.
Just 30 days ago, the consensus forecast called for a net loss of only $0.82 per share. Note that the net losses per share have been much larger than expected in the past four quarters. For the current quarter, the forecast so far calls for a narrower net loss year-over-year and marginal revenue growth.
See also: J.C. Penney Shares Rally As New York Post Sees August Turnaround
Expected to offer up narrower net losses than a year ago: Barnes & Noble (NYSE: BKS), Bon-Ton Stores (NASDAQ: BONT), Children's Place Retail Stores (NASDAQ: PLCE), CITI Trends (NASDAQ: CTRN), Kirkland's (NASDAQ: KIRK) and New York & Co. (NYSE: NWY).
Embattled Sears Holdings (NASDAQ: SHLD) and Saks (NYSE: SKS) are expected to see wider net losses as well.
View Comments and Join the Discussion!
Posted-In: abercrombie & fitch America's Car-Mart American Eagle Outfitters ann Barnes & Noble best buyEarnings Previews Best of Benzinga